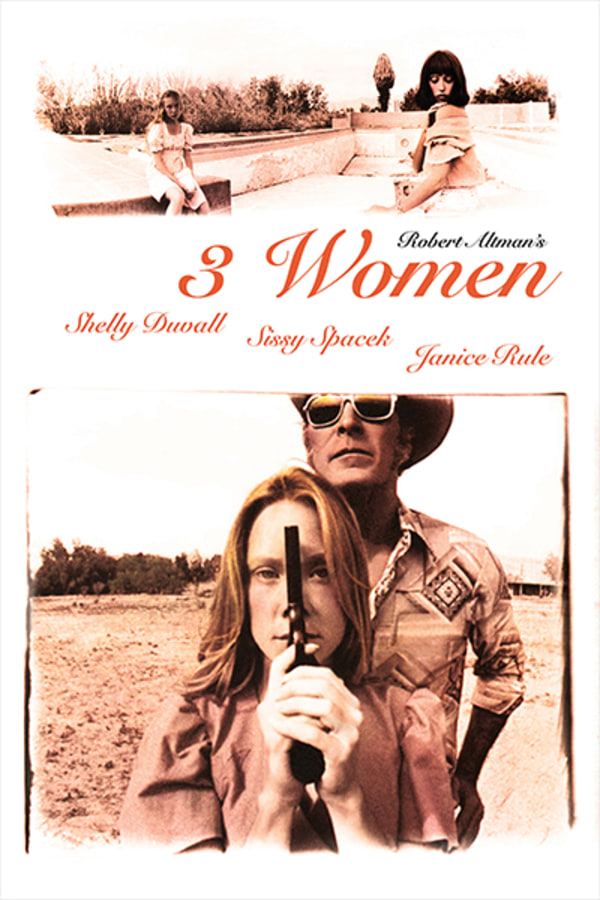 3 Women
Directed by Robert Altman
3 WOMEN takes a surreal, improvisational and rather eerie look at the lives of three women in a western desert town. The plot centers around the youngest of the women, Pinky (Sissy Spacek), an eccentric, withdrawn woman trying to begin a new life. She finds work as an attendant at a hot springs spa catering to the elderly. There she befriends her co-worker, Millie (Shelley Duvall), an equally strange but more outgoing woman; the two bond and are soon sharing an apartment.
Three very different women come together at a spa for the elderly and infirmed. One becomes wrapped up in the life of one of the others and surprises the other two women with how far she will go to keep their relationship intact.
Cast: Shelley Duvall, Sissy Spacek, Janice Rule
Member Reviews
I think David Lynch based his whole career on this film.
This movie sucks you in, so make sure you have nothing to do for a few hours. I have so many questions. 3 Women is a strange and fantastic film.
I don't understand some things but I enjoy the rich character development and the dialogue, that is still relevant and extremely down to earth. I'm sorry for whatever is going on with Shelley Duvall, and I hope Dr. Phil is able to help her in exchange for that exploitative interview—if you can call broadcasting someone in the throws of a decades long mental illness an interview ☹️—but yes, watch this movie if you want to see something that is open for interpretation. Very deep, man. You should watch it with a clear head so you're not distracted by the workplace scenes, lol.
Great slow burn, but (nerd alert here), it's in the wrong aspect ratio. Come on Shudder, what are you, HBO? Please get your shit together. Thank you.
I enjoyed the acting, but not the movie. It was an okay movie. Not so much horror, but a thriller. I was confused by a lot of the movie and the end. I understand the overarching theme, but mmrp!