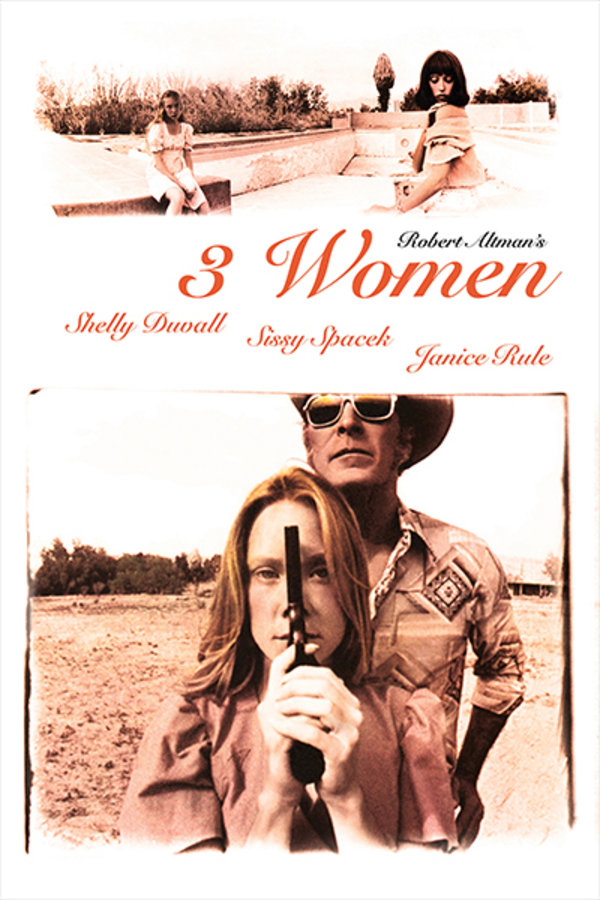 3 Women
Directed by Robert Altman
3 WOMEN takes a surreal, improvisational and rather eerie look at the lives of three women in a western desert town. The plot centers around the youngest of the women, Pinky (Sissy Spacek), an eccentric, withdrawn woman trying to begin a new life. She finds work as an attendant at a hot springs spa catering to the elderly. There she befriends her co-worker, Millie (Shelley Duvall), an equally strange but more outgoing woman; the two bond and are soon sharing an apartment.
Three very different women come together at a spa for the elderly and infirmed. One becomes wrapped up in the life of one of the others and surprises the other two women with how far she will go to keep their relationship intact.
Cast: Shelley Duvall, Sissy Spacek, Janice Rule
Member Reviews
This is a Robert Altman masterpiece, but not really a horror. An atmospheric film that is an homage to Ingmar Bergman's Persona, about two very different women with self-identity issues switching places. It's fantastic, if you are not a normie, and you are open to movies that don't hit you over the hammer with constant stimulus. Images is another Robert Altman movie on here, and it is more in the horror vein. I recommend it too!
Weird and very good. Be a fan of acting if you watch this!
Eh. It was okay. Super slow and the ending left much to be desired. I kept thinking it was going to start climaxing and getting interesting but it just kept dragging on and playing eerie music to trick the viewer into a feeling of suspense. This is One of those films where it seems half assed and the point/theme of the film is left to be interpreted by the viewer. Definitely not a horror movie (and it's not advertised as such) and frankly doesn't even meet the criteria for suspense, it missed the mark on that. Decent enough movie but I think people are voting it so high because they're the pseudo-intellectual types that think ambiguity equals good art/film making.
Awesome and amazing. It's like watching The Shining and Carrie at the same impossible time. Lost me at the end there, but who cares, it's uniquely great.
Some of the reviewers on this thread--hint: it's the ones who have more white skulls next to their names than reds--should be dangled over a deep cave where their babbling opinions can't be heard by those who appreciate masterpieces of cinema directed by visionary kings and starring the best actresses to ever step in front of movie cameras. (Or something. I just took an Ambien.) Anyway, all those things I just listed describe 3 WOMEN, a film of unspeakable beauty and eerie curiosity akin to the "brain shudder" of psychological horror just about as much as most other films on this site. Applause all around for Shudder taking the risk to feature this Altman masterpiece, thereby broadening the borders of fear, uncertainties, irresolution, and mind-expansion within their film stable. "Dreams can't hurt ya."