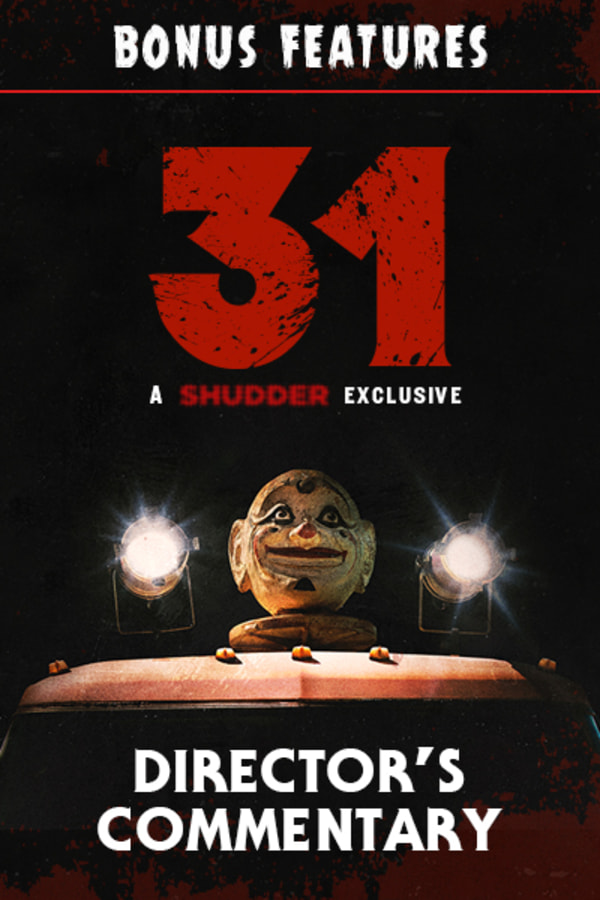 31 Director's Commentary
Directed by Rob Zombie
Presented with audio commentary by visionary filmmaker Rob Zombie comes the horrific story of five carnival workers who are kidnapped the night before Halloween and held hostage in a large compound. At the mercy of their captors, they are forced to play a twisted game of life or death called 31.  For the next 12 hours they must fight for their lives against an endless parade of homicidal maniacs. **Presented with audio commentary by Zombie Contains strong language, sexual scenes, violence and gore.
Presented with audio commentary by Rob Zombie.
Cast: Sheri Moon Zombie, Meg Foster, Richard Brake, Lew Temple, Malcolm McDowell
Member Reviews
it was good 😊👍 keep up the horrors movies going . it was 😲🤯😱 good .
This was well done and doom head is a great character
I'm not a Rob Zombie fan, and by that I mean Rob Zombie the director... but I was curious about seeing his movie "31", and on top of that, it's included on Shudder with audio commentary by Rob Zombie... so I thought... well, adding that human quality and methodology just might make this experience that extra little bit special I think it needs. I still only made it midway through, but without the commentary I wouldn't have made it that far.
I didn't think 31 was as good as it could've been and I was wondering why it was lacking when Rob hyped it up as possibly his best film to date, but seeing as how his commentary sounded a bit disappointed in some parts, I can see that it wasn't fully what he imagined but more of what he had to work with. Gave me a whole different persoective and I like the film more now.
This was so great. A peek into Rob's thinking process. Thanks for this!