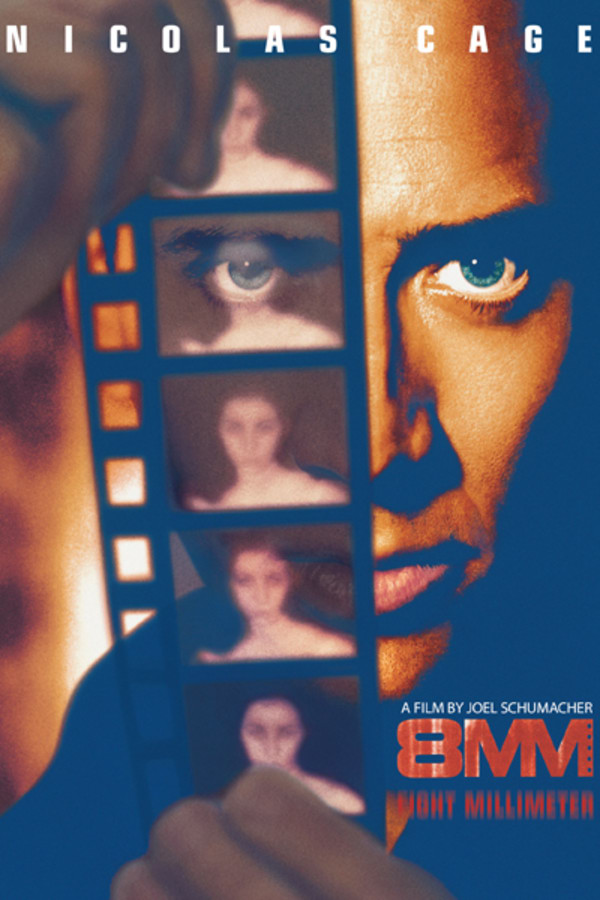 8MM
Directed by Joel Schumacher
Private investigator Tom Welles (Nicolas Cage) leads a normal life with his wife (Catherine Keener) and daughter in Harrisburg, Pennsylvania, spending most of his time on routine unfaithful-spouse cases. But an assignment involving a small, innocuous-looking reel of film sends him down a sordid and terrifying path into society's darkest corners. From the sidewalks of Hollywood Boulevard to New York's meat-packing district, Welles relentlessly pursues a trail of graphic and disturbing evidence to learn the fate of a complete stranger, a girl who begins to haunt his conscience. Aided in his obsession by a streetwise adult bookstore clerk (Joaquin Phoenix), Welles drifts away from his wife, family and former life, as he comes to realize how deadly a small reel of eight-millimeter film can be.
A reel of eight-millimeter film turns a private investigator's life upside down.
Cast: Nicolas Cage, Joaquin Phoenix, Catherine Keener, James Gandolfini, Peter Stormace
Member Reviews
As a former adult store manager, I can attest to how fucked up much of that world is. It's actuslly much worse than this film let's on. That being said, it's not a bad flick. Phoenix ..and Cage work well together. I actually adore this flick. I used to use the famous battery operated vagina line back in my former job, because it's hilarious.
This film could have been so good but ends up as a right wing morality tale.
Really dark and twisted. I loved it but it is very sensitive material.
worth a rewatch if ya saw it in theaters, definatly. worth a first watch if you've never seen it. Gave me the willies anyway.