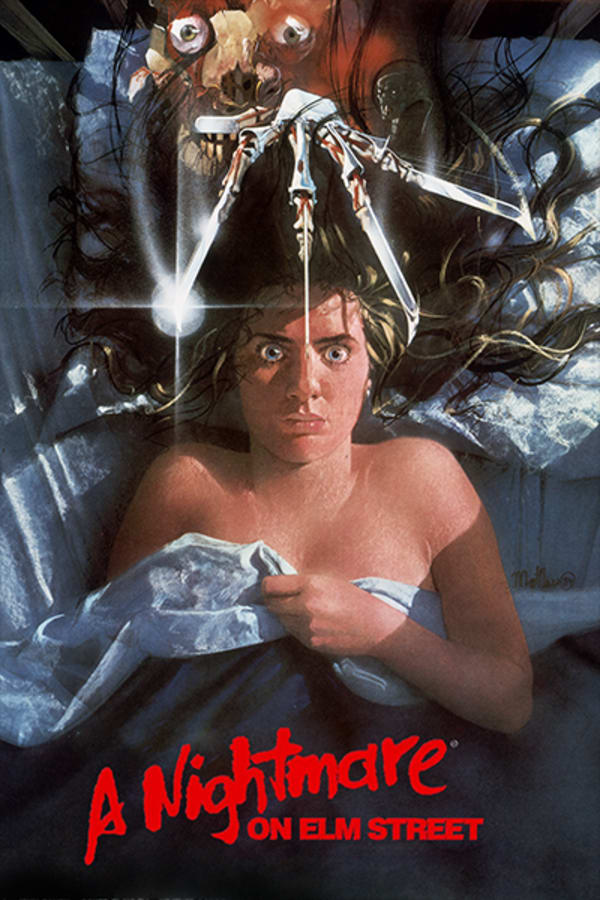 A Nightmare on Elm Street
Directed by Wes Craven
Can your nightmares be fatal? In this seminal slasher that launched a franchise, a hideously scarred pedophile who was murdered by a lynch mob returns years later in the terrifying nightmares of his killers' children ... And the dreaming teenagers are starting to die in their sleep.
In Wes Craven's seminal slasher, nightmares can be fatal.
Cast: John Saxon, Heather Langenkamp, Amanda Wyss, Johnny Depp, Robert Englund
Member Reviews
4 years ago today #ripwescraven
Worst mother in the world
The apotheosis of dead teenager movies, 'A Nightmare on Elm Street' is one of the horror films most closely associated with the '80s and with the youth culture of that era. Even though I am a devoted horror fan, I had never watched Freddy Krueger's antics until now. A Nightmare on Elm Street continues to inspire the genre to this day, with even recent horror series such as Insidious showing its influence.
Now that I have access to this wonderful resource that is Shudder, I can finally round out most of my horror education. The first movie I watched on here was Halloween, and it really scared me in a way that I haven't been scared ever by a movie. It blew me away. Texas Chainsaw remains on my list, pushed back with the arrival (and imminent departure) of the Nightmare on Elm Street franchise. I'd at least like to watch up through Dream Warriors, knowing that it and the original are fan favorites. But I digress. This movie is a classic, and with good reason; it's tense, it's dark, it's violent, and it's entertaining. I thoroughly enjoyed the experience. Unfortunately, growing up in the internet age, with access to sources like WatchMojo on Youtube and lists of "Scariest Horror Movies of All Time" or "Best Horror Movie Kills of All Time" has certainly dampened the effect of Nightmare's horror. It feels that the same tragedy has befallen Fred Krueger as that of Ridley Scott's Xenomorph; Simply, overexposure. These movies that are held up as essential, terrifying horror classics have lost some of their punch. Don't get me wrong, I enjoyed this movie and was still invested in it. But the scariest scenes for me were not the famous "Scariest Scenes". They were the scenes that I had no idea were coming, and those few were incredibly effective. Still recommend it and defend it as necessary viewing for any horror fan, old and new.
This movie is great!!! Why is Joe Bob Briggs not doing a review on each of the Nightmare on Elm Street Movies. I want to hear his opinion on each one and have the actors or Robert England speak about them!! These movies should not leave August 31. There are still so many Freddy fans still out there, PLEASE PLEASE SHUDDER MAKE THIS HAPPEN!!! Now onto the review, Nightmare on Elm Street is a classic movie, this is the best one of the series and Robert England did an amazing job! The end now stop reading my post and watch the movie. I have more to say but only if you want to hear more