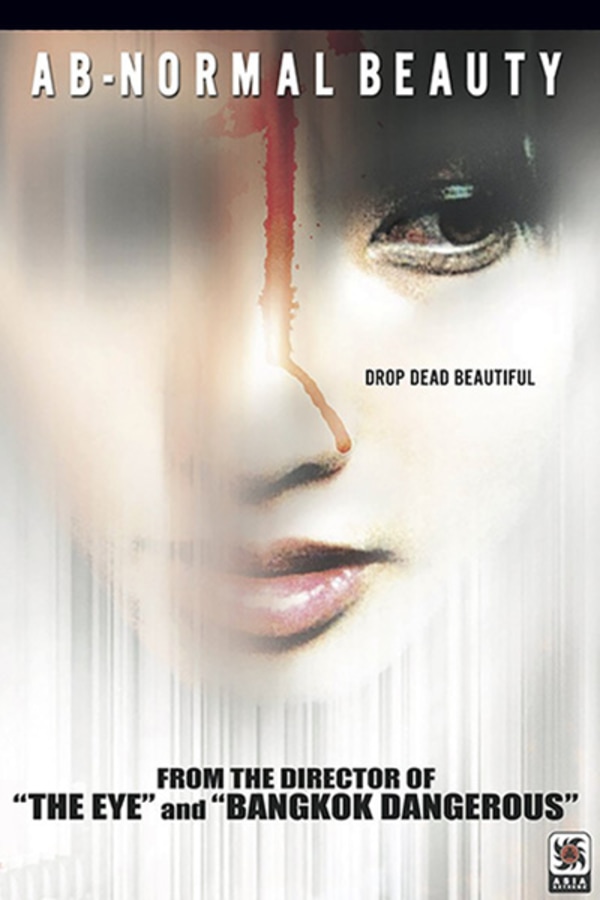 Ab-Normal Beauty
Directed by Oxide Chun Pang
An art student becomes obsessed with photographing gruesome scenes of death in this twisted thriller from Shudder's favorite Hong Kong horror siblings, the Pang Brothers. After witnessing a messy accident. Jiney (Race Wong) stops taking pretty pictures. Instead she spends her days photographing dead animals and other repellant sights. But Jiney's strange fixation soon attracts the attention of a sadistic serial killer, who sends her some of his own wicked work for inspiration. Will she become his next subject? Or will he unlock the reason for her devotion to death?
A beautiful and talented photography student witnesses a gruesome car accident but instead of being horrified she finds herself aroused.
Cast: Race Wong, Rosanne Wong, Anson Leung
Member Reviews
This is the 3rd time i watched this. 1st tine i watched it was 2004, 2nd time was 2009 . and 2019. i forgot most parts, but the storyline is still good with a plot twist.
Wow, what an absolute letdown with that ending. It started out relatively interesting visually at least, but then it just became another incredibly cliche-filled mediocre movie. Spoilers ahead in my review, so don't keep reading this if you haven't watched it yet: that "twist" ending was completely unnecessary and boring. If you just take one random character who barely appeared at the beginning of the movie and then don't show them again. Until the very end of the movie, it's not an interesting reveal. It makes the entire middle portion of the movie seem pointless. Also, this movie sends a very annoying message to me. Basically the whole point of the movie is that people who have any interest in The macabre, death, or horror are bound to be messed up in the head or face some psychological problems, if not some real life dangers by associating with similar people. Just who exactly is this message for? It makes no sense for horror fans. We all already know that this all-too-consuming stereotype about those interested in dark things is totally false. And is merely an assumption made by people who don't understand what we are interested in. The main character of this movie only gets into trouble once she shows an interesting in the macabre. The rest of the characters are so disturbed by her interest, which is expressed as primarily an artistic and creative one, that the movie makers make it seem like this is the most insane kind of thing to be interested in, which sends a bad message because the fact is that people have been interested in exploring these things artistically or not for thousands of years. Depicting death in one's art does not make one mentally ill or prone to violence or danger. This is the most annoying stereotype about horror fans out there and this terrible movie serves to only perpetuate that stereotype. But in this movie, one gets the impression that if you are interested in death at all, then you are mentally disturbed, violent, suicidal, and will run into some karmic violence towards you. Why on earth have so many horror movies made hundreds or millions of dollars at the box office then, if everyone thinks that their contents are so harmful to society? This movie really deserves criticism, I think, for its poorly executed story and message. I only give it a two instead of a one because the acting and cinematography are good. There's nothing bad about those, but the rest of the movie is really bad.
Definitely was not my cup of tea. Till the middle of the movie I thought the chic needed some strong ass med's and a very qualified psychiatrist. But it kind of switched up towards the end. I guess it was okay..
The first half is enjoyable mystery then the second half turned into cliche torture
What starts off as a somewhat slow exploration of trauma and obsessive thinking really revs up the horror element in the last 30 minutes. Glad I stuck with it.