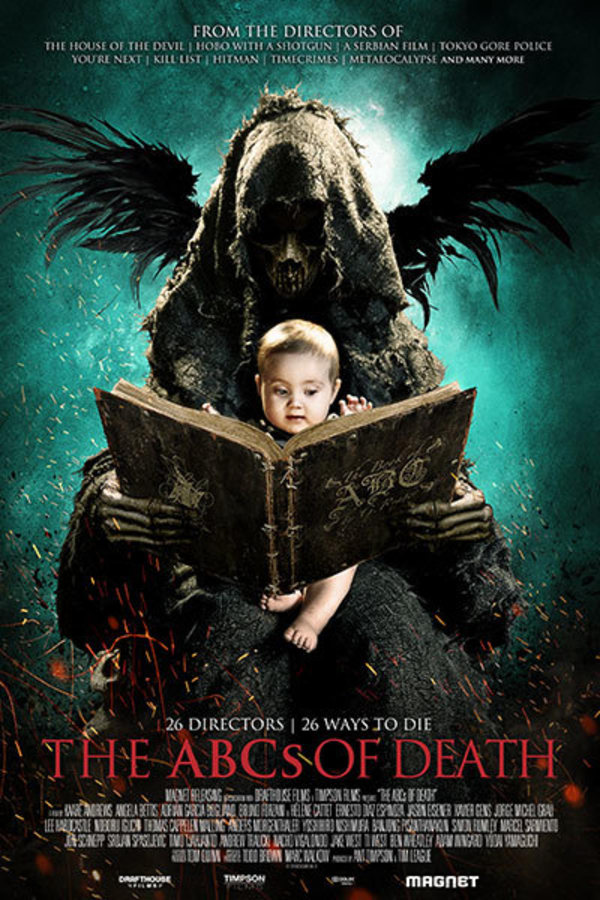 ABCs of Death
Directed by Various
26 directors contributed grisly death-themed shorts for this hit horror anthology, including Ti West (THE INNKEEPERS), Adam Wingard (YOU'RE NEXT), Nacho Vigalondo (TIMECRIMES), Ben Wheatley (KILL LIST), Noboru Iguchi (THE MACHINE GIRL) and Marcel Sarmiento (DEADGIRL). Inspired by children's educational books, the gruesome group of directors were assigned a letter of the alphabet and given free rein to tell a story about death. Provocative, shocking, funny and ultimately confrontational, THE ABC's OF DEATH is the definitive vision of modern horror diversity. Contains sexual scenes, violence and gore.
26 directors contributed grisly death-themed shorts for this hit horror anthology.
Cast: Neil Maskell, Elisabeth Rosen, Michael Smiley, Michael Rogers
Member Reviews
Certainly not for everyone's taste but quite an obscure collection of shorts. There is a lot of good creative material here but you have to watch with an open mind and don't expect for every film to blow you away. However do be prepared for a diversity of strange bloody and often funny horror flicks.
This movie is....not good. I like a good horror anthology. This does not deliver. It falls into the category of the "Human Centipede" movies for me, where a good portion of these shorts are simply crossing the line for distasteful to repulsive for no real reason whatsoever. Some of them have nothing to do with horror at all. There is an obsession in multiple ones with killing animals or with scatological nonsense. And as others have mentioned here, the tonal whiplash is impossible to deal with. There are maybe a handful of these worth watching, but the rest are just unmitigated trash.
I loved this movie. Mostly seeing the variety of ideas of horror. Each is so unique.
a few good shorts. not worth watching to whole thing to watch them though...