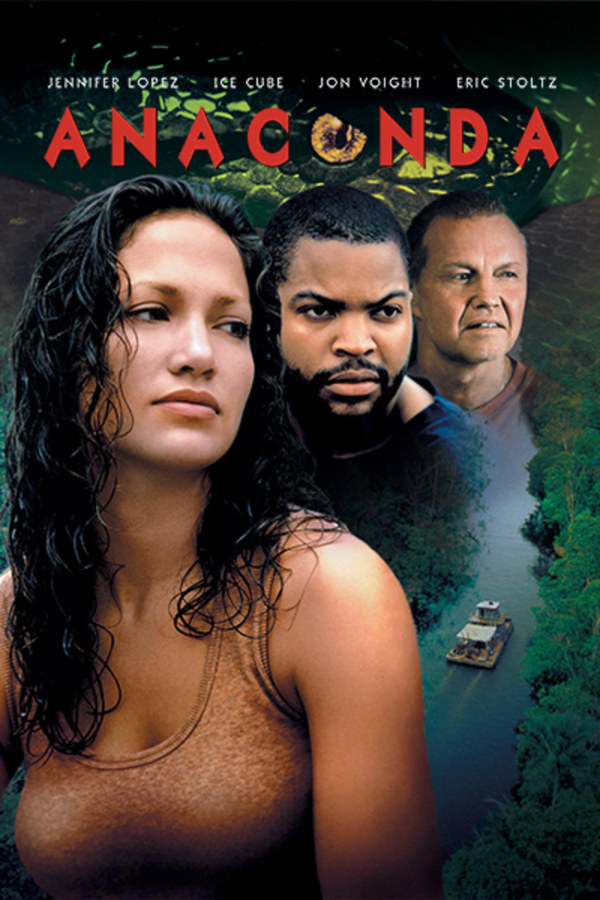 Anaconda
Directed by Luis Llosa
Adocumentary film crew led by anthropologist Steven Cale (Eric Stoltz) and director Terri Flores (Jennifer Lopez) enters the mysterious world of the Amazon in search of the legendary Shirishama Indians. Cameraman Danny (Ice Cube) smells trouble when the crew picks up a suspicious passenger-Paul Sarone (Jon Voight), a charismatic loner and "river man" whose professed knowledge of the Shirishama entices the crew. But Sarone's motive for driving the crew deeper into the river is his own dark quest to track a lethal 40-foot Anaconda, and he'll sacrifice anything and anyone to find his adversary.
A documentary film crew strays into dangerous territory when it takes on a passenger obsessed with exploring the habitat of the world's largest snake.
Cast: Jon Voight, Jennifer Lopez, Eric Stoltz
Member Reviews
Darned good movie! Ice T and John Voight deliver standout performances, although John Voight's accent sounds like Tommy Wiseau. Jennifer Lopez was surprisingly good and the snake looked great. Since I joined Shudder I've been watching more horror films than ever before and I've learned to laugh at danger and snicker at catastrophe but this film had me on edge.
This came out in 1997. It's still pretty good.
Love 90s movies love this movie
Still one of my favorite movies!
Jon Voight is a hoot, the anaconda (even with dated CGi) is a superbly executed onscreen beastie, and the story stays completely out of its own way, there only to facilitate a delicious villain and a hungry reptile at their best. I revisit most B-movies from the 90s (The Relic, Species) to find a turgid result, this is surprisingly good.