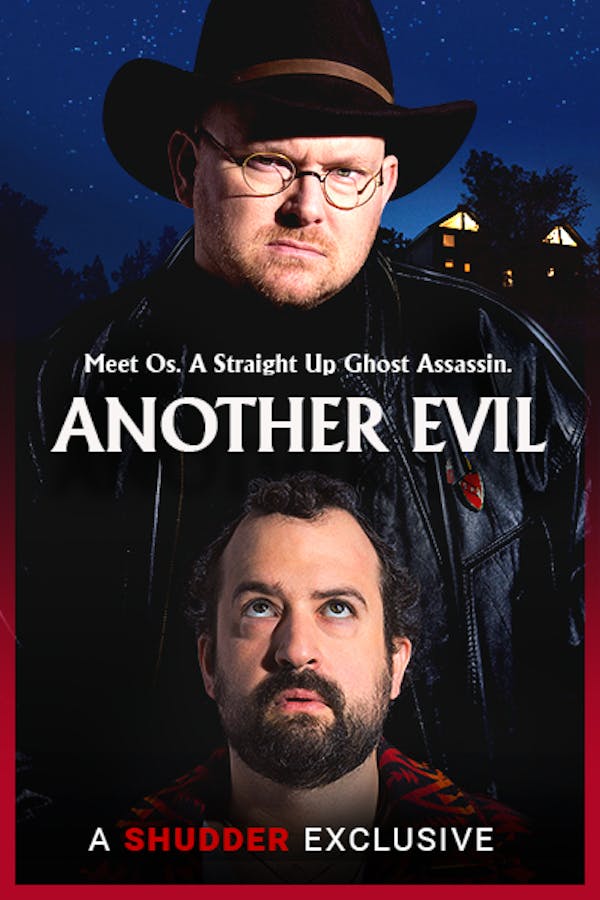 Another Evil
Directed by Carson D. Mell
After glimpsing a ghost in his family's vacation home, Dan seeks out an exorcist to evict the supernatural squatters. His first hire (Dan Bakkedahl, "Veep") suggests a BEETLEJUICE-style co-habitation, but Dan wants the ghosts gone for good. When he meets industrial-grade exorcist Os, who promises to do the job right, it seems like a match made in heaven. But Dan soon realizes that ridding the home of evil – or his odd new ghost hunter friend – won't be as simple as it seems. Carson Mell's clever horror comedy combines WHAT ABOUT BOB? and THE EXORCIST with hilarious results. A SHUDDER EXCLUSIVE
In this haunted horror-comedy, a man hires a very odd ghost hunter to rid his home of spirits.
Cast: Dan Bakkedahl, Beck DeRobertis, Dax Flame, Jennifer Irwin
Member Reviews
I Don't think it is a great movie but it isn't as bad as a lot of reviewers are making it sound. I enjoyed it, it has a little obsession aspect as well as horror and comedy so it is interesting and it did make me laugh a few times.
These reviews are very misleading. There are definitely not enough laughs to sit through this stupid guy torturing a bored guy. There does happen to be some kind of ghost stuff but never in a cool, funny, or intriguing way. When looking for a complimentary adjective about watching, I can only come up with frustrating if you actually like any of the characters. Otherwise it just sucks.
Fuck these bad reviews, movie is pretty good. Could have been a straight horror and more morbid with no comedy, but they struck a nice balance. Even though there's no comparable aspects, kind of had a "Creep" vibe to it. Dug it.
Watching this movie was a waste of 90 minutes, it's boring with little to no decent storyline. I found myself not caring about what happened to the characters in the end as none of the characters were compelling. The bald guy was obnoxious and I hated his presence in the film, although I guess that was kinda the point of his character. The one 'plot-twist' if you could call it that was predictable and overdone and I really wish I could get my time back. TLDR- don't watch this movie it's boring and not worth your time
This movie was awesome! It is so not what you expect and great twist! It's a nice comedy horror. I really enjoyed it!