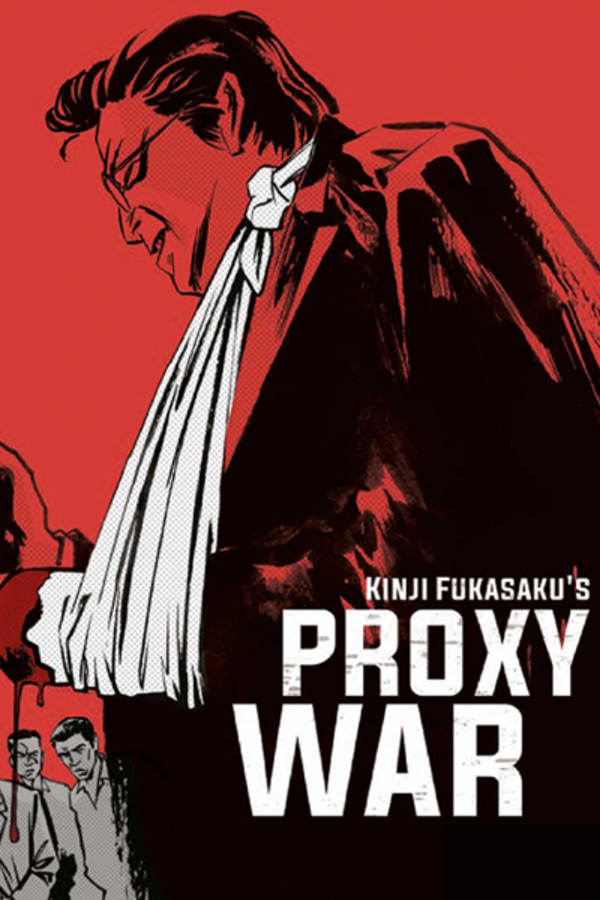 Battles Without Honor and Humanity: Proxy War
Directed by Kinji Fukasaku
1960. A power vacuum is formed within the Muraoka family when underboss Uchimoto (Takeshi Kato) refuses to avenge the assassination of a superior. With the help of series hero Shozo Hirono (Bunta Sugawara), Uchimoto pledges loyalty to the powerful Akashi gang, but is soon expelled from the Muraoka for the act. Meanwhile, Akashi rivals the Shinwa Group form their own pact with Muraoka, and the enmity between the two gangs threatens to erupt into bloody violence across all of western Japan. Contains strong language, violence and gore.
Yakuza boss Shozo Hirono must choose his alliances carefully as the local gangster family affiliations prove themselves to be wildly unstable, causing gang conflicts to slowly escalate.
Cast: Bunta Sugawara, Akira Kobayashi, Tsunehiko Watase
Member Reviews
Really digging this series. Hating Yamamori and that weasel Makihara more and more. Can't wait to see the fate of Hirono!
The continuing cycle of violence and shifting loyalty among the yakuza of Hiroshima. The majority of characters come and go to the narrative and it's hard to keep them all straight but if you just follow Shozo Hirono and his navigating these treacherous waters, then it is interesting.
Talkier and more involved in the politics of the Yakuza. The first two are more episodic following two different protagonists but at this point the series returns to the original films protagonist Hirono after serving his jail term from the end of the first film and stays with him through the end of the series. This movie ends by setting the very complex stage for the next film, basically 3 & 4 are two parts of the same story and should be viewed back to back for clarity. Great Stuff!
It wouldn't have been a Battles Without Honour And Humanity if it didn't start with a vicious fight, well that's fine by me haha Slightly inferior to the two wonderful previous entries as sometimes the excessive talking makes the film feel like it's dragging, but still highly fascinating to me as it delves even deeper into the mechanisms of the yakuza society, supported once again by fantastic ensemble work. It's also great to see Hirono back as the centre of the action!
More talky then the other movies in the series up to now, still great.