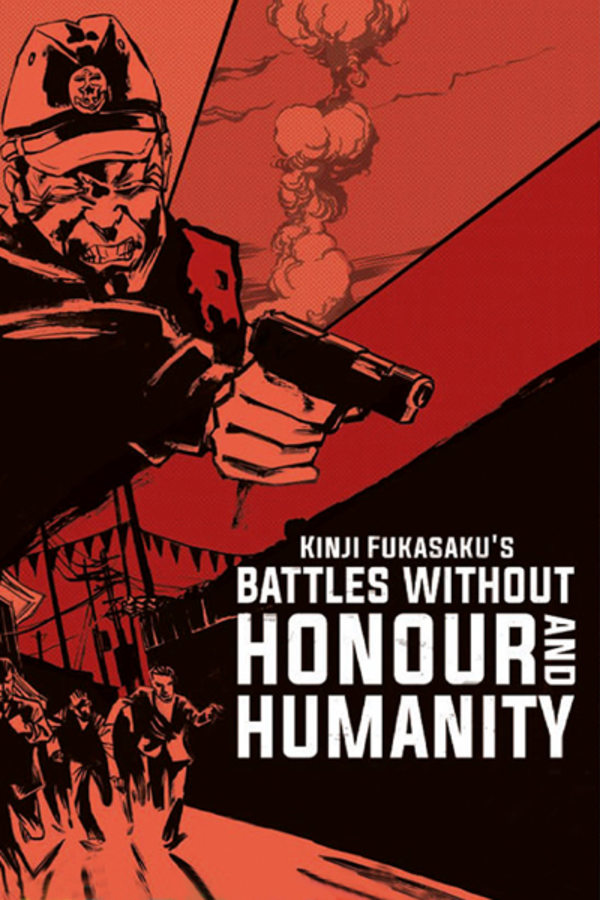 Battles Without Honor and Humanity
Directed by Kinji Fukasaku
1947. Ex-soldier Shozo Hirono (Bunta Sugawara), after proving his ability with a gun, emerges from the teeming black markets of postwar Kure City into the professional world of the yakuza. Shozo makes his way from prison to boss in the newly-formed Yamamori family via gang feuds, assassinations and the shifting allegiances of his fellow mobsters, despite his own growing disillusionment with the men he is supposed to respect. Contains strong language, violence and gore.
During the violent chaos of post-War Japanese black market, a young gangster called Shozo Hirono has to keep up with the rapid shifts of power between unscrupulous bosses.
Cast: Bunta Sugawara, Hiroki Matsukata, Kunie Tanaka
Member Reviews
This is top-notch yakuza fare. Thanks so much for this series.
Not the kind of thing I expect to find on Shudder but so glad it was on here and I gave it a go. It was great and can't wait try out the sequels. I now have a new interest in Yakuza films. Even better than the overrated Godfather films.
This movie was really boring to me. I like Yakuza movies, but maybe I've seen enough of them. This one is just like the same thing happening again and again to boring characters that I don't care about. It's not a bad movie. I just wasn't into it.
This movie will always have a special place in my heart - I would recommend it to anyone
I hung around with some Osaka mafia when I was younger, looking back WTF was I thinking. Anyway, they loved these movies. Very fast moving and bloody, give it a chance if you're on the fence. It's an interesting window into a small time period right after WW2 that most Westerners know little about.