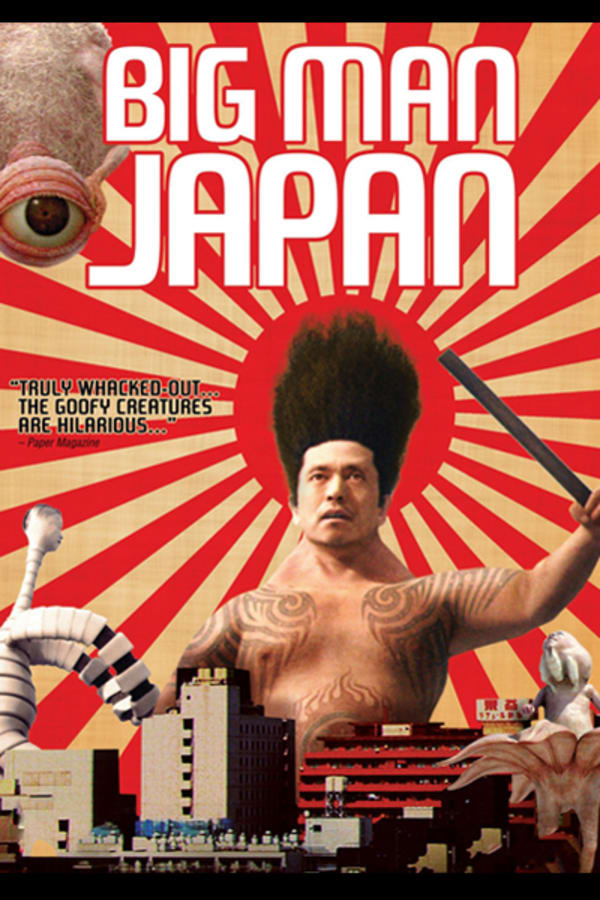 Big Man Japan
Directed by Hitoshi Matsumoto
BIG MAN JAPAN is an outrageous portrayal of an original superhero. As Big Man Japan, Daisato inherited the role of defending Japan against a host of bizarre monsters. He receives high-voltage electroshocks which transform him into a stocky, stick-wielding giant several stories high. However, where his predecessors were revered as national heroes, he is an outcast among the citizens he protects.
As Big Man Japan, Daisato inherited the role of defending Japan against a host of bizarre monsters.
Cast: Hitoshi Matsumoto, Riki Takeuchi, Ua
Member Reviews
Three skulls just for sheer weirdness. I'm not sure we can even classify this as a horror movie, but I'm glad I did watch it. Good work with a very original idea. If you're looking for traditional horror, look elsewhere. If you're looking for a weird movie, this might be worth a look for you.
Well, there's about 114 minutes I should've spent doing.....oh, just about anything else.......*sigh*.....
A monster movie in name only, Big Man Japan is a film much less interested in its bizarre and amusing monsters and much more on the practical aspects of what it would mean if monsters did terrorize Japan at semi-regular intervals and the repercussions such work would have on a man tasked with defeating them. Or, better stated, it's a film about a man tasked with defeating this creatures at a time where the danger posed by the monsters is not nearly as appreciated by the public because past generations have whittled down their numbers that they only appear once in a blue moon. In turn, the monster killing business has turned much less lucrative and glorious and the film is relentless in exploring the psychological effects this has on the last remaining monster killer. Surprisingly sloggish in its pacing, the film is flat-out depressing. Our hero is pathetic yet full of kindness (an early scene tellingly showcases both his tender side in taking in a stray cat as well as his outsider status within Japanese society as his conception and defense of a stray cat seems oddly personal) and clearly is grappling with some mental health issues--depression being the most likely candidate. In many ways, the film almost seems to document the kind of degradation that ensues as capitalism takes a deeper stranglehold of a country; this isn't me reaching or injecting political philosophy into a silly movie. Rather, the Big Man Japan, who should be a national hero for keeping these fearsome monsters at bay is routinely degraded by having to sell his body for adspace just to be able to afford a life of depressing squalor. The ending is something that has to be seen to be believed but it seems a clear jab at both American imperialism and Japan's military dependence on it along with a bitingly hilarious stab at TV shows like the Power Rangers. Truly a weird movie. I will warn, however, that this movie is not for everyone. Those looking for a crazy, fast-paced romp of insanity will be severely disappointed and for all the film's strengths, at times the narrative felt completely lost, wandering for a raison d'etre. Perhaps this is the most faithful reflection of the film's protagonist that could possibly be given (and works quite well with the documentary angle the movie goes for) but nonetheless, it doesn't make the film accessible.
2 skulls for the last 15 minutes alone. so hilarious i watched it twice - i just wish i didn't have to sit through the first hour and a half for it. plot reminds me a bit of the series One Punch Man, just instead of a slacker hero it's just a downtrodden one that no one in Japan likes or respects.