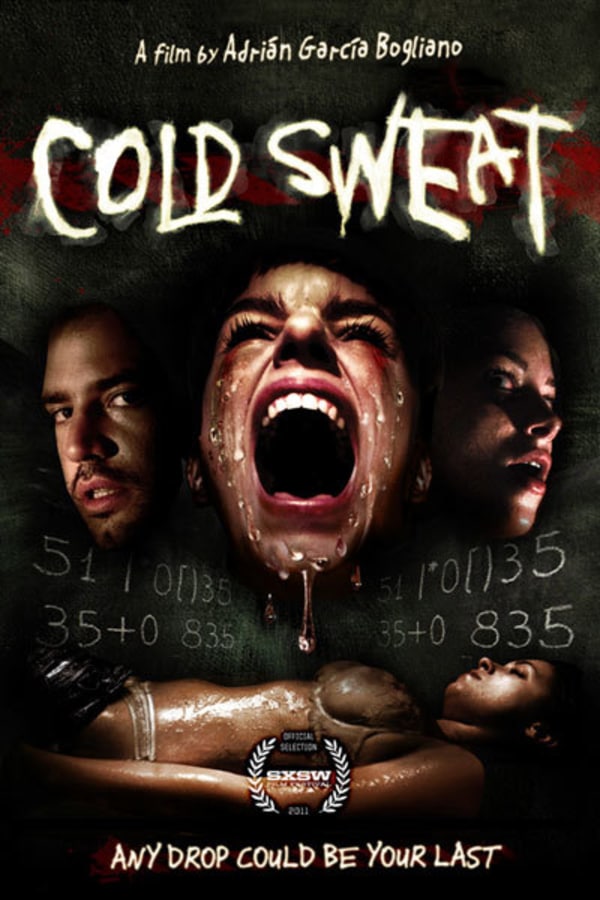 Cold Sweat
Directed by Adrián García Bogliano
A man must rescue his girlfriend from a deranged pair of elderly torturers in this Argentinian shocker which was a hit at SXSW in 2011. When Roman's girlfriend disappears he expects to find her in the arms of another man. But when he learns she's being held captive by a pair of crazy old men conducting illicit experiments involving dynamite on a string of young women, Roman must figure out how to free her or she'll end up in pieces. A delirious old school horror film with the most memorable villains in years, COLD SWEAT never fails to frighten or entertain. (In Spanish with English Subtitles)
A man must rescue his girlfriend from a deranged pair of elderly torturers.
Cast: Marina Glezer, Facundo Espinoa, Camila Velasco
Member Reviews
interesting film...outrageous situation happening here but I wasn't bored at any time. Couple funny scenes too...hope it wasn't trying to be scary. Fun movie
A rather silly, but definitely unique premise. Fun popcorn flick.
THere'S definitely something new in this movie but it's a very unrealistic scenario. For one exemple there were a couple of times when the heroes were afrai of the old man who could barely stand up. I mean wtf? The guy could have just gone and take out some explosives, take out the cripple onw with his barehands, everything they needed was right there in the first room. Why didn't he think of bringing some chalks with him, there were 2 complete ones! He could have spread it on the girl after he stomped one of the 2 old geizers and then they were 3 against the one that was left who by then wouldn't even know something was happening. Throw ar him one of the explosives he had brought with him and that's it. Everything could have been saved just from taking stuff from the first room where the girls were in the first place. Also at one point one girl is face to face with one of the old guys and she's afraid!! I mean she's seen how weak he was!! Anyways I still had fun watching it even if I was screaming just do this or just do that you dummass!! Still points for originality. Would have been much better with a strong young guy in the vilains' team. Would have made the plot much more plausible.
While it veers into some silly, underwhelming territory there is still something to like about "Cold Sweat." It's never boring, and is very interested in having fun with itself and as such remains an endearing film, it just seems to have a bit of a problem with running away with itself. It's a textbook case of a film being unable to get out of it's own way. That being said, there's some genuine charm to be found here.
Saw with nitroglycerin and a bit people under the stairs 😁