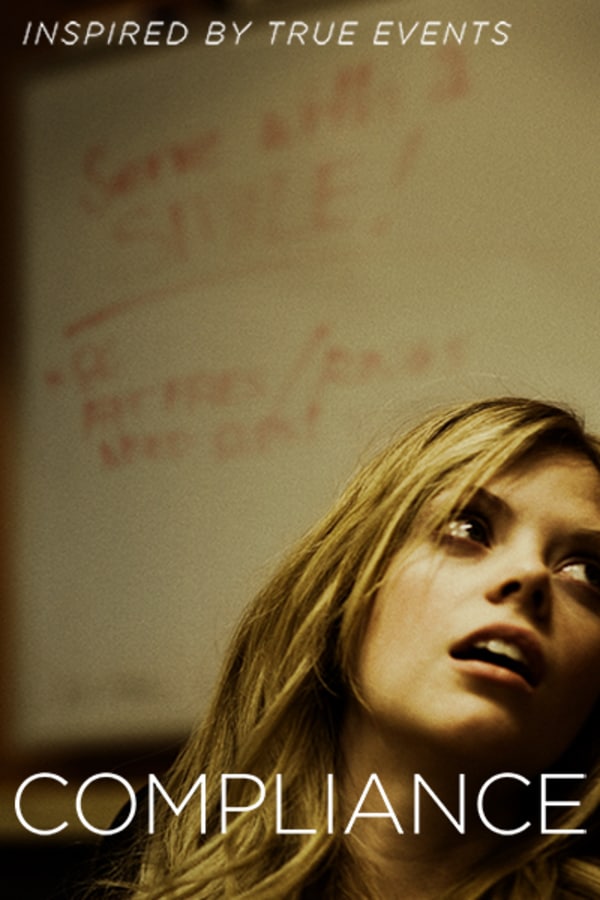 Compliance
Directed by Craig Zobel
Inspired by true events, Compliance tells the chilling story of just how far one might go to obey a figure of authority. On a particularly busy day at a suburban Ohio fast food joint, high-strung manager Sandra (Ann Dowd) receives a phone call from a police officer saying that an employee, a pretty young blonde named Becky (Dreama Walker), has stolen money from a customer. Convinced she's only doing what's right, Sandra commences the investigation, following step-by-step instructions from the officer at the other end of the line, no matter how invasive they become. 
Inspired by true events, COMPLIANCE tells the chilling story of just how far one might go to obey a figure of authority.
Cast: Ann Dowd, Dreama Walker, Pat Healy
Member Reviews
Just long and uncomfortable, and not the fun kind of uncomfortable.
the characters are dumb as shit but i genuinely enjoyed it. definitely worth the watch!:)
I get what this was trying to do, but I couldn't make it past the halfway point. Stupid characters drive me nuts.
Weird,strange,unusual,unique,creepy? All of these words could be used to describe this movie. Talk about life being stranger than fiction. On the other hand in these pc times some of it is as a divine comedy, I must admit. The stupidest one of the lot was the power tripping manager who was having her ego stroked left and right while polishing her good guy badge through the whole ordeal. Interesting note, while this female manager took near delight in making this younger lower ranked employee go through a list of perversions and turning her over to her fiancee to boot, the men were actually reluctant to sexually assault the female. In fact, it was a man who put a stop to it. What I found ironic was that the film hinted at a Chick Filet style place, mentioned Wendy's specifically and let the real culprit McDonald's go unnamed. Just google the name Louise Ogborn McDonalds Mount Washington KY. Horror, not per se. Unless you are speaking of the horror of exactly how power hungry low level management at these places can be.