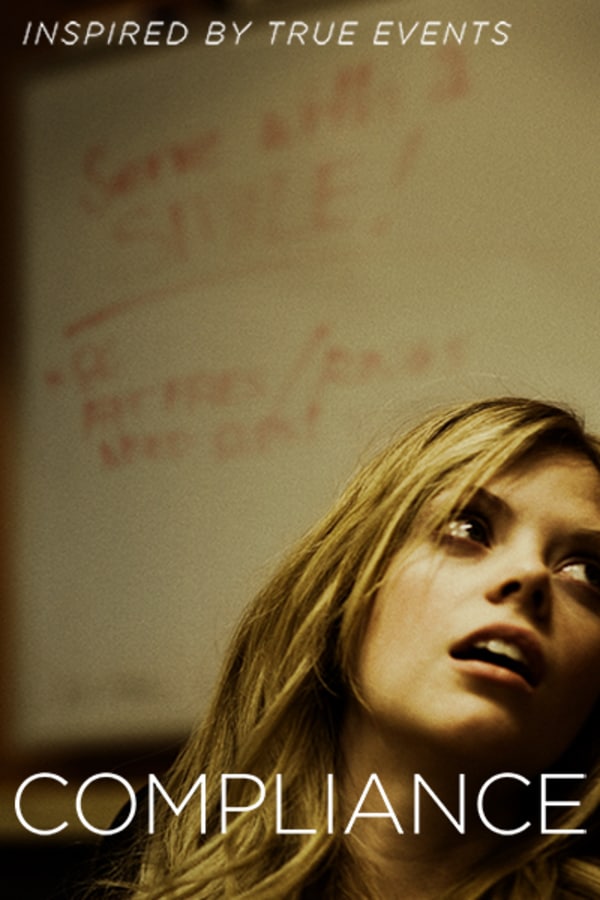 Compliance
Directed by Craig Zobel
Inspired by true events, Compliance tells the chilling story of just how far one might go to obey a figure of authority. On a particularly busy day at a suburban Ohio fast food joint, high-strung manager Sandra (Ann Dowd) receives a phone call from a police officer saying that an employee, a pretty young blonde named Becky (Dreama Walker), has stolen money from a customer. Convinced she's only doing what's right, Sandra commences the investigation, following step-by-step instructions from the officer at the other end of the line, no matter how invasive they become. 
Inspired by true events, COMPLIANCE tells the chilling story of just how far one might go to obey a figure of authority.
Cast: Ann Dowd, Dreama Walker, Pat Healy
Member Reviews
I give it 2 skulls because it is a very well made low budget movie and the actors are competent enough... but I finished the movie solely because of sheer curiosity. I can understand some people were drawn into the story but I found it absolutely impossible to believe. Some people are stupid and weak willed, sure, but in this movie all characters are stunning idiots. Maybe kids (like the lead and her guy friend) don't know any better because they are young but the adults are twice as thick skulled. It would have been much better to show some resentment first between the characters and then use this drive to justify abusing Becky through the excuse of being ordered by the police. It's hard enough to trust and respect the police when they are in your face, I cannot fathom anyone obeying every order through phone without even wondering if this is the right thing to do. I think the movie would have worked better if it were a comedy. Even if it wasn't one, I laughed myself silly most of the last hour. No one, not for a single second, thought of personal rights and the right of attorney... or simply thought about the basic notion of right and wrong, until this miserable charade had finally to end.
I get it's based on a true story but what a bunch of idiots. Movie quality was good, nothing spectacular tho
One of the Crazyiest Real Life stuff ever! & so many cases! WOW Great film!
Wow...how could so many people let this happen? F that! Wait for the cops and put me in jail! How did NO body question this? Especially when this guy asked about her nipples???
As a casual film critic, I'm always taking notes. But this one hurt my wrist. Next level How-To Guide shit. Do me a favor and turn to your left a little. Bad angle with the light.