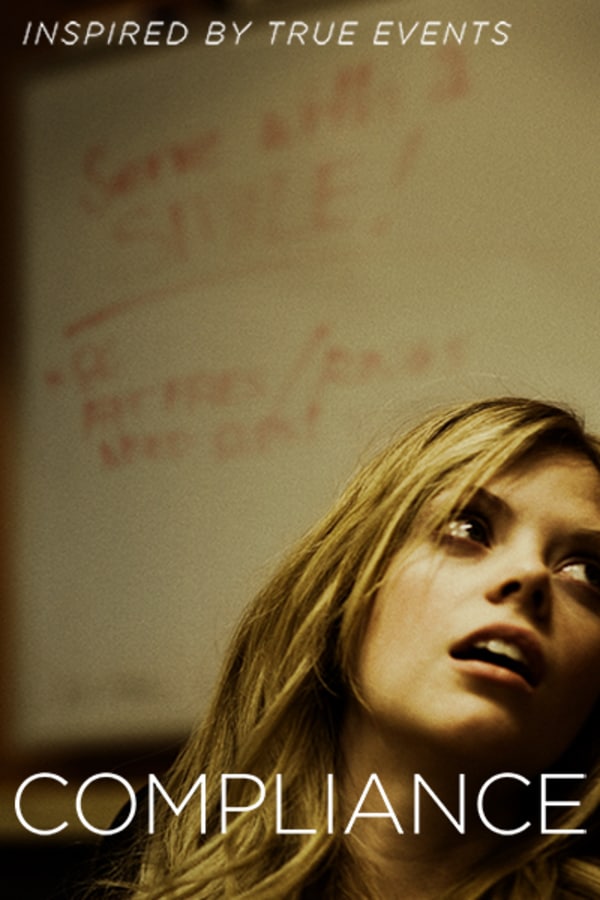 Compliance
Directed by Craig Zobel
Inspired by true events, Compliance tells the chilling story of just how far one might go to obey a figure of authority. On a particularly busy day at a suburban Ohio fast food joint, high-strung manager Sandra (Ann Dowd) receives a phone call from a police officer saying that an employee, a pretty young blonde named Becky (Dreama Walker), has stolen money from a customer. Convinced she's only doing what's right, Sandra commences the investigation, following step-by-step instructions from the officer at the other end of the line, no matter how invasive they become. 
Inspired by true events, COMPLIANCE tells the chilling story of just how far one might go to obey a figure of authority.
Cast: Ann Dowd, Dreama Walker, Pat Healy
Member Reviews
People are really stupid, they were bred to be that way so we can't blame them. Most people think we live on a blue marble spinning a thousand miles per hour and shooting through space at 500 million mile per hour, but when I walk out of my house things are calm as a sunday morning.
I couldn't finish watching it. I cannot bear people who are so meek, so foolish and so uneducated that they haven't the slightest idea how our justice system works and such a pathetic idea of right and wrong. People who cannot stand up for themselves and allow themselves to be controlled anger me more than the POS doing the controlling.
I remember learning about this case in psych class. It's horrifying to watch. A good psychological study.
Actually a good film. Through this film you can see how gullible the human mind can be. Not much of a horror film, but it's disturbing like the rest of the views are saying. It does keep your eyes glued to the screen just to see how it's going to end.
Saw this movie several years ago and I am still surprised people fell for this "prank". 30 phone calls over 12 years.