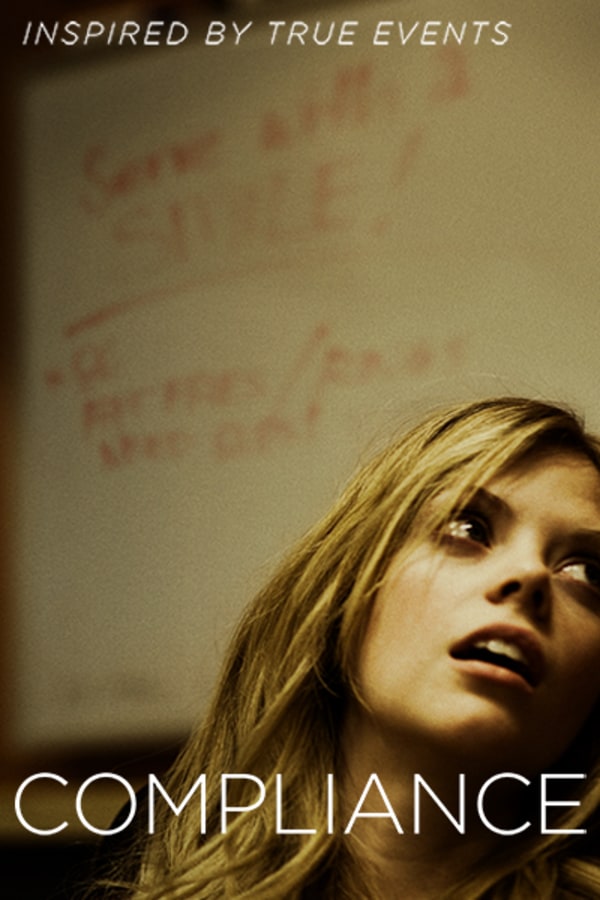 Compliance
Directed by Craig Zobel
Inspired by true events, Compliance tells the chilling story of just how far one might go to obey a figure of authority. On a particularly busy day at a suburban Ohio fast food joint, high-strung manager Sandra (Ann Dowd) receives a phone call from a police officer saying that an employee, a pretty young blonde named Becky (Dreama Walker), has stolen money from a customer. Convinced she's only doing what's right, Sandra commences the investigation, following step-by-step instructions from the officer at the other end of the line, no matter how invasive they become.
Inspired by true events, COMPLIANCE tells the chilling story of just how far one might go to obey a figure of authority.
Cast: Ann Dowd, Dreama Walker, Pat Healy
Member Reviews
This movie truly disturbed me how can anyone be that stupid? Hard to believe it's a true story
This was horribly good. Very disturbing to know that people do not know the law or their rights and will go against their better judgement and human decency just because someone has or claims to have authority. I was so agitated by the gullible supervisor and her undercover perverted fiancé. Thank goodness the older gentleman stepped up...it took her 2 minutes to call the actual people she should've called in the first place to find out the truth... what a moron.
well done. I remember learning about this in my 10th grade Psych class in relation to the Milgrim study. This is much better than the weird Law and Order episode with Robin Williams that covers the same topic.
Lots of reviews saying this is too ridiculous to believe... but this actually happened. And more than once. Look up "The Mount Washington Strip Search Scam." Really enjoyed this film.
I just don't understand how naive one can be! Or maybe it was just plain stupidity! overall it was an ok movie, but you wouldn't have EVER caught me doing something like that from threats coming over a phone. I don't care if they said they were Jesus Christ themselves, NO WAY!