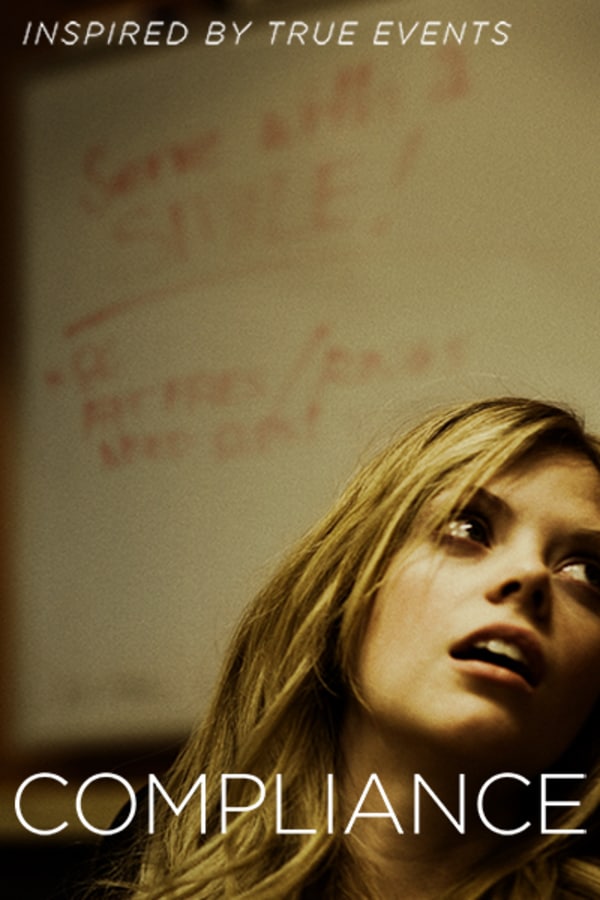 Compliance
Directed by Craig Zobel
Inspired by true events, Compliance tells the chilling story of just how far one might go to obey a figure of authority. On a particularly busy day at a suburban Ohio fast food joint, high-strung manager Sandra (Ann Dowd) receives a phone call from a police officer saying that an employee, a pretty young blonde named Becky (Dreama Walker), has stolen money from a customer. Convinced she's only doing what's right, Sandra commences the investigation, following step-by-step instructions from the officer at the other end of the line, no matter how invasive they become. 
Inspired by true events, COMPLIANCE tells the chilling story of just how far one might go to obey a figure of authority.
Cast: Ann Dowd, Dreama Walker, Pat Healy
Member Reviews
UUUUUUUUUUGGGGHHH.... i can't. i just can't. Sorry but I just cannot fathom how anyone could possibly think that turd on the other end of the line was an actual legit police officer. 30 minutes in and I quit.
This film is indeed a true horror. however not in the way you might think. While the topic of the film seems odd and the scenes showcase a great deal of awkwardness displayed by characters as if they themselves are asking why this is happening. This horror story is scary for one simple reason. the events showcased are based on the horrifying and degrading experience of a teenage girl working at a rural McDonalds. She was taken advantage of in every sense of the word and this film does that as well. Her rape was placed in the spotlight for everyone to see. News agencies showed video footage of her abuse which went on for hours. This film does nothing more than make a profit off the true horror this woman suffered.
Horrific in its own way that people could be manipulated and cowed just by a voice on the phone when you assume it's an authority figure.
This is so stupid its hard to watch. Im enraged how dumb people can be!!!!!!!
Absolute rubbish, how stupid can so many people be in one movie I am forced to give this trash one skull as it won't let me no 'give it a rating'