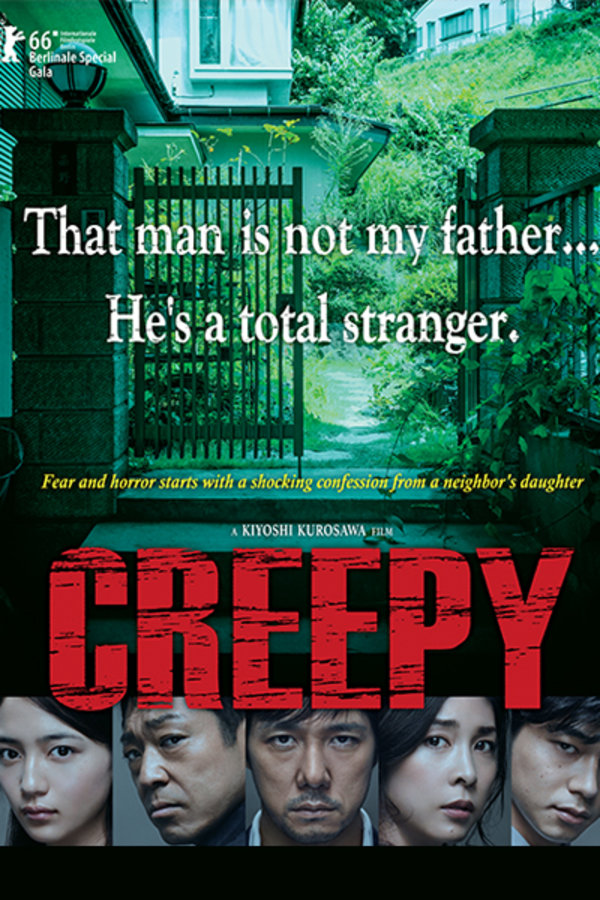 Creepy
Directed by Kiyoshi Kurosawa
In Japanese horror master Kiyoshi Kurosawa's brilliantly terrifying return to form, an ex-detective named Koichi and his wife Yasuko move into a new house with a deeply strange new neighbor. While Yasuko tries to make friends with the "creepy" Mr. Noshino, Koichi begins investigating an odd missing persons case. But when Noshino's daughter reveals something shocking to Koichi, he realizes the strange goings-on next door may have something to do with his cold case. Like Sion Sono's COLD FISH, CREEPY is an insidious study of the evil lurking under the surface in "polite" society.
An ex-detective and his wife move into a new house with a deeply strange new neighbor.
Cast: Hidetoshi Nishijima, Yuuko Takeuchi, Masahiro Higashide, Teruyuki Kagawa
Member Reviews
Good film. It's a slow burn but stick with it. It's memorable. I think Kurosawa missed out on a brutal ending that could have been similar to Oldboy but he chose something less extreme. Still a quite solid Japanese thriller with crime elements. The acting is quite good. These Asian films most people have never heard of are consistently far better than the biggest American releases and are better acted and written. This was no exception.
Once again, with his trademarked tight and unfussy direction, Kurosawa explores the banality of evil amidst a landscape of urban decay. A great film.
Encore!!!! I've seen a lot of Asian , horror movies, but this one tops them all.