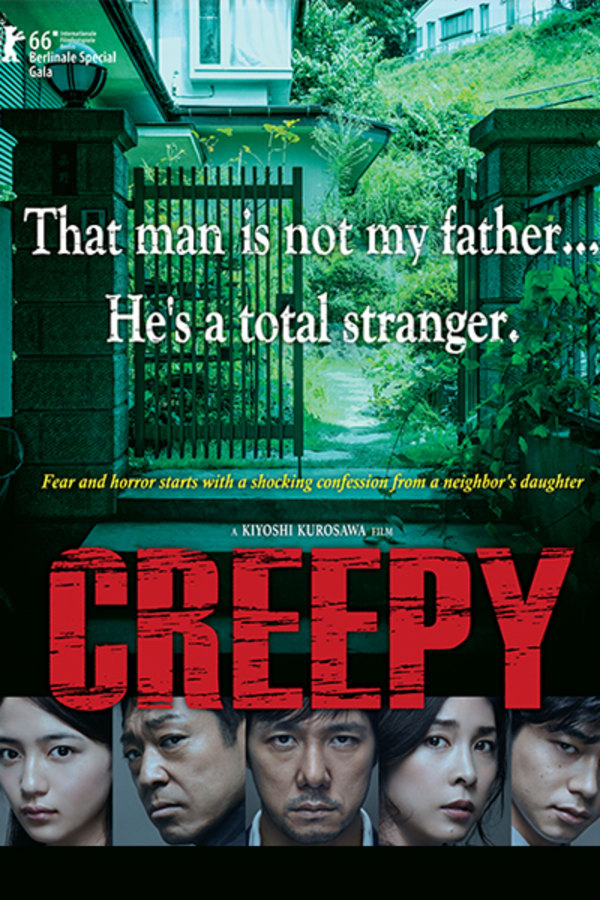 Creepy
Directed by Kiyoshi Kurosawa
In Japanese horror master Kiyoshi Kurosawa's brilliantly terrifying return to form, an ex-detective named Koichi and his wife Yasuko move into a new house with a deeply strange new neighbor. While Yasuko tries to make friends with the "creepy" Mr. Noshino, Koichi begins investigating an odd missing persons case. But when Noshino's daughter reveals something shocking to Koichi, he realizes the strange goings-on next door may have something to do with his cold case. Like Sion Sono's COLD FISH, CREEPY is an insidious study of the evil lurking under the surface in "polite" society.
An ex-detective and his wife move into a new house with a deeply strange new neighbor.
Cast: Hidetoshi Nishijima, Yuuko Takeuchi, Masahiro Higashide, Teruyuki Kagawa
Member Reviews
The only thing that saved this movie from getting one skull was the fact that the ending was only slightly "relieving." Don't watch this unless you want to understand what the term "LOOSE ENDS" means... Watch if you want to give yourself an aneurism. Every single character in this film other than the chief protagonist and the antagonist has an IQ of -12. Absolutely terrible. Wish I could have my two hours back.
A top notch crime thriller with lots of tension.
There were SO many plot holes it, to the point where I almost couldn't understand what was even really happening. Also some of the character decisions go completely against the entire characters personality/motives, which were surprisingly pretty fleshed out in the beginning. Almost gave it one skull but I did enjoy the actual cinematography of this movie
Usually writing is not a killer for me when picking a film but this movie from start to finish had so many plot holes and dumb character decisions that it ruined the whole film for me. When I mean poor writing I don't mean in a comically bad way, it's just bad.
Good plot - very suspenseful