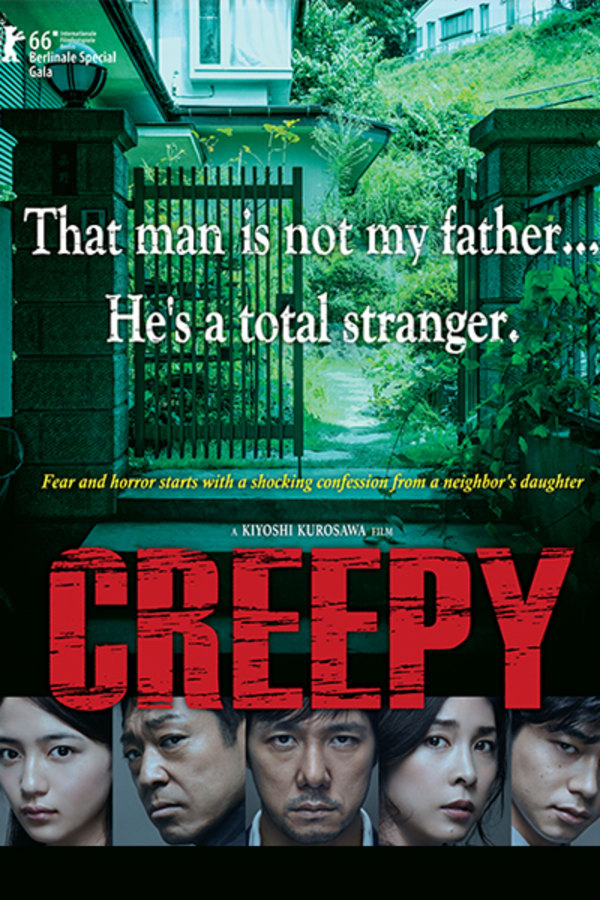 Creepy
Directed by Kiyoshi Kurosawa
In Japanese horror master Kiyoshi Kurosawa's brilliantly terrifying return to form, an ex-detective named Koichi and his wife Yasuko move into a new house with a deeply strange new neighbor. While Yasuko tries to make friends with the "creepy" Mr. Noshino, Koichi begins investigating an odd missing persons case. But when Noshino's daughter reveals something shocking to Koichi, he realizes the strange goings-on next door may have something to do with his cold case. Like Sion Sono's COLD FISH, CREEPY is an insidious study of the evil lurking under the surface in "polite" society.
An ex-detective and his wife move into a new house with a deeply strange new neighbor.
Cast: Hidetoshi Nishijima, Yuuko Takeuchi, Masahiro Higashide, Teruyuki Kagawa
Member Reviews
Just what I expected. This should be a scene motive lecture in Film 101. Totally recommend this movie.
This is a good thriller my only complaint would be the ending, despite that still love it.
lol bunch of babies in the comments. I get the feeling a lot of you don't have much experience with asian horror or foreign horror in general. Half these comments are complaining about multiple plot holes which is bizarre because i didn't see any and the other half of the comments praised the plot lol. Just a tip for new comers to foreign movies; they don't spoon feed there audience like America does, it takes a bit of imagination and thinking on your own. Which IMO is much more enjoyable because its just like reading a book, you know what is happening but you cant physically see what it all looks like so your imagination does the rest, which is highly more entertaining( because you are more involved). Just like how you never know what is inside the brief case in Pulp Fiction or how they never mention what it is Dennis Hopper is breathing in in Blue Velvet or any mystery in David Lynch's movies lol. So other than that this movie is pretty good and definitely worth a watch. I'd say the cinematography was the weakest part, its was just ok. And yes the creepy guy definitely played that part very well.
misogynistic. need i say more?