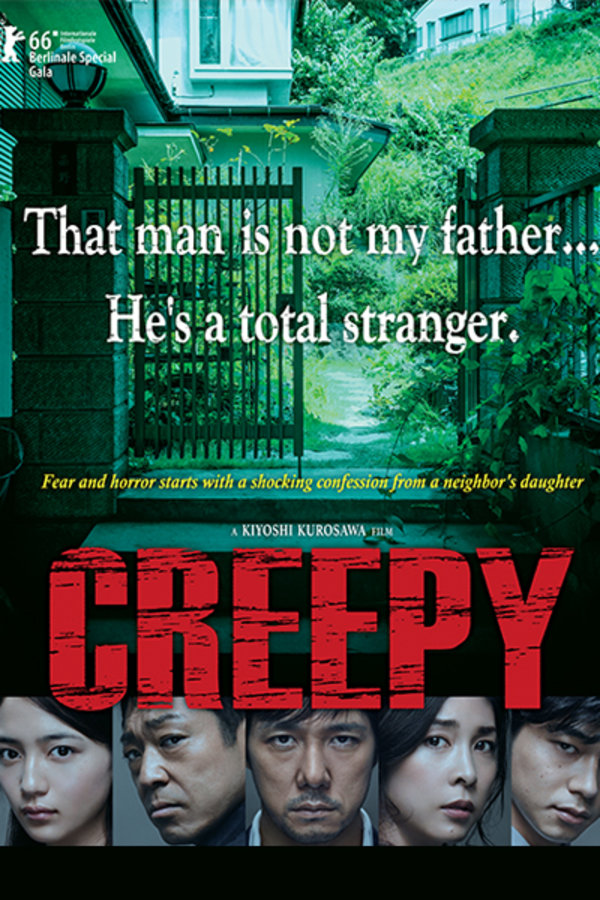 Creepy
Directed by Kiyoshi Kurosawa
In Japanese horror master Kiyoshi Kurosawa's brilliantly terrifying return to form, an ex-detective named Koichi and his wife Yasuko move into a new house with a deeply strange new neighbor. While Yasuko tries to make friends with the "creepy" Mr. Noshino, Koichi begins investigating an odd missing persons case. But when Noshino's daughter reveals something shocking to Koichi, he realizes the strange goings-on next door may have something to do with his cold case. Like Sion Sono's COLD FISH, CREEPY is an insidious study of the evil lurking under the surface in "polite" society.
An ex-detective and his wife move into a new house with a deeply strange new neighbor.
Cast: Hidetoshi Nishijima, Yuuko Takeuchi, Masahiro Higashide, Teruyuki Kagawa
Member Reviews
This would have been good if they had found ways to propel the plot that didn't just involve characters making inexplicably stupid decisions. You expect that laziness in slashers, but it doesn't feel right in this kind of movie.
Really interesting and kept me on the edge of my seat.
This movie has such a great premise and potential, but the questionable character actions were comical and borderline infuriating. Nevertheless, if you're looking for a different kind of a psychological thriller, Creepy is still worth a watch.
Great start , lives up to the Creepy title . Not a horror movie , more of a thriller with plot holes and unbelievable character actions . Nothing special , just a time waster .