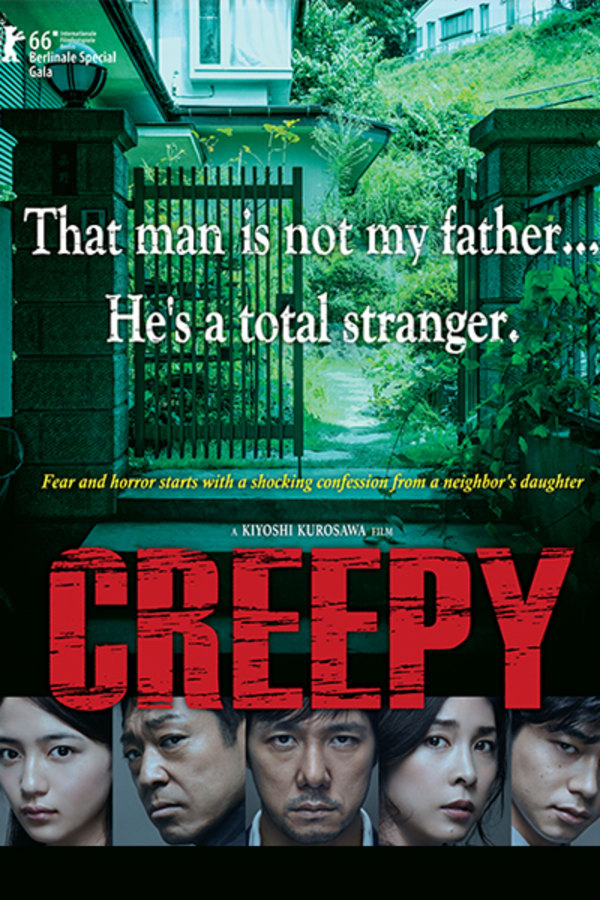 Creepy
Directed by Kiyoshi Kurosawa
In Japanese horror master Kiyoshi Kurosawa's brilliantly terrifying return to form, an ex-detective named Koichi and his wife Yasuko move into a new house with a deeply strange new neighbor. While Yasuko tries to make friends with the "creepy" Mr. Noshino, Koichi begins investigating an odd missing persons case. But when Noshino's daughter reveals something shocking to Koichi, he realizes the strange goings-on next door may have something to do with his cold case. Like Sion Sono's COLD FISH, CREEPY is an insidious study of the evil lurking under the surface in "polite" society.
An ex-detective and his wife move into a new house with a deeply strange new neighbor.
Cast: Hidetoshi Nishijima, Yuuko Takeuchi, Masahiro Higashide, Teruyuki Kagawa
Member Reviews
So I jumped into this film when it was streaming, already about 30mins in but I'm glad I watched it! It is supposedly based off or inspired by a novel, so the plot and suspense were the strong points. The acting was a little weak but it was excusable when clues in the story began to unravel. Now the last 20mins had me on the edge of my seat wondering if it was going to be overwhelmingly predictable and bad but to my surprise [and I won't spoil anything] it took a sharp turn that left me with chills. Slow and tense but will leave you stunned.
The suspense level is great . In spite of the fact that you'll probably figure out a few of the main plot points early on it still managed to be entertaining.