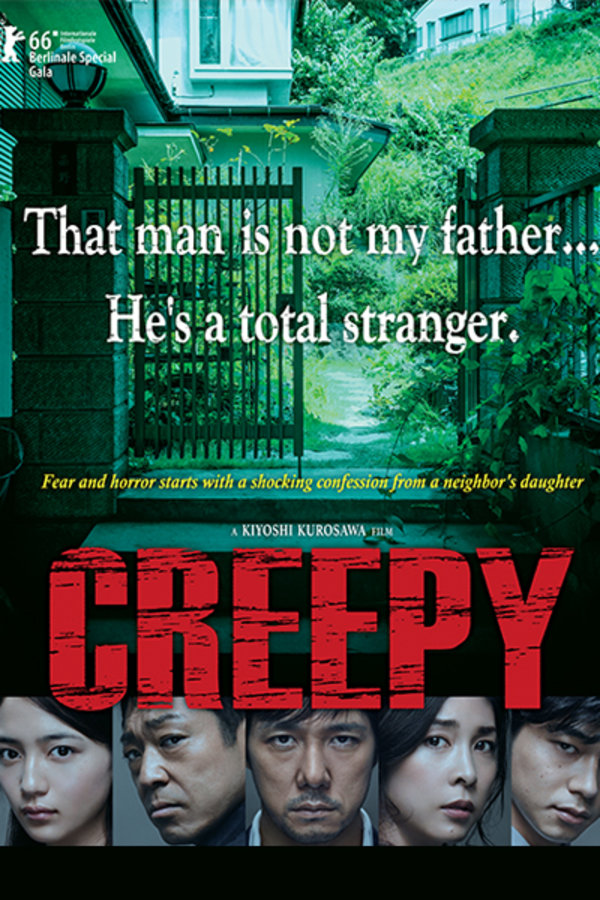 Creepy
Directed by Kiyoshi Kurosawa
In Japanese horror master Kiyoshi Kurosawa's brilliantly terrifying return to form, an ex-detective named Koichi and his wife Yasuko move into a new house with a deeply strange new neighbor. While Yasuko tries to make friends with the "creepy" Mr. Noshino, Koichi begins investigating an odd missing persons case. But when Noshino's daughter reveals something shocking to Koichi, he realizes the strange goings-on next door may have something to do with his cold case. Like Sion Sono's COLD FISH, CREEPY is an insidious study of the evil lurking under the surface in "polite" society.
An ex-detective and his wife move into a new house with a deeply strange new neighbor.
Cast: Hidetoshi Nishijima, Yuuko Takeuchi, Masahiro Higashide, Teruyuki Kagawa
Member Reviews
Interesting movie but terrible writing for the women characters, all of them weak-minded, naive and easily led astray
The first half sets up the tension and creepiness well. Things are wrong and there is no obvious explanation why. The subtlety is great. Unfortunately, these are all cast away in the middle part for a lot of stupidity. I've to turn off my brain a bit to go on. Luckily the ending resolves a bit of that. I'll still recommend this movie to my friend though.
It really was Creepy. The film built an increasing and incredibly disturbing sense of tension, dread and, well, creepiness. A commentary on the modern sense of community and familial relationships, but a highly entertaining and gripping horror. SPOILER ALERT: Some people may not appreciate the open ending, but a tidier ending would have diminished the film.
It's been a while since I have seen a really intense Asian thriller that has a buildup like this movie. There is a constant underlying discomfort and the weird interactions just increase the dread with every scene. I felt the tension as I realized what was going on with the creepy neighbor and it just kept getting worse. If you're paying attention to the events that unfold, it's easy to understand what's happening. The question is why and where does it end? Not every detail is explained, but it doesn't need to be.