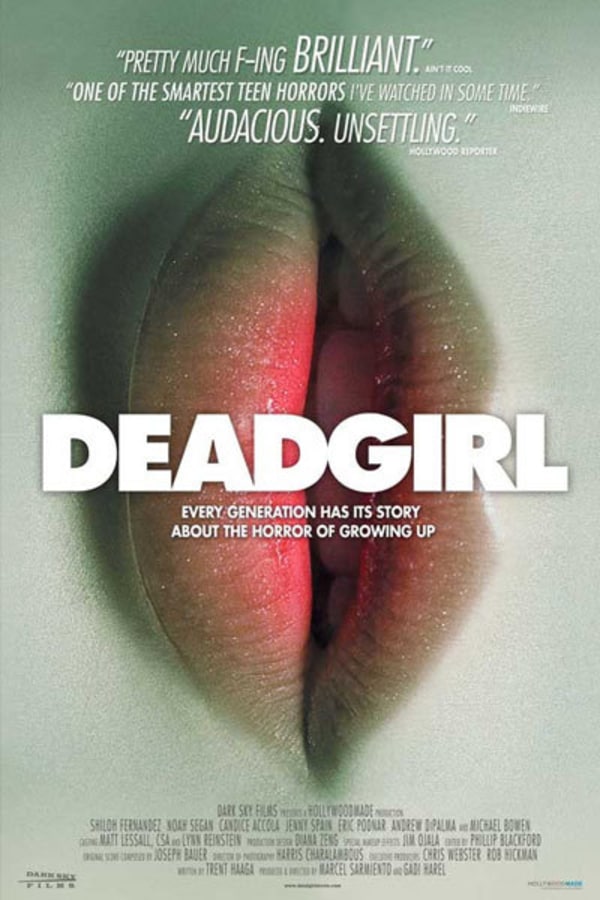 Dead Girl
Directed by Marcel Sarmiento, Gadi Harel
When two teens find a chained-up dead girl, they make decisions they'll soon regret in this subversive scare film from director Marcel Sarmiento (V/H/S VIRAL) that turns the conventions of horror and coming-of-age movies - not to mention bad boy behavior and rape culture - on their heads. Since the dead girl's chained up, Rickie and JT assume she can't do anything to them if they and their friends want to take advantage of her beautiful body. But by the time they find out how wrong they are, it may already be too late. Daringly original and deeply disturbing. Contains strong language, sexual scenes, violence and gore.
When two teens find a chained-up dead girl, they do things they'll soon regret.
Cast: Shiloh Fernandez, Noah Segan, Candice Accola, Jenny Spain
Member Reviews
I should have been a little more disturbed by the chained up girl and what JT had planned for her. But after watching Jack Ketchum's "The Girl Next Door" (which, to the comments below me, is based on a true story of the violent rape and torture of a young girl that is perpetrated by a female) it really takes a lot to rattle me. I do like these actors. Shiloh Fernandez looks just like Elvis at times and does a good job of playing the good guy, well, up to the end at least. Noah Segan does a great job of getting under your skin. The gore is good, The delivery is good, and this is a fresh idea on the zombie genre. The scene to look out for is where JT and Wheeler get beat up in a gas station parking lot, I didn't think I was going to stop laughing at that.
Heinous. Whoever thought this would be a good idea, or even a remotely good movie is a pig. Oh, surprise...the film is written by a man and directed by two men. Terribly written, terribly acted, terrible concept. This goes beyond the conventions of controversial horror or "rape revenge," as a sub-genre in horror. This is total smut made by rape apologists and real life wannabe necrophiliacs. I'm all for violence and gore. I understand that sometimes assault and sexual violence is used in film for very certain reasons, regardless of genre. This film doesn't even use its violence to drive plot or instigate redemptive action. Any allegory of the men being the real monsters is washed out by constant fetishized torture. Disgusting. There are well crafted, well written, even tasteful films with plenty of violence and gore that are actually stimulating, thoughtful, and redemptive for the right reasons. Don't watch this movie.
This movie really pissed me off. Then I realized that was whole point. A straightforward, no bullshit allegory about white male misogyny. The real monster isn't the dead girl. Initially a bit frustrating to get through, but by the end it may have you cheering for the massacre of every male character in the movie.
This was a fun what if story. Its interesting as a zombie movie. Compared to other zombie movies, this one seemed to care a little bit. Gore was minimal. Nudity was plentiful. I was disapointed but it had me captivated and didnt feel slow. Character arcs and progression were non existent except for maybe the antagonist. The characters in this movie were about as superficial and predictable as perhaps the politics of whomever it was who thought they should do such a thing. I prefer my entertainment to leave its politics out of the equation, especially the malarky that is feminist thought. Feminism is a zombifying plague in that of itself, please leave these childish opinions to yourself. Otherwise, solid 6/10, fun film. If you dint mind being frustrated with characters and crazy fat cat lady politics.