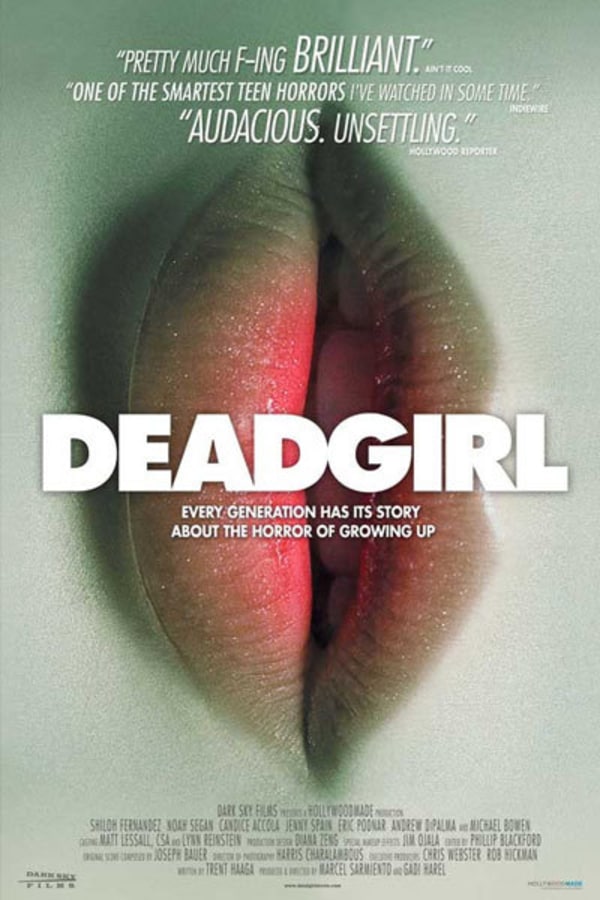 Dead Girl
Directed by Marcel Sarmiento, Gadi Harel
When two teens find a chained-up dead girl, they make decisions they'll soon regret in this subversive scare film from director Marcel Sarmiento (V/H/S VIRAL) that turns the conventions of horror and coming-of-age movies - not to mention bad boy behavior and rape culture - on their heads. Since the dead girl's chained up, Rickie and JT assume she can't do anything to them if they and their friends want to take advantage of her beautiful body. But by the time they find out how wrong they are, it may already be too late. Daringly original and deeply disturbing. Contains strong language, sexual scenes, violence and gore.
When two teens find a chained-up dead girl, they do things they'll soon regret.
Cast: Shiloh Fernandez, Noah Segan, Candice Accola, Jenny Spain
Member Reviews
The first 4 minutes look like they were filmed by an epileptic riding a pogo stick, and only gets marginally better. Outside of shock value and some dumb jump scares, it's a boring movie. Plus literally every male character in it is a rapist...the antagonist sets a pretty low bar by just being the only person not actively raping a corpse, only for it to get thrown out the window when he makes a corpse outside of his crush, who spurned him, so he can tound out the cast of rapists.
Despite the earnest desciption, this film does not accomplish what it supposedly set out to do. Rape in horror films is already a fraught subject and as a female horror fan, I'm rather sick of filmmakers using it as a cheap, titillating prop. Combine that with the tough to swallow premise, poorly constructed characters and subpar dialogue and you have an unsatisfying watch that leaves you wanting a shower for your mind.
I love this movie! Don't go by the reviews. Watch it and decide for yourself. No it's not for everybody but I think it's a greatly misunderstood film. It is dark and bleak, so beware.
If you want to know what kind of people enjoy this movie, just look to the review below mine. But this movie does paint a great picture of today's male youth, I'll give it that.