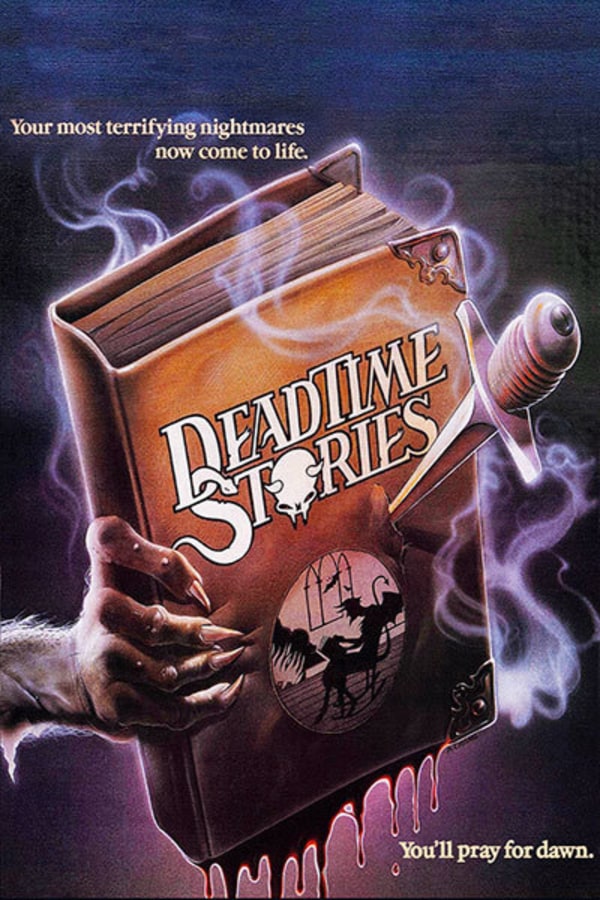 Deadtime Stories
Directed by Jeffrey Delman
Your favorite nightmares come to life in a salute to the age-old bedtime story in Jeffrey Delman's 1986 horror anthology. A babysitting uncle takes you on a mysterious journey to a medieval world populated by blood-crazed witches, evil experiments and captive maidens. Then from the catacombs and dark caverns of medieval Europe, you'll plunge into modern suburbia and the adventures of a female jogger stalked by a savage werewolf. Finally, sensuality will become macabre, black comedy as you follow the trail of three bank robbers who share their country house hideaway with a sweet murderess.
A babysitting uncle tells three horrific spins on the bedtime story in this 80s anthology.
Cast: Scott Valentine, Nicole Picard, Matt Mitler
Member Reviews
I used to see this video at the video store when I was a kid, but always passed it up for either a "Friday the 13th" or "Nightmare on Elm Street" VHS. What was I thinking? I would have loved this. I'm not sure what is up with that uncle that is telling these stories to his nephew. Is he smoking meth while babysitting? he has some pretty crazy mood swings. The opening music is awesome and made me think of "Happy Hell Night" or "Killer Klowns from Outer Space". The gore effects are pretty intense for the time. Overall, I'm glad Shudder had this film and I finally watched it.
What can I say, I'm a sucker for horror anthologies.
What in the heck? Deadtime Stories was one wacko anthology horror movie. It is as if some of the Poverty Row comedians from the thirties traveled forward in time and found themselves in a ultra low budget 80s horror flick. The goofy antics and the ridiculous music and the sped up filming all make for an odd, but somewhat enjoyable film. It really is a bad movie with stupid acting and worse writing, but that is part of what makes it sort of funny to watch.
Not even the 80's cheese could save this one. Best story was the first and it was just "ok." Definitely not a re-watch.