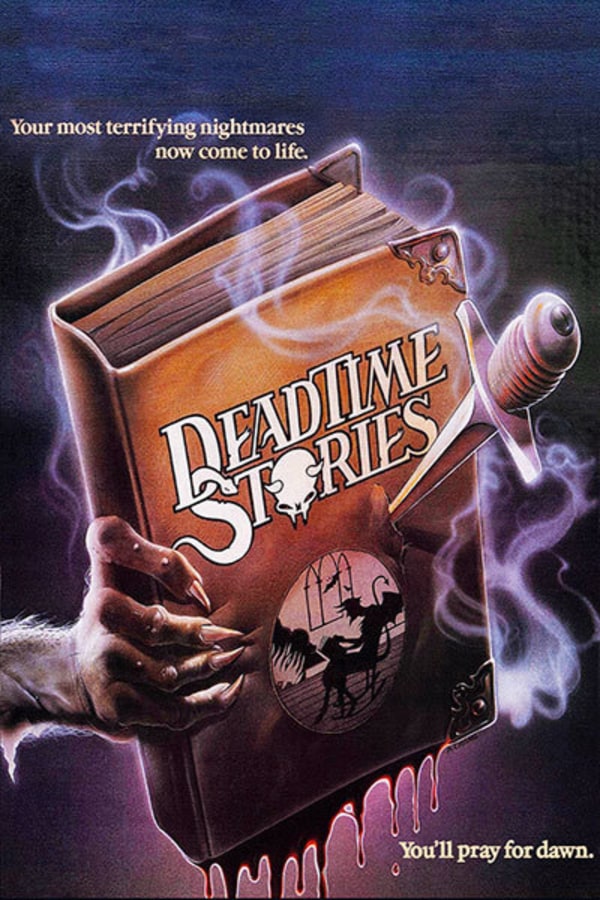 Deadtime Stories
Directed by Jeffrey Delman
Your favorite nightmares come to life in a salute to the age-old bedtime story in Jeffrey Delman's 1986 horror anthology. A babysitting uncle takes you on a mysterious journey to a medieval world populated by blood-crazed witches, evil experiments and captive maidens. Then from the catacombs and dark caverns of medieval Europe, you'll plunge into modern suburbia and the adventures of a female jogger stalked by a savage werewolf. Finally, sensuality will become macabre, black comedy as you follow the trail of three bank robbers who share their country house hideaway with a sweet murderess.
A babysitting uncle tells three horrific spins on the bedtime story in this 80s anthology.
Cast: Scott Valentine, Nicole Picard, Matt Mitler
Member Reviews
they had money for special effects and, apparently, nothing else.
I like cheesy low budget movies...but, that last story felt like the beginning of the devils rejects! I like this spin on nursery rhymes. Not for everyone and again, it's cheesy and low budget so don't watch if that's not your cup of tea🤷🏽‍♀️
An average movie at best. It is very silly & the last story is a live-action cartoon. I remember seeing it as a kid so the nostalgia factor for me is pretty high, but ymmv.
meh, of the various anthology movies out there, this one is very lacking. The stories are strange takes on children's stories, and overall are just poorly done.
I picked this one to watch because I was nostalgic for a good 80's anthology horror film like the ones I used to watch as a child. This one had promise, from the cover art displayed on the selection page to the cheesy opening credits with that great self-aware tune. But around the conclusion of the first tale in the anthology, and when the streaming decided to crash causing me to load it back up, I realized I just wasn't enjoying this film. I wasn't invested in any of it and none of it grabbed me. I could elaborate, I suppose, but that's really all you need to know about my opinion of this film. No offense to any of the people who made it, I'm sure they worked very hard. But it just seemed like it had no heart and it moved like molasses. One skull.