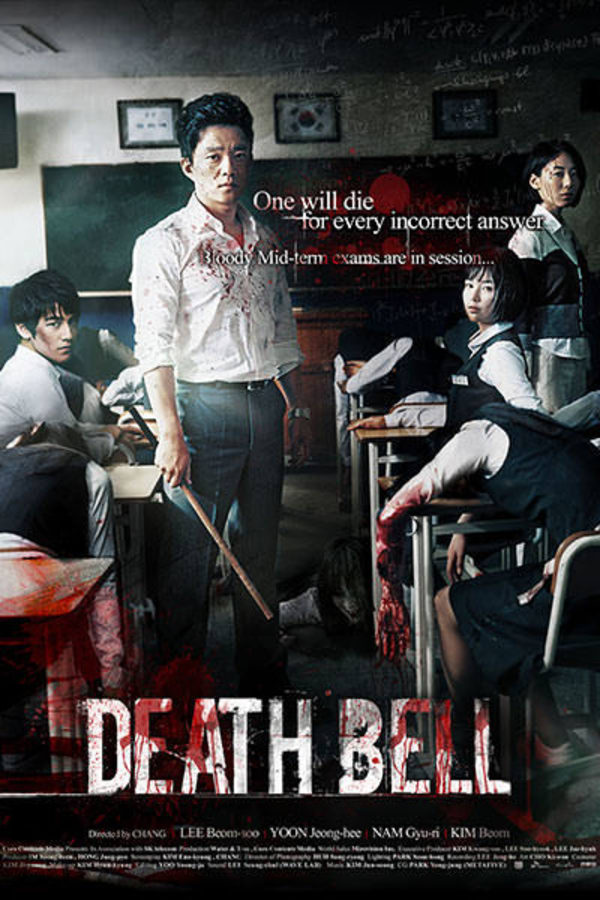 Death Bell
Directed by Yoon Hong Seung
A group of students must answer questions on an exam - or each one will be killed in this gag-inducing Korean gore extremity which became one of the highest grossing K-horror films in that country. When they arrive for their exam, they think it'll be a piece of cake. But when their twisted teacher reveals a fellow student imprisoned in a rapidly filling tank of water, they learn that for each question they get wrong, one of them will die. As the students struggle - and fail - to answer correctly, you're sure to think fondly on even your worst days in school. (In Korean with English Subtitles) Contains violence and gore.
A group of students must answer questions on an exam - or each one will be killed.
Cast: Choi In-sook, Da-Geon, Ham Eun-jeong
Member Reviews
The Synopsis is really misleading to the actual plot and the first 20 minutes or so just meanders around a bit and doesn't really help us learn about our main characters. The deaths range from fairly interesting to meh. Most of the twists are fairly easy to spot if you've watched any kind of Thriller/Mystery film. Its ok but there are better examples of K-horror out there, this is just kind of average.
I didn't find this hard to follow at all, it throws some twists and turns in to which made it an interesting psychological thriller so just don't read into the supernatural stuff and think more Murder She Wrote. Really enjoyed this!
This film is a complete mess. The editing is so erratic that you literally can't tell what is happening at times, the screenplay doesn't adhere to even a semblance of internal logic, and the score is TV movie levels of bad. But it has an important message to convey about Korean exam culture and everyone in it is a total hottie so two skulls I guess?
Really enjoyed this but the way it's cut makes it a bit hard to follow in places. Overall very worth a watch though.
I've watched far worse, but there are much better examples of Asian horror in my opinion.