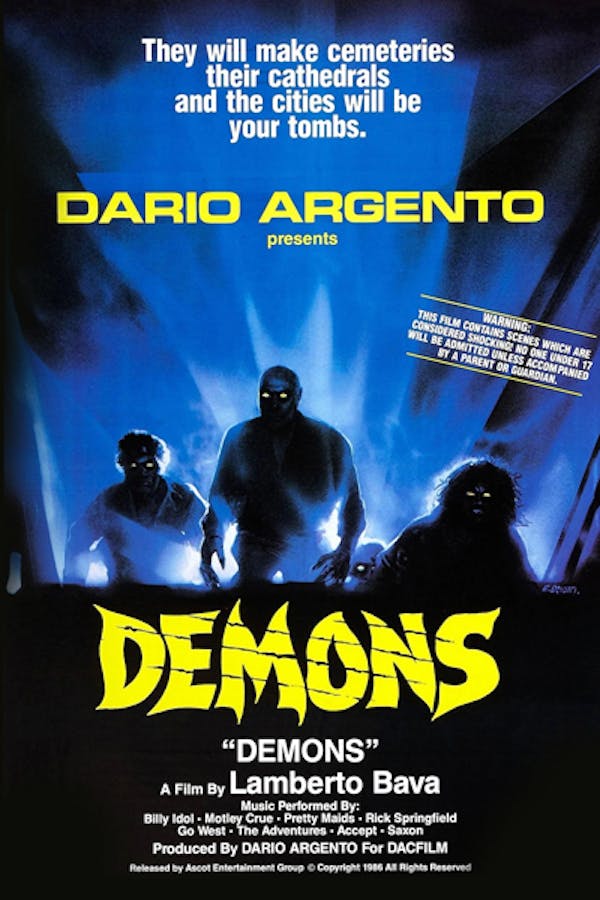 Demons
Directed by Lamberto Bava
Horror movie audience members turn into bloodthirsty demons in this essential Euro-horror entry from Lamberto Bava (Mario Bava's son) and co-writer Dario Argento (SUSPIRIA, OPERA). When a young woman begins to suffer the same symptoms as the possessed subjects of the film, she attacks other patrons, turning them into murderous monsters too. Gruesome gore, a killer 80s punk and heavy metal soundtrack and the film's vivid giallo-meets-new-wave look turned DEMONS into a cult classic, begatting several sequels including DEMONS 2 and THE CHURCH. Contains strong language, violence and gore.
A horror movie audience turns into bloodthirsty demons.
Cast: Urbano Barberini, Natasha Hovey, Karl Zinny
Member Reviews
WOW!!!!! CLASSIC ITALIAN HORROR FILM THANKS TO DARIO ARGENTO & LAMBERTO BAVA! I REMEMBER GOING TO THE THEARTE TO SEE THIS MOVIE WHEN IT CAME OUR OVER THIRTY YEARS AGO AND I LIKED IT THEN AND NOW. GREAT GORE F/X AND ACTION SCENES. FOUR SKULLS
I absolutely adore this film and have since I was a child. With it's bold colors, in your face soundtrack and bombastic gore, Demons is the epitome of classic Italian horror.
If you dig old Grindhouse style flicks from a more simpler time. You wont be disappointed. The final act is worth the watch, literally metal as hell.
Would you like some blood and sex with your cheese? This is it folks! Interesting premise for sure. I'm sure one could read deeply into the sociocultural undertones. This film might even be good for a film studies class. Good movie. I recommend it.