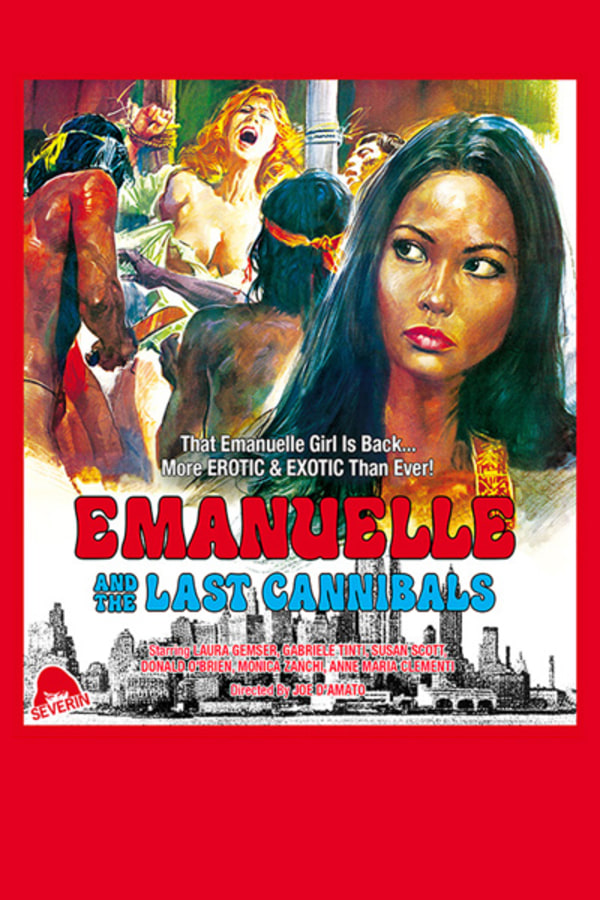 Emanuelle and the Last Cannibals
Directed by Joe D'Amato
After escaping a snuff film shoot in EMANUELLE IN AMERICA, the sex-crazed reporter Emanuelle stumbles on another dangerous lead: a cannibal tribe making a comeback in the Amazonian jungle. Before anyone can say "bad idea", the randy reporter hightails it to cannibal country and sets off into the heart of darkness. Will Emanuelle soothe the savages with her hot bod? Or get served up on a silver platter? Joe D'Amato and Laura Gemser's penultimate BLACK EMANUELLE film combines softcore porn and hardcore cannibal horror, making it a must-see for fans of swinging '70s Euro-curios.
Sex-crazed reporter Emanuelle heads to the jungle to find a long-lost cannibal tribe.
Cast: Laura Gemser, Gabriele Tinti, Nieves Navarro, Peggy McKenzie
Member Reviews
love it ..... very different .
This is the high point of jungle cannibal films, and the inspiration for Danger Island. Every second that goes by, this is not on the last drive in, is a crime against nature. Stop reading this, and just watch it you will not be disappointed.
Part soft core sex flick, part Italian cannibal gut-muncher! Actually pretty slick for Joe D'Amato! I liked seeing Dr. Butcher, M.D. himself, Donald O' Brien, on the menu! Most of you guys will hate it! A few old school exploitation junkies like me will dig it!
actually getting eaten by canibles would less painful and more entertaining than this movie. this movie has no redeaming features.
Admittedly, I'd had a couple of beers but that's still no excuse for wasting my evening with this one. Two basement genres for the price of one: soft core and Italian cannibal movies. It's just a bad as you would think. From the opening song which is physically painful to listen to to the horribly delivered dubbed line readings, this makes 88 minutes seems like forever.