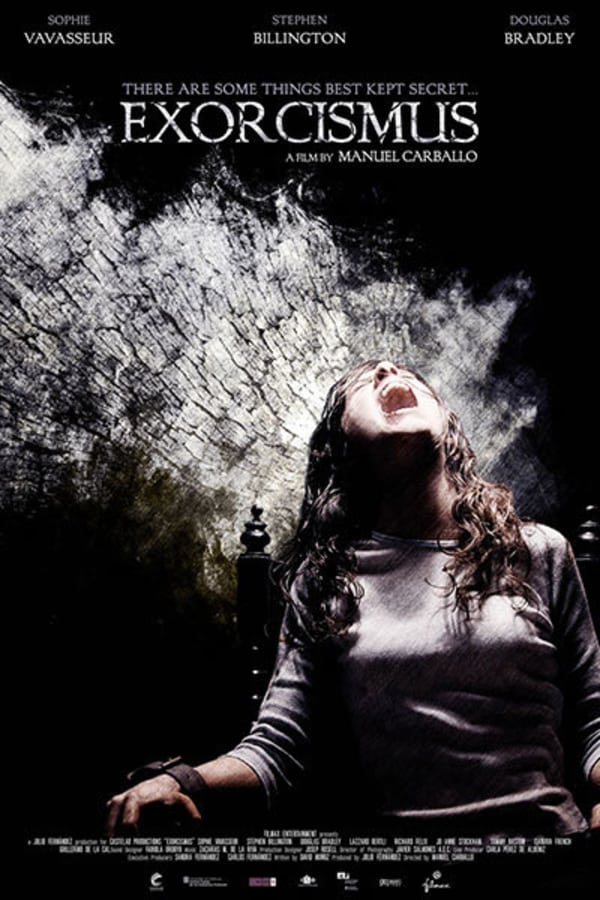 Exorcismus
Directed by Manuel Carballo
A teenager realizes she's possessed after she starts having uncontrollable fits, but her parents think she's just losing her mind. (Major facepalm) But when Emma levitates in the living room, they call in the holy rollers - Uncle Chris, a priest whose last exorcism caused a girl's death, and Padre Ennis (Doug Bradley aka Pinhead from the HELLRAISER movies). Will they be able to save her or will the devil have his day? Screenwriter David Muñoz's terrifying and twist-filled script never fails to plunge beneath the surface of the characters' dark behavior. Contains violence and gore.
A teenager realizes she's possessed after she begins having uncontrollable fits.
Cast: Sophie Vavasseur, Stephen Billington, Richard Felix
Member Reviews
You know what funny about this film? They advertise it as starring Doug Bradley, the film itself teases Doug Bradley and I watched for Doug Bradley. He's in it for almost a full minute and still manages to be the best thing about the film. Don't get me wrong the lead (Sophie Vavasseur) does a bloody good job with the very little she has to work with and I'll be looking for her performances in other films, sadly she nor Doug Bradley could save it. Another funny thing about this film is demon voices, it's literally hilarious to have our main character be possessed by the love child of the inspector gadget baddie and Megatron.
The thinking man's Exorcist. Goes beyond pea soup and priestly salvation to personal responsibility and redemption.
I didn't think it was too bad, not one that will make you jump out of your seat but it's at least a different plot than the typical someones possessed, throw some holy water at them.
While Exorcisms rarely bring nothing new or noteworthy to the screen-at least in terms of the actual demonic shenanigans-"Exorcismus" brings enough minor subversions and surprises to be watchable and even enjoyable. There are moments and plot developments that suggest a film maker who wasn't afraid to push some unpleasant buttons and go for the jugular, not to mention push the demonic stuff to the background in favor a stronger core story. The only drawbacks are a lack of funding and the performance of lead actress Sophie Vavasseur who, while quite good at the demon stuff can't seem to string together anything in her more human moments.