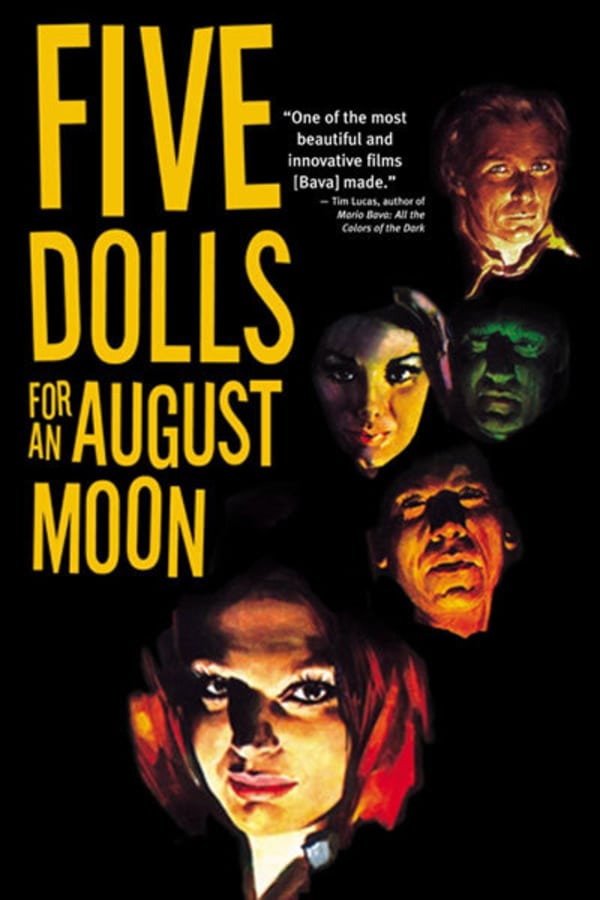 Five Dolls for an August Moon
Directed by Mario Bava
A vacation becomes a nightmare when a killer starts stalking a group of friends in Mario Bava's rarely seen take on the classic TEN LITTLE INDIANS-style whodunit. A space age island retreat is visited by a group of friends and business associates, one of whom is a scientist who has invented a revolutionary chemical process, and is fending off various offers to buy it. Soon the vacationers start dying, and the survivors begin to wonder who has the most to gain from these murders most foul. You'll think twice before booking your next vacation after watching.
A vacation becomes a nightmare when a killer starts stalking a group of friends.
Cast: William Berger, Ira Furstenburg, Edwige Fenech
Member Reviews
Pretty damn boring, totally uneventful and I'd dare say pretty non-essential. Not Mario Bava's best. Despite that fact that it is lacking in pretty much every department it is cool to see such a suave, chill, funky 60's setting. The music is great.
I came across this movie years ago when I picked it up in a box set that also included "Bay of Blood", "Kidnapped", "Lisa and the Devil", as well as others. While i enjoyed most movies in the collection, "Five Dolls for an August Moon" always managed to put me to sleep. But since I have begun a quest to write a user review for every movie on Shudder, I got plenty of sleep, made a pot of coffee and set out to power through this one. First of all with the reviews that say to watch the movie for style and music and camera zooms, I have 2 words; "Danger: Diabolik". That is a far superior Bava film that has all of those things. As for the whodunit, i spent most of the movie not caring enough about the crowded cast to remember their names, let alone who was killing them. I constantly had to remind myself that I was trying to solve a murder mystery as I would slip into thinking about doing my taxes or rearranging my furniture.
Cheese, bad acting and the cool 60's vibe. Loved it.
I appreciate the review before me clarifying the history of this movie's production. It makes a bit more sense that way. The plot, dialogue, and acting are indeed very B-movie, style. But the camera work and the visuals are Bava. The freezer shots are great. As are the death scenes. This movie is groovy, baby. I mean, it has that VERY visible 1960s aesthetic to it. This is the kind of movie that "Danger 5" was parodying. Not the best by Bava at all, but I had to check it out in my quest to understand giallo.