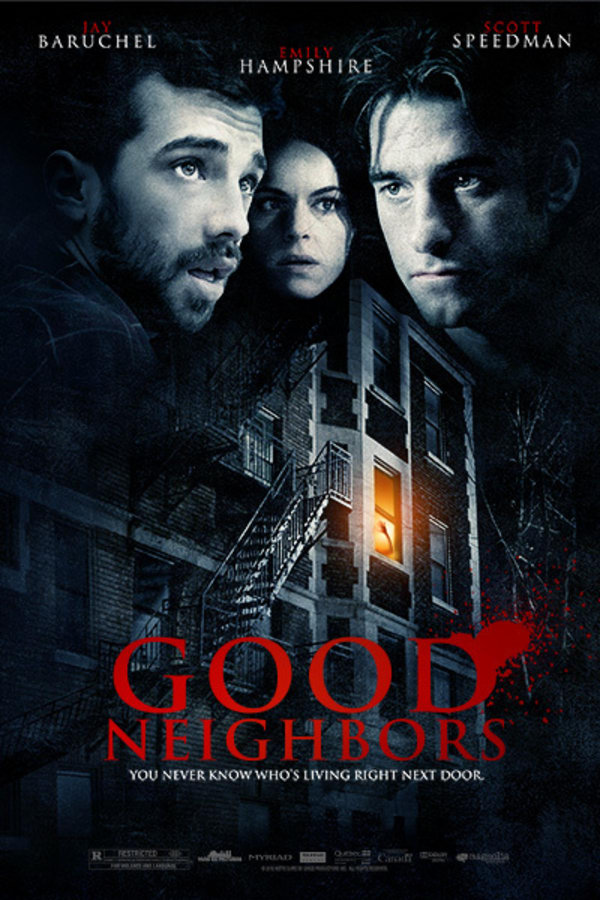 Good Neighbors
Directed by Jacob Tierney
Neighbors Spencer (Scott Speedman) and Louise (Emily Hampshire) have bonded over their fascination with a recent string of murders terrorizing their community. When a new tenant named Victor (Jay Baruchel) moves into the building, all three quickly hit it off. However, they soon discover each has his or her own dark secret. As the violence outside mounts, the city retreats indoors for safety. But the more time these three neighbors spend together in their apartment building, the clearer it becomes that what they once thought of as a safe haven is as dangerous as any outside terrors they could imagine.
A dangerous serial killer is on the prowl, and when three roommates retreat indoors for safety, they discover the killer is living among them.
Cast: Jay Baruchel, Scott Speedman, Emily Hampshire
Member Reviews
one of my favorite mystery thrillers its so good in story and classy aesthetic
Worth a watch. Mystery unfolds slightly but doesn't provide complete answers. This makes it intriguing.
Thought this was a great unique movie,I saw the twist coming but didnt see it coming like that. Also I still kind of want to know who the REAL killer was.
A nice, and unique movie that doesn't go over the top and delivers a nice blend of mystery. Well done!