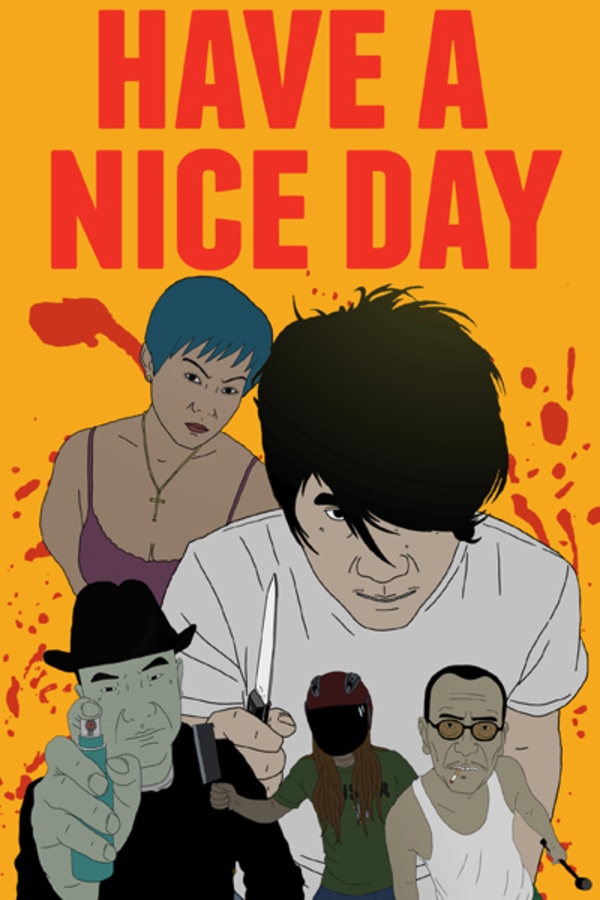 Have A Nice Day
Directed by Liu Jian
A hard rain is about to fall on a small town in Southern China. In a desperate attempt to find money to save his fiancée's failed plastic surgery, Xiao Zhang, a mere driver, steals a bag containing 1 million from his boss. News of the robbery spreads fast within the town and, over the course of one night, everyone starts looking for Xiao Zhang and his money. Director Liu Jian delivers a whirlwind neo-noir, cementing his place as a pioneering force in independent Chinese animation.
Xiao Zhang steals a million from his boss, the whole town wants to find him.
Cast: Zhu Changlong, Cao Kai, Liu Jian
Member Reviews
Absolutely loved this film, so well written with many twists and turns. Feels very Tarantino-esque with lots of back and forth dialogue and bloodshed to go around. This is all rounded off with incredibly crisp and stylized animation, which pairs well with the subject matter. 10/10.
The fascinatingly simple tale of some stolen loot but the twists and turns plus the engrossing animation makes this highly enjoyable.
There's significantly little payoff here. Whereas there are similar gangster themed movies such as The Raid, etc. coming out of the East. The difference here is that those films have resolution to what they're building. I felt like this movie had almost no significant third act. You have several characters interacting and building throughout the first and second acts- and the finish just curdles. Animation is decent, but kind of derivative of similar Western roto-scoping animation like A Scanner Darkly. Dialogue is sparse on purpose, but effective. This is a director who has clear potential, but has not made the movie they should have yet.
Starts off kinda slow but the dialogue is brilliant. Themes: Freedom, desire, capitalism, competition, religion and relationships