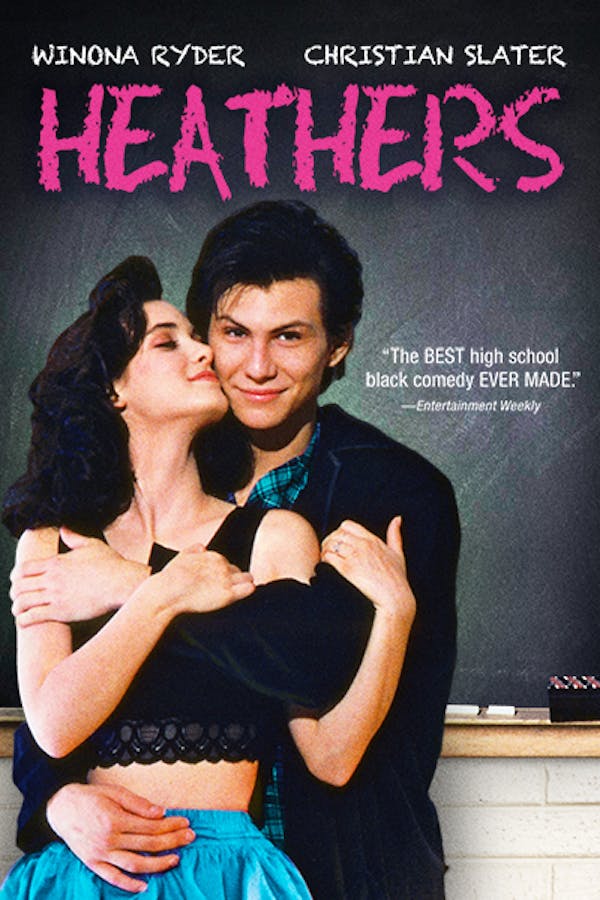 Heathers
Directed by Michael Lehmann
Westerburg High School's elite clique of popular girls is "The Heathers," comprised of the powerful Heather Chandler, the green-with-envy Heather Duke, and the cowardly Heather McNamara. Rounding out the foursome is Veronica Sawyer, who is so fed up with the Heathers and the entire peer pressure cooker that she starts running with J.D., a mysterious - and possibly psychotic - motorcycle-riding newcomer. But what begins as their noble effort to rid Westerburg of its bad apples ends up taking a real toll. And their teen rebellion produces a serious and mounting body count. Starring Winona Ryder, Christian Slater and Shannen Doherty.
Winona Ryder, Christian Slater and Shannen Doherty star in this cruelly hilarious dark comedy, which became one of the biggest cult classics of the `80s.
Cast: Winona Ryder, Christian Slater, Shannen Doherty
Member Reviews
Really great sardonic style. Good story, and now I know where the Heathers came from in 'Recess'.
THIS IS A FUCKING GREAT MOVIE!!!! not horror tho it REALLY IS freaking great. Im in loooove with this. Its a twisted highschool romance with suicides and deaths and psychos. Best for teenagers. TRULY A CLASSIC. I dont even mind rewatching this everyday vvvv. Hand down to great cast and cinematography. You get a great movie will take you back in time
Wynona Rider is the best!!! Iconic movie.
Heathers has withstood the test of time & is still one of the best!! Love Christian Slater!!!