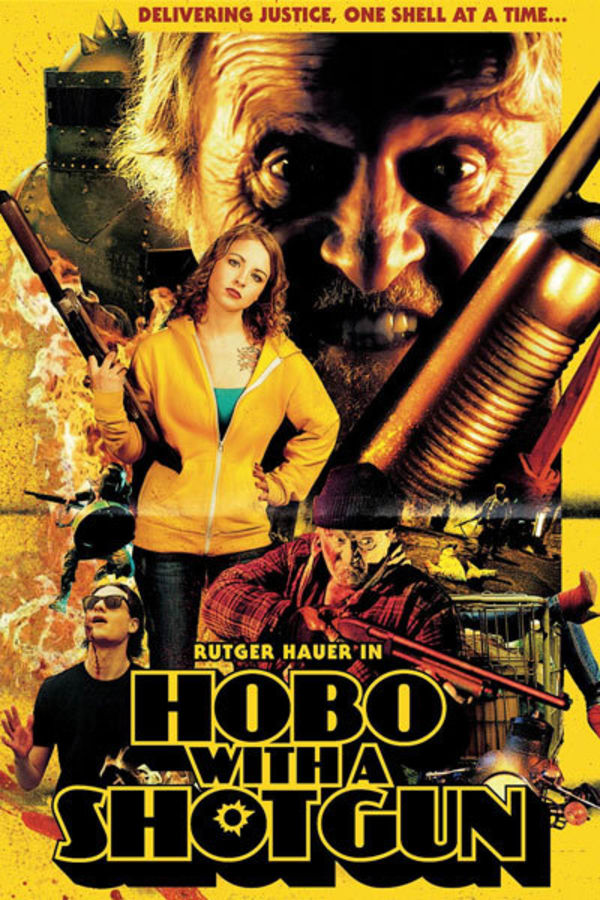 Hobo with a Shotgun
Directed by Jason Eisener
A gun-toting homeless man decides to clean up the streets of his crime infested city in this gruesome modern grindhouse film in the vein of classic revenge films like DEATH WISH and VICTIM. Perennial bad guy Rutger Hauer (BLADE RUNNER, THE HITCHER) plays against type as the titular hobo, who becomes an unlikely hero after buying a shotgun at a pawn shop. Originally made after director Jason Eisener's mock-trailer won Quentin Tarantino and Robert Rodriguez's GRINDHOUSE trailer contest, the resulting film is sure to please fans of the directors and the genre.
A gun-toting homeless man decides to clean up the streets of his crime infested city.
Cast: Rutget Hauer, Pasha Ebrahimi, Robb Wells, Molly Dunsworth
Member Reviews
Read the title again. Yes, that's what it says. now watch it.
Horrible trash. Tried to see it as the cult grindhouse classic it's been hyped to be, but couldn't get past the shitty acting, art direction, production, script and story. Sad to see Rutger Hauer end his career this way. Must have been to support a drug habit because he looked stoned in every scene.
I've been having friends suggest this film for years, and holly shit balls did I finally figure out why! Gorey, brutal, and just a love letter to exploitation movies.
One hell of a movie I loved it from beginning to end. The fact that this was shot in technicolor was the icing on the cake. Also let me just say this about the people who have it bad ratings either because they said it was bad acting or just ugly to watch. I understand not everyone will like this kind of movie but the acting is supposed to be cheesy like back in the day and that's another reason it is shot in technicolor to make it seem like an old movie and not one that was made in 2011.