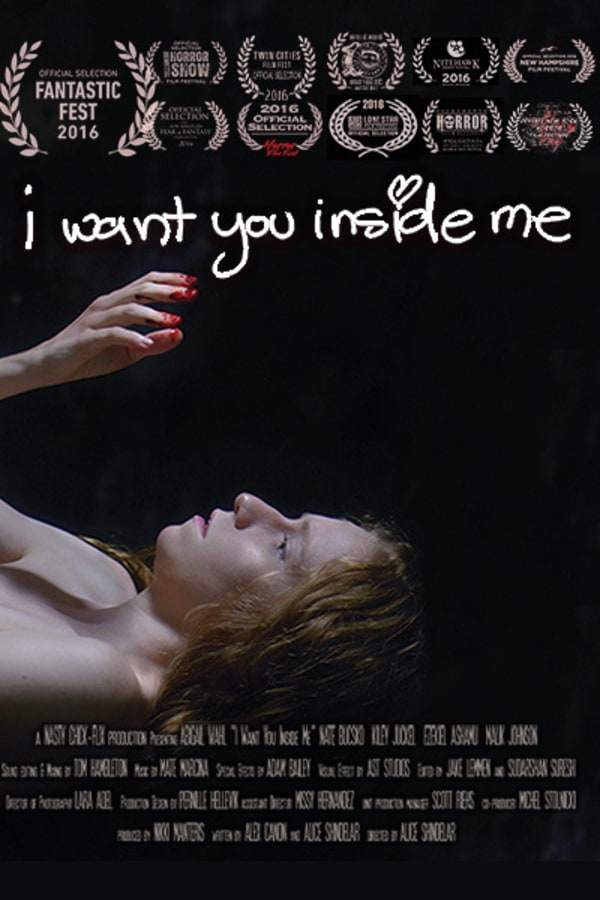 I Want You Inside Me
Directed by Alice Shindelar
Determined to divest herself of virginity, CJ plots a seduction. Afterward, she wakes up alone in the woods -- thighs smeared in blood! Between mysterious prank phone calls and a possible sighting of her missing boyfriend at a house party, CJ grows increasingly unsure if she's being ghosted -- or if something more sinister is going on. Her friends peer pressure her to get over it and get under another boy as fast as possible... with horrifying results.
An introverted teenager loses her virginity and her boyfriend in one fell orgasm, in this short horror-comedy.
Cast: Abigail Wahl, Ezekiel Ashamu, Nate Bucsko, Malik Johnson, Kiley Juckel
Member Reviews
Kinda funny, visual paid off I guess, the denim going in was a terrible feeling.
unbirthing, anyone? a bit too long with unneeded story bits, but it was kinda nice to look at, and the special effects were pretty decent. not gonna lie its a bit too fetish-y for my liking, but each to their own. 2 skulls because it was visually pleasing and a kinda funny little film. i feel like this would be fun to force your friends to watch and see their reactions.
If you want to laugh that's why I gave it 2 skills . Wtf yeah that's what I was thinking . Wow . Obviously the person who made this movie was a victim of a hit it and quit it and she's still upset about it and came up with a fucked up way to get revenge in a 11 minute video clip .
not bad, cool effects tho