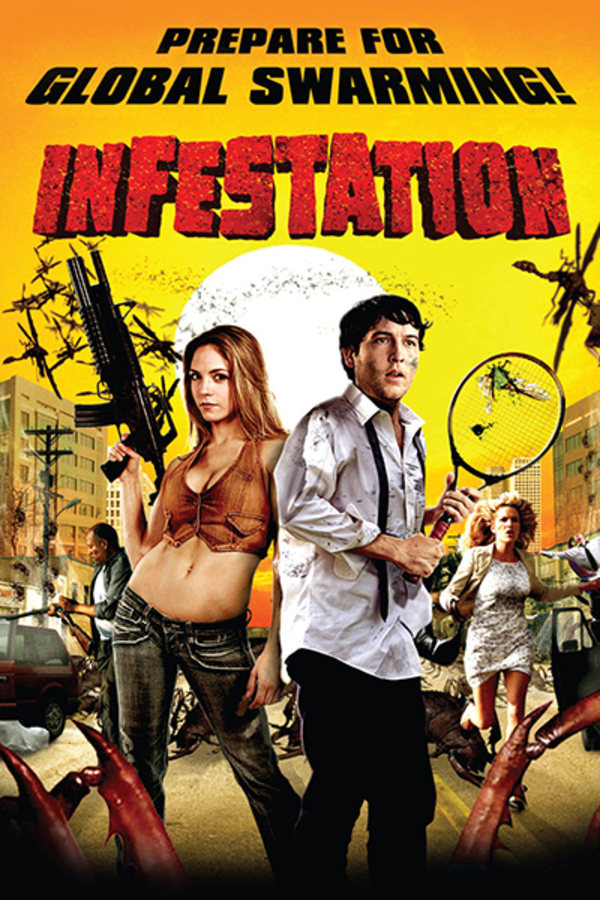 Infestation
Directed by Kyle Rankin
On the first day of his new job, slacker Cooper finds himself in a web of terror when he awakens in his cubicle ensnared in a cocoon. Struggling to escape his webbed prison, Cooper comes face to face with his aggressor – an angry 3ft bug hellbent on devouring the human race. Joining forces with a group of office survivors, Cooper leads his colleagues in the fight against the insect invasion. Featuring a stand out comedic performance from Chris Marquette, INFESTATION is an unexpectedly enjoyable slice of action-horror comedy. Contains sexual scenes.
A man and his co-workers fend off an insect invasion in this action-horror-comedy.
Cast: Chris Marquette, Brooke Nevin, Kinsey Packard
Member Reviews
I enjoyed it quite a lot. The CGI is surprisingly good, and it's actually pretty funny. There's good death scenes, and gore too. Average storyline though. I would watch it again
Fun film. Silly in parts. Not exactly a perfect script, some of the dialogue is crap but it's entertaining. The whole premise is pretty much a re-tread of a load of other films but this is solid and amusing enough. You won't be bored, but probably not blown away either.
Not totally without it's charm once you get over the clunky script and lazy plot but you can do so much better with your time, especially given they couldn't really be arsed to finish it properly (not genuinely vying for a sequel are they).
A solid little movie in the "let's pay homage to the B-Movies of yesteryear" vain. While not as successful as say Tremors or Zombieland, Infestation has likeable leads and supporting characters with a better than expected combination of practical and special effects. Weather girl Cindy, played by Kinsey Packard, is a surprisingly vivid portrait of someone experiencing dissociative disorder as a coping mechanism for this strange, entomological apocalypse while Chris Marquette's lovable loser Copper falls for Brooke Nevin's sassy Sarah. With Ray Wise adding his cult clout to proceedings I can honestly say I really enjoyed this little seen picture.