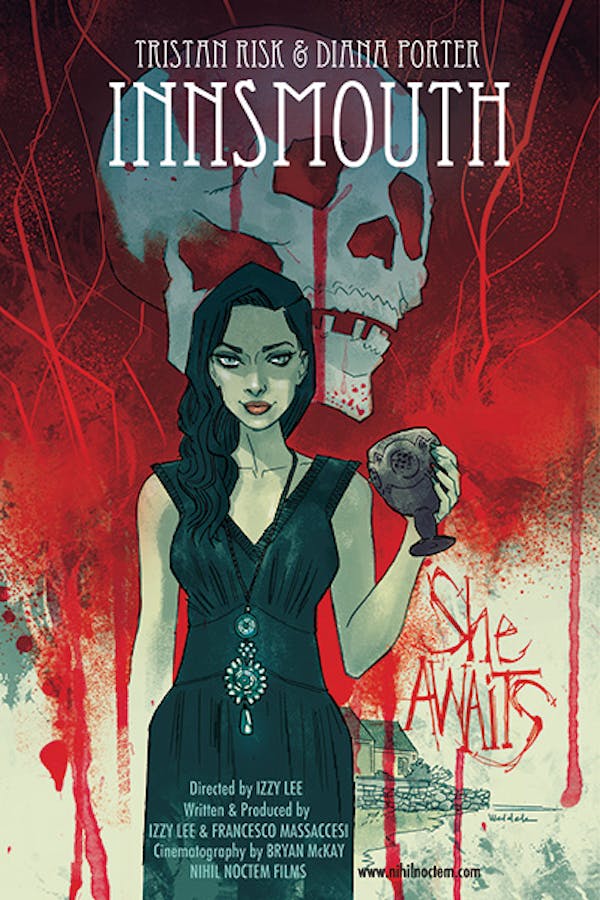 Innsmouth
Directed by Izzy Lee
Detective Diana Olmstead arrives on the scene of a body with a mysterious egg sac on its back and a deep bite that her medical examiner can't figure out. The only clue to the vicious crime is a photo of the victim and a beautiful woman with the word "Innsmouth" written on it. So Diana sets out for the New England seaside village to solve the mystery. But when she gets there, she's quickly subdued by the woman from the photo, who may be a very old sorceress. Director Izzy Lee's scary spin on H.P. Lovecraft earned raves from Fangoria, Rue Morgue and Dread Central. Contains strong language, sexual scenes, violence and gore.
A female detective arrives on the scene of a body with a mysterious egg sac on its back
Cast: Phil Healy, Porcelain Dalya, Sophia Cacciola, Vera Schränkung, Tristan Risk
Member Reviews
Not the worse -- not the best. I understand it is a short but this is just bad.
Really bad. This is not a female perspective on Lovecraft, this is a male perspective on sexual fantasy. Lovecraft would be rolling in his grave if he hadn't been reborn on Yuggoth. XD In the mood for Lovecraft? Check out Dagon.
There was no part of this that was redeeming. I love the mythos, and will forgive a lot of stumbling attempts, but this was just so badly acted.
would have been a great piece of erotic horror from a female perspective if not for the actress playing the cop. spoilers! it makes sense that Alice is a little stilted, seeing as she isn't exactly human, but the cop had the emotional range of a soggy, cold tea bag. Ruined my immersion. Would like to know more about the lore.
Not every movie has a shot that unforgettable