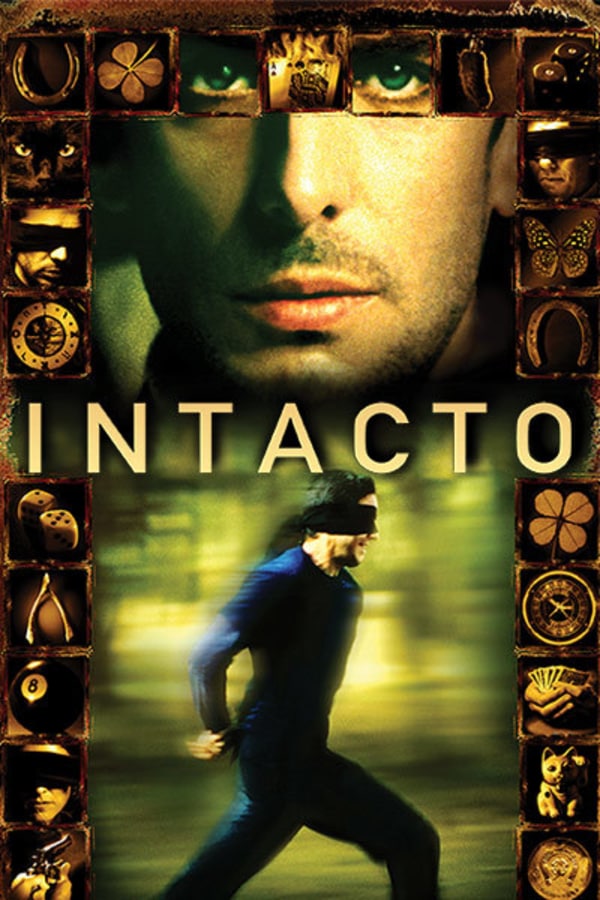 Intacto
Directed by Juan Carlos Fresnadillo
Considered "lucky" after he survives a plane crash, a bank thief is recruited into an underground gambling ring where death and luck intermingle. This critically acclaimed thriller ventures into the world of those blessed with fortune and the gamblers who bet high stakes just to feel the rush of fate's hand. Who will chance smile on this time? Who will have the odds in their favor? Max Von Sydow (THE EXORCIST, MINORITY REPORT) stars as the ringleader who has the power to steal other people's luck and will stop at nothing to do it!
A mysterious thriller about a select few who have the cryptic power to steal other's 'good luck' and the high stakes games they play where lives and fortune are left to chance.
Cast: Leonardo Sbaraglia, Eusebio Poncela, Monica Lopez, Antonio Dechent, Max von Sydow
Member Reviews
One of the very best of the international neo-noirs which dominate the genre. It is prescient of Shudder to have it in their catalog along with what I consider to be the best, "Terribly Happy". Both these titles have been used by larger collections as a flavor of the week, which has done their reputation no good. In my estimation the genre's identity was established by Masahiro Shinoda's 1964 "Pale Flower". "Pale Flower" would probably not fit the Sudder profile, but Kaneto Shindô's 1964 "Onibaba" would be a lead pipe cinch were it not in Criterion's catalog. With "Ichi the Killer", "Audition", and others in the catalog, Shudder should go all in and make a permanent "Art Horror" collection. Many of the best films have already been snatched up by Criterion, but some of Criterion's art horror is abysmal - Polanski's "Repulsion" is a prime example of auteur-theory-victim art horror. But there are plenty of overlooked masterpieces waiting to be appreciated. As much as I despise Jodorowsky and Pasolini, some of their work would attract those not normally inclined to take Shudder seriously. If Shudder can create an identity as a reliable source of top drawer art horror it would tap a market niche which is impervious to the existing general catalog but are otherwise not being serviced to the best of my knowledge. As a sign off let me say that I have lost track of the number of times I have seen "Intacto" and am still patiently waiting for Juan Carlos Fresnadillo to equal his debut feature. Wake up, Juan, I'm talking to you! As a caveat for the benefit of horror fans, "Intacto" may not appeal to you. This does not make you a less discriminating or less intelligent person. Please realize that "Intacto" is in the Shudder catalog for other reasons than its outright traditional horror content. Many thanks and happy hunting. P.S. - Hopefully Shudder will return Iiro Küttner's super dark 2008 "Sauna". Keep buggin' 'em.
I love this movie!!! I've watched it a few times, and it just sticks with me. It's such an interesting idea and so intriguing!!
A little confusing, but the run through the woods was good. I'd give it a 3 but Max Von Sydow bumps it up to a 4. Could use more of him.
This film is a mesmerizing/hypnotizing film. It plays with the concepts of luck and syncronicity in an interesting and intriguing way. I would highly recommend this to any fans of psychological horror or thrillers. Also recommended in the same vein: Fermat's Room, 13 Tzameti and it's English remake 13 (2010).
This isn't a great film, but it's interesting enough that even ten years after watching it some scenes will pop into your head and you'll think "Oh yeah, that movie was ok." Especially if you happen to be running through the woods.