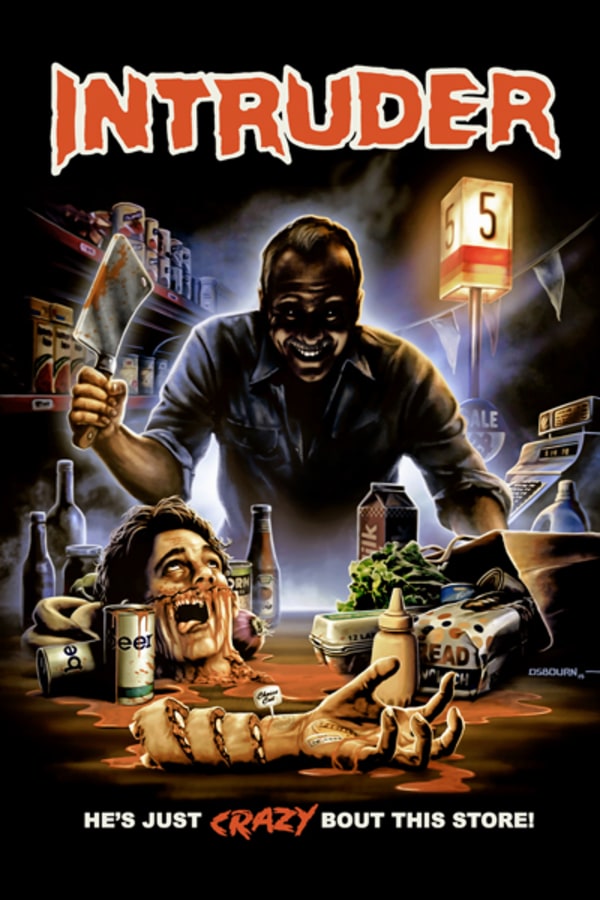 Intruder
Directed by Scott Spiegel
The overnight crew of a supermarket find themselves pursued by a mysterious maniac in this fun late-80s slasher from regular Sam Raimi mainstay Scott Spiegel, who co-wrote EVIL DEAD 2 and appeared in many of Raimi's films. Spiegel wisely enlisted Raimi himself and Bruce Campbell to play supporting characters. The sickening story - about a group of kids who get slayed while staying late to prepare for a going out of business sale, comes from Lawrence Bender, who would later become famous for producing nearly all of Quentin Tarantino's fantastic films.
Overnight workers at a grocery find themselves pursued by a deadly maniac.
Member Reviews
Call yourselves a horror website?? Why anyone would even consider showing such a hideously butchered version of a film is beyond me. The gore is the best thing about the film. Forget this worthless cut and watch the uncut DVD.
This is NOT the unrated directors cut as claimed. It's a strong cut version.
Don't get me wrong, this is an absolute five-star movie anyways, and I'm gonna be reviewing it as such. The problem is the state this copy is in. I don't mean the clarity of the print, but rather the fact that it is the '89 butchered BBFC cut version where all of the gore was removed. I mean, it's not like the movie is still cut in the UK now! I loved this flick so much but the cuts mess up the editing and sound and everything, plus remove a ton of brilliant effects work, so please, Shudder, when you say 'Ad-Free and Uncut', please make it actually uncut! Seriously, this isn't a My Bloody Valentine case of re-editing where the film still makes sense, because I had to look up the uncut version on YouTube.
I love Bruce , Ted, and Sam and hadn't seen this one. This is a very good low budget film. There was a twist and I should have paid attention to detail during the movie. There were parts that were funny, as well, and I really love that they kept going back to Ted Raimi as I developed a crush on him when I saw him face to face.
Super fun but so cheesy in parts. I