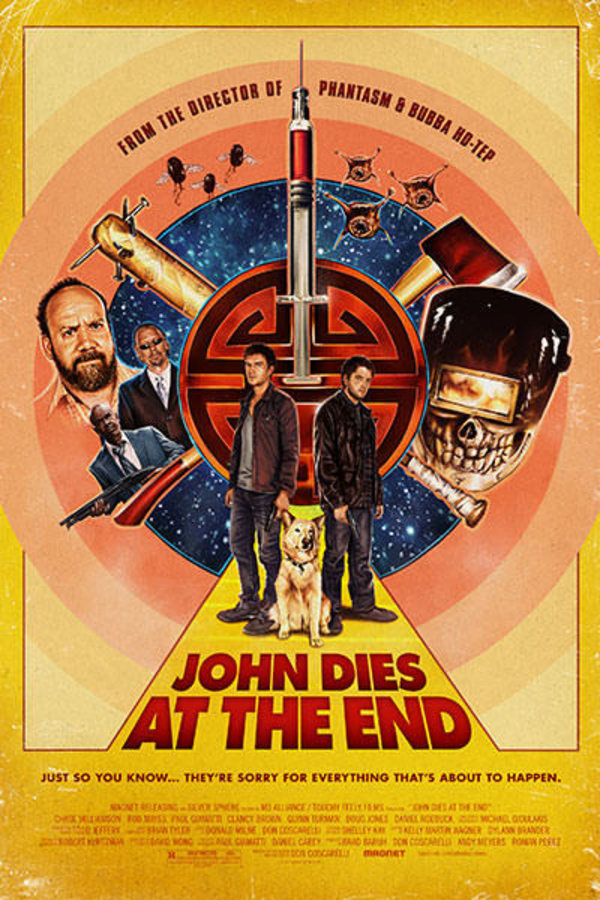 John Dies at the End
Directed by Don Coscarelli
Two college dropouts must save the world from the effects of a very freaky street drug which sends users traveling across time and to other dimensions. When the users return, some of them are no longer human. Suddenly a silent, otherworldly invasion is underway, and mankind needs a hero. What it gets instead is John and David who can barely hold down jobs. Can they stop the horror and save humanity? No. No, they can't. PHANTASM director Don Coscarelli's underrated gem blends horror, sci-fi, time-travel, and stoner comedies to create a uniquely unnerving film.
Two college dropouts must save the world from the effects of a very freaky street drug.
Cast: Chase Williamson, Rob Mayes, Paul Giamatti
Member Reviews
I like the weird stuff, but this one's not well grounded, which makes the constant surrealism difficult to get into. I've watched this twice and I want to like it, but both times I checked out sometime in the second act and found it hard to pay attention. Just watch some Cronenberg instead. Very creative movie though so maybe worth a watch just for its uniqueness
Expect extreme mediocrity. Humor does not land and special effects are CGI garbage, though this may be part of its "charm." Furthermore, the story makes no sense and is over simplified near the end. That said, it maintained my interest and was generally ambitious.
Was confused most of the time and the ending was pretty disappointing. Thought it would lead to something greater.
If you like the movie, do yourself a favor and read the book (or listen to the audiobook, at least). Aside from a few cherry-picked elements, the movie skips the whole middle of the story, and the title became meaningless. I adore Coscarelli's adaptation, but I probably would've hated it if I'd been familiar with the book first.