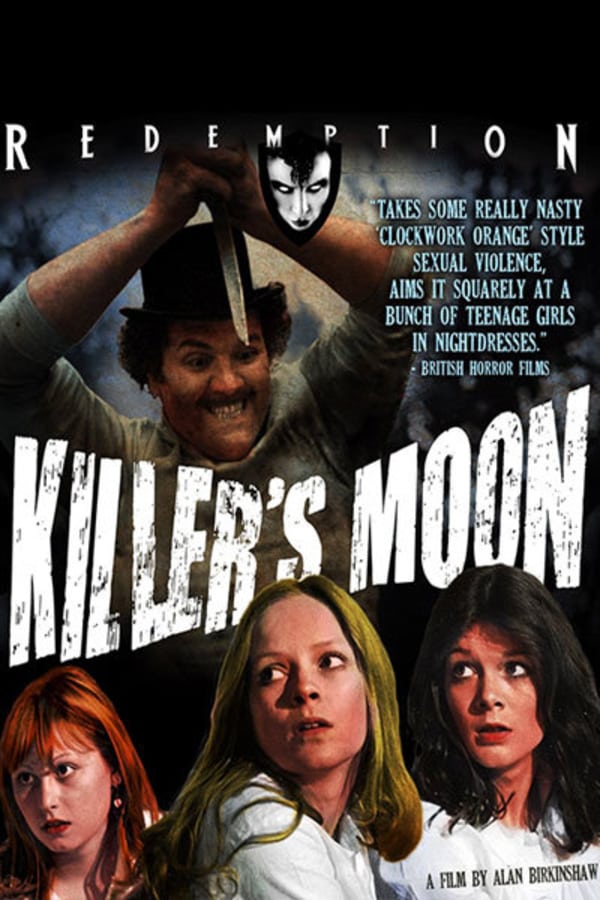 Killer's Moon
Directed by Alan Birkinshaw
A group of stranded schoolgirls are menaced by four escaped mental patients in this British slasher from the video nasty era. While traveling in the countryside, the teens are forced to stay at a secluded hotel. Unfortunately for them, a pack of cretins who've seen A CLOCKWORK ORANGE one too many times break in and start raping and murdering the girls. Though it was panned by critics upon its release, the film developed a serious cult following in the UK in the late 90s. Author Fay Weldon (PUFFBALL) secretly wrote much of the twisted, tongue-in-cheek dialogue.
A group of stranded schoolgirls are menaced by escaped mental patients.
Cast: Anthony Forrest, Tom Marshall, Georgina Kean
Member Reviews
5 skulls for dear 'ole Hannah the dog who has an amazing backstory that you need to read. ;)
man, that was awful...on every level!
No one understands this movie. Would it help if I told you it was secretly written by Faye Weldon? It's a subversive feminist masterpiece sneaking in the back door, disguised as an exploitative slasher. Look closer. Three main points: 1) The killers do not see the girls as people at all. True, they are doing lsd dream therapy (which I love for the campiness) but that's the root of most violence against women and here it plays out quite literally, while demonstrating how ultimately pathetic these men are. 2) The core of the film is the way the women/girls take care of each other. Even the "you were only raped, you're fine as long as no one finds out" bit is an example of the ways we get through the damn day. 3) The girl who says "I've never been afraid of anything ever" and goes straight into the deep dark woods? The girl who trusts herself and her instincts? She's the only one who doesn't wind up trapped in a deserted hotel with a bunch of psychopaths. What a brilliant subversion of the usual tropes, especially for its day. I have seen a few reviews that danced around the idea that this film might be feminist, at heart, but none of them would commit. I will! I adore this movie. It's in my top ten horror films and might even make my top ten of any genre. If you choose not to open yourself to this story, and use it as "background noise" you'll miss the subtlety lurking beneath the lurid, boobs out surface. I could go on and on and have done so many times, lol, but I'll again remind you FAYE WELDON wrote this. It's more than it seems but it's sneaky about it. Watch knowing that it's actually a collaboration between the director and his more famous stepsister, whose cred is unarguable. People come in with their own ideas about horror, about women, about violence in cinema, and most of them miss the damn point. Which fine. It was, again, always sneaking the substance in through the back door. But consider that it may be more than it appears at first, trust your instincts, and go into the woods if the woods feel ok to you that day.