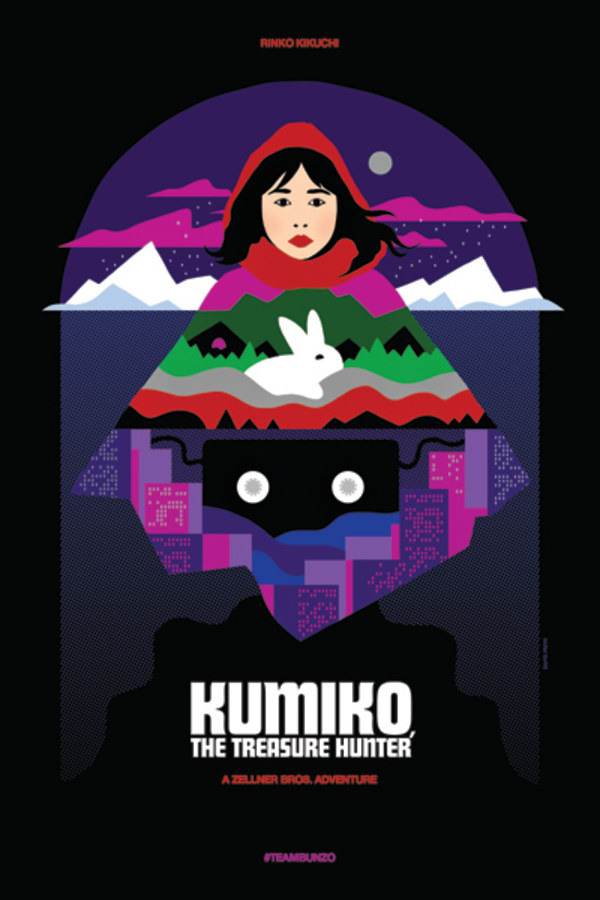 Kumiko the Treasure Hunter
Directed by David Zellner, Nathan Zellner
Trapped in isolating psychological torment, Kumiko (Rinko Kikuchi)—a meek twenty-something struggling to make it on her own in Tokyo—lives in constant resentment of her dead-end job and demeaning boss, her more successful and attractive peers, and her relentlessly nagging mother. But her spirits lift when, in a fictional American film, she observes a man bury a satchel of money in the wintry Midwestern wilderness. Though only witnessed on a staticky VHS tape, she becomes convinced that the treasure is real and merely awaiting discovery by a courageous dreamer like herself. With little more than a self-made treasure map, Kumiko sets off on an epic, unpredictable journey across the Pacific and through the icy plains of Minnesota to unearth her mythical fortune
A lonely Japanese woman becomes convinced that a satchel of money buried in a fictional film is, in fact, real. She embarks on an impulsive quest to search for her lost mythical fortune. 
Cast: Rinko Kikuchi, Nobuyuki Katsube, Kanako Higashi
Member Reviews
Very nice. One of the best films I've seen in my life, no lie. Not in any way horror, but it's such wonderful story regardless. A good mix of funny and sad. I love Kumiko, shes so cute despite clearly having a lot of problems. Kikuchi does an amazing job. This is a true gem.
Not a horror film in any way, shape, or form, but thank you, Shudder, for having it on here. A beautiful film, with a "happy" ending I've never wanted more. Watch this film. You will not be disappointed.
This is a fantastic film, amazing portrait of a hermit, that is equal parts funny, and sad. If you enjoy this film, there is an excellent free documentary on vimeo about this case called "this is a true story", that compliments this film perfectly.
Saw this film a few years ago and absolutely loved it. Not in any way a horror or even horror related it's still a weird choice for Shudder but completely worth your time.