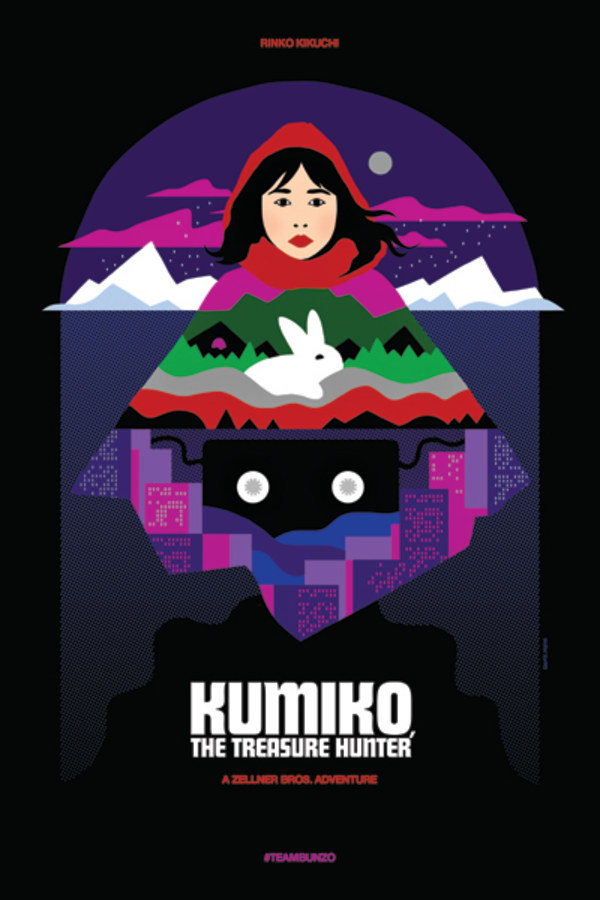 Kumiko the Treasure Hunter
Directed by David Zellner, Nathan Zellner
Trapped in isolating psychological torment, Kumiko (Rinko Kikuchi)—a meek twenty-something struggling to make it on her own in Tokyo—lives in constant resentment of her dead-end job and demeaning boss, her more successful and attractive peers, and her relentlessly nagging mother. But her spirits lift when, in a fictional American film, she observes a man bury a satchel of money in the wintry Midwestern wilderness. Though only witnessed on a staticky VHS tape, she becomes convinced that the treasure is real and merely awaiting discovery by a courageous dreamer like herself. With little more than a self-made treasure map, Kumiko sets off on an epic, unpredictable journey across the Pacific and through the icy plains of Minnesota to unearth her mythical fortune
A lonely Japanese woman becomes convinced that a satchel of money buried in a fictional film is, in fact, real. She embarks on an impulsive quest to search for her lost mythical fortune. 
Cast: Rinko Kikuchi, Nobuyuki Katsube, Kanako Higashi
Member Reviews
This is a fantastic film, amazing portrait of a hermit, that is equal parts funny, and sad. If you enjoy this film, there is an excellent free documentary on vimeo about this case called "this is a true story", that compliments this film perfectly.
Saw this film a few years ago and absolutely loved it. Not in any way a horror or even horror related it's still a weird choice for Shudder but completely worth your time.
Not really horror, but a great movie nonetheless. Very well done.
This is a wonderful film, and Kikuchi is spectacular in it...but I have no idea why it is on Shudder...but if you haven't seen it and you're down for a beautiful and sad drama, watch it!