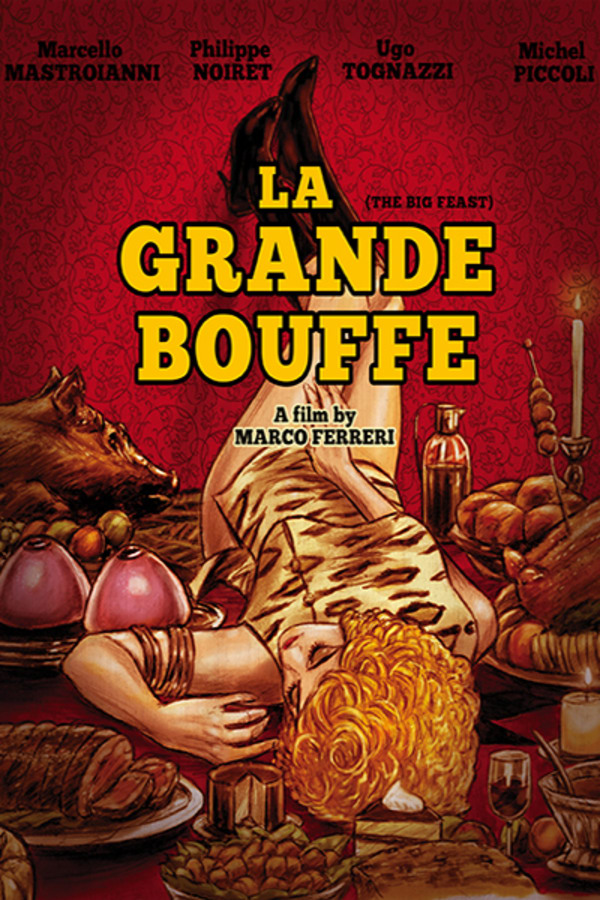 La Grande Bouffe
Directed by Marco Ferreri
Four friends, played by international superstars Marcello Mastroianni (Fellini's 8½), Michel Piccoli (Belle de Jour), Ugo Tognazzi (Barbarella) and Philippe Noiret (Zazie dans le métro) retreat to a country mansion where they determine to eat themselves to death whilst engaging in group sex with prostitutes and a local school teacher (Andréa Ferréol, The Tin Drum), who seems to be up for anything… The most famous film by Italian provocateur Marco Ferreri (Dillinger is Dead), LA GRANDE BOUFFE was reviled on release for its perversity, decadence and attack on the bourgeoisie, yet won the prestigious FIPRESCI prize after its controversial screening at the Cannes Film Festival. (In French with English subtitles.)
Four friends resolve to eat themselves to death in this decadent, controversial Cannes winner.
Cast: Marcello Mastroianni, Michel Piccoli, Philippe Noiret
Member Reviews
I can't help but have a grudging respect for a man who is fed and f***ed to death. Good stuff and snuff!
I don't know... I think there's a reason why all I remembered about seeing this movie years ago was that 4 of the great European actors were in it and that they ate a lot. I'm not really sure there's any more to it. Some great acting and set design, and a window into the kinds of food that folks considered high cuisine back then. The surrealistic touches of the film were the best parts. I'm just not convinced this movie is saying anything important about the decadence of the upper classes or mistreatment or whatever- it may have just been meant to be a gross out, intended to offend. 3.5 for the insane star power of the cast and the first twenty or so minutes, which introduce us to the characters in what I thought was a very deft manner...
Albeit another confusing tale in Shudder's repertoire of insane cinema, I must admit it left me fascinated with the psychological descent of the characters as to why they would ever commit to such an act.
Bleak. Not really horror, either. But sure, worth a watch.