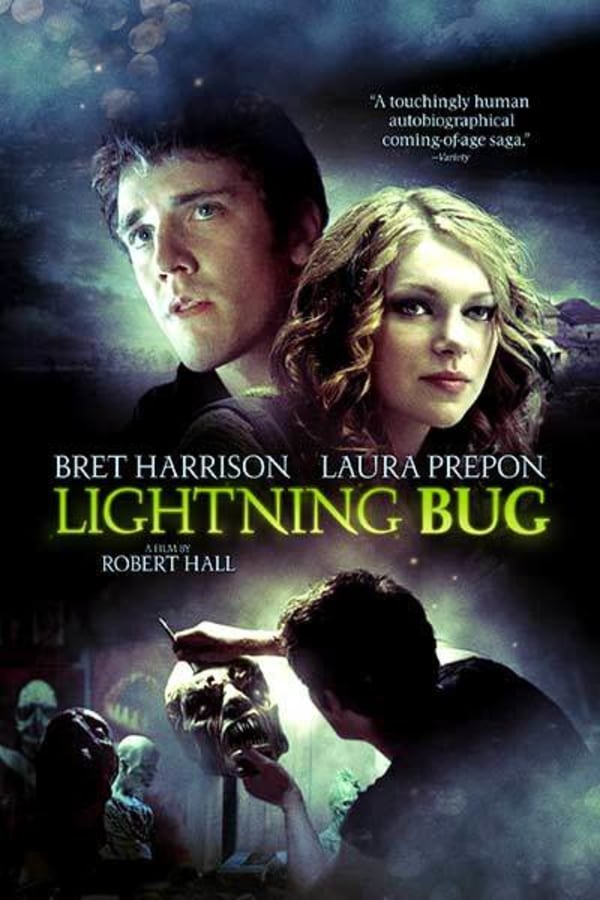 Lightning Bug
Directed by Robert Hall
THE MOST FRIGHTENING MONSTERS ARE ALL AROUND US! Bret Harrison ("Grounded for Life") stars as a frustrated teen who dreams of escaping his miserable life in a small Alabama town for a special effects make-up job in Hollywood, creating grisly monsters. His dream may even be in reach when he's hired to design the community's annual Halloween spook house and falls in love with a local girl (Laura Prepon, "That '70s Show"). But there are real monsters in his way, including an abusive stepfather (Kevin Gage, Heat) who terrorizes his mother (Ashley Laurence, Hellraiser), a fanatical religious group who attack his work, and his girlfriend's own shocking secret that may destroy their happiness together. Based on the inspiring true story of writer/director Robert Hall, award winning special effects makeup designer whose work includes "Teen Wolf," "Buffy the Vampire Slayer," "Angel," and Chromeskull: Laid to Rest 2.
An aspiring horror movie makeup artist struggles to fight off small town stupidity.
Cast: Bret Harrison, Laura Prepon, Kevin Gage, Ashley Laurence
Member Reviews
While not a "horror movie" in the classical sense this film still was a good movie.
This cannot be categorized as a horror movie. It is one of the best movies I've ever seen. The acting is excellent and the story is haunting. Many of us can identify with the struggles of small town life, but this movie is about more than that. It is about lies, manipulation, courage, love, truth, and triumph over tragedy. It is very dark in some ways yet there are grains of humor here and there that can catch you unexpectedly. It is extremely well written and well directed and the actors absolutely knocked it out of the park. I highly recommend this movie.
This is a horror movie like Edward Scissorhands is a romance. ...I love Edward Scissorhands...My point is, this movie fucking rocks, no matter what box you wanna stick it in. Forget the genre. Watch the movie.
brilliant. sad. sweet. great film.
I love this movie! I've watched it so many times!! Great storyline. Perfect actors! Highly recommend!!