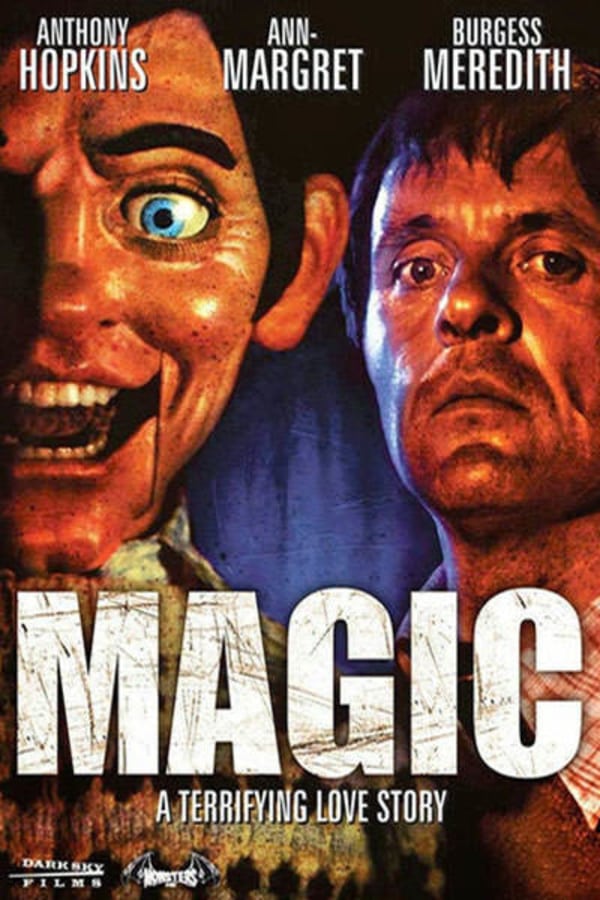 Magic
Directed by Richard Attenborough
Anthony Hopkins plays a ventriloquist whose dummy has a murderous mind of its own in this chilling psychological horror film written by legendary Hollywood scribe William Goldman (MISERY, MARATHON MAN) and directed by future Oscar-winner Richard Attenborough (GANDHI). Famous for its trailer ("Magic is fun. When you're dead!") which supposedly was removed from TV for being too scary, MAGIC still holds up as a terrifying trip to the Twilight Zone. Fans of Hopkins' iconic turn as Hannibal Lecter in THE SILENCE OF THE LAMBS should be sure to experience MAGIC.
A ventriloquist's (Anthony Hopkins) dummy has a murderous mind of its own.
Cast: Anthony Hopkins, Ann-Margret, Burgess Meredith
Member Reviews
Wanted to like this way more than I actually did. I do agree with one of the other commenters down here...it's not pure horror. More of a heartbreaking character study. "The Voices" with Ryan Reynolds is similar in that the main character doesn't want to be crazy and does everything in his power to avoid this fact. I like the idea in both.
Superb acting and story round out this 70s classic.
New very little about this going in, wasn't all what I expected in the best ways possible. I wouldn't call this a horror movie, it's more of a character study on a broken man. Very good.
Chilling love story with a dummy to boot. Despite what some say, Hopkins appeared to be acting his ass off. I would have loved to see what happened afteryouknowwhat happened. I used to watch this movie monthly and haven't seen it in at least ten years. My top ten favorite any kind of films right along with The Silence of the Lambs. Don't give it a second thought, watch this underrated masterpiece and diamond in the rough right now!
A tad bit dated, but nevertheless a well crafted film. With a screenplay by William Goldman (Princess Bride, Butch Cassidy, etc) directed by Richard Attenborough (the guy that played Hammond in Jurassic Park, and brother of the Attenborough that narrates all the Earth nature documentaries), as well as performances by Sir Anthony Hopkins, Ann-Margaret, and the always amazing Burgess Meredith, this film remains a classic. Scary? Meh, not really all that much, but a great story either way. Worth at least one view, without a doubt.