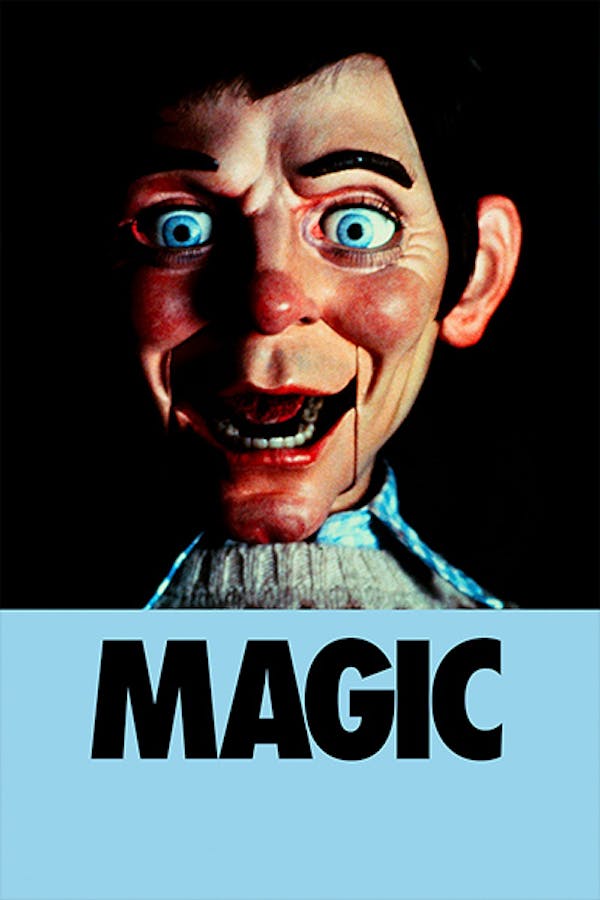 Magic
Directed by Richard Attenborough
Anthony Hopkins plays a ventriloquist whose dummy has a murderous mind of its own in this chilling psychological horror film written by legendary Hollywood scribe William Goldman (MISERY, MARATHON MAN) and directed by future Oscar-winner Richard Attenborough (GANDHI). Famous for its trailer ("Magic is fun. When you're dead!") which supposedly was removed from TV for being too scary, MAGIC still holds up as a terrifying trip to the Twilight Zone. Fans of Hopkins' iconic turn as Hannibal Lecter in THE SILENCE OF THE LAMBS should be sure to experience MAGIC.
A ventriloquist's (Anthony Hopkins) dummy has a murderous mind of its own.
Cast: Anthony Hopkins, Ann-Margret, Burgess Meredith
Member Reviews
Beware! Magic is no longer actually on Shudder, if you're signing up for a trial to watch this film, don't bother!!
Excellent experience viewing this film! Truly creepy and tense in only a couple instances, but it is a constant psychological burn to watch this man's chance at a wonderful life be slowly eroded away. Amazing acting throughout, especially by Hopkins who does the ventriloquism himself. Such a tragic story; you really root for him despite his flaws, his actions and his fate.
Probably deserves a 4, but trying to make up for all the people that don't have the patience to watch a movie all the way through, it's a tad dated, but also it's almost 40 years old, it's a bit slow, but suspense builds to something great if you take the time to wait for it. Too many people need instant gratification these days, and the one sad fellow who has Shudder but apparently Anthony Hopkins is against his religious beliefs so he tanks a movie's rating with a 1-star review to keep it from people looking for a good flick is just sad. Some of Anthony's best work and an all-star cast buried in impatient folks and some odd troll down-rating puppetcentric movies for trampling his peculiar religious fastenings. Give it a try if you like classic horror films, it's well worth it.
A nice psychological thriller, not scary in any shape or form. Spectacular acting by Anthony Hopkins.