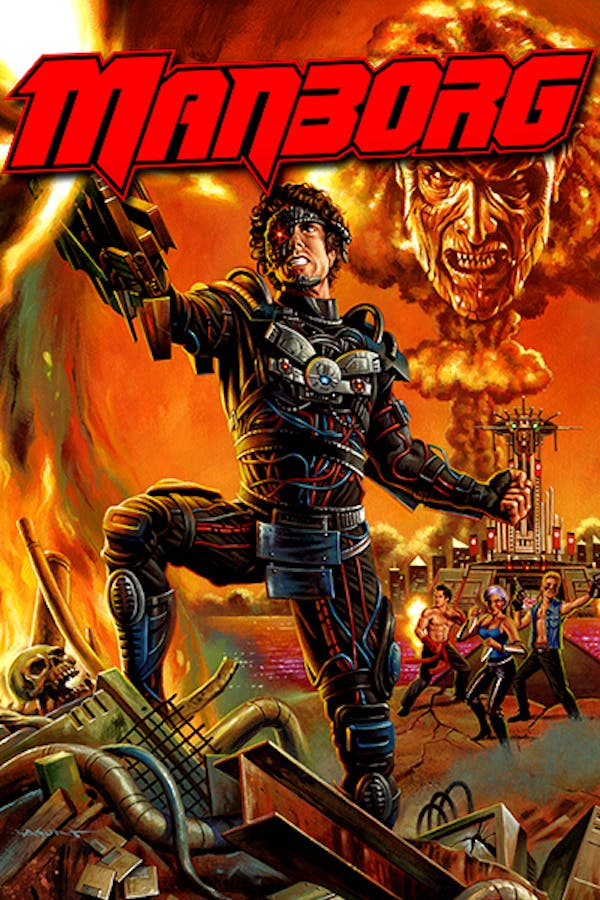 Manborg
Directed by Steven Kostanski
In this outrageous Sci-Fi actioner, the armies of Hell have taken over the Earth, and all that stands in the way of the villainous Count Draculon and humanity's total extinction is a motley crew of misfits led by the mighty MANBORG: a warrior who's half-man, half machine, but all hero. Once a young soldier killed during first war against Hell, Manborg reawakens in the future, rebuilt as a walking weapon and mankind's last hope. Struggling to learn the secret of his origins, Manborg unwittingly befriends a post-apocalyptic Australian punker, a knife wielding vixen, and a kung-fu master before finally squaring off against Count Draculon in a desperate and bloody bid to take back the Earth.
The armies of Hell have taken over the Earth, and all that stands in the way is the mighty MANBORG.
Cast: Matthew Kennedy, Adam Brooks, Meredith Sweeney, Conor Sweeney, Ludwig Lee, Jeremy Gillespie
Member Reviews
we and my friend are looking the movie like in real life, very happy because it was funny 11/10
Ok.....this was interesting kinda like Kung fury only just bat shit insane.there's no heaven.would watch again for the lols
I watched it for the chin strap
I can understand people enjoying campy films but this was whole lot TOO MUCH CAMP!! From the really tacky accents to the horrible special effects, this film (if that what I can call it) is really BAD. The description of this movie should come with a warning. Also, the previews from Astron-6 are a bit much.