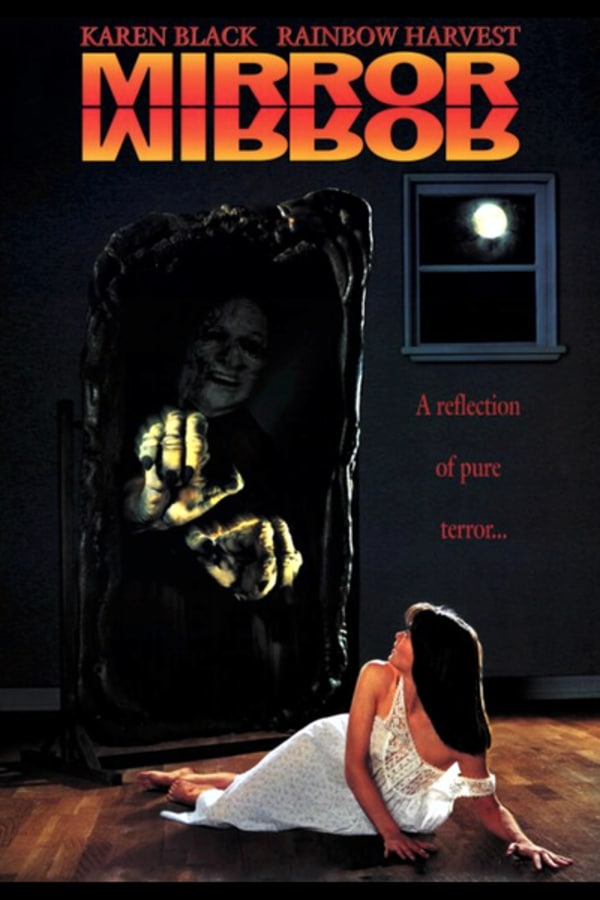 Mirror/Mirror
Directed by Marina Sargenti
A demonic mirror helps a goth girl take revenge on teenagers who pick on her in this '90s teen horror gem. Winona Ryder lookalike Megan (Rainbow Harvest) has just moved into a creepy old house which contains a mirror-slash-portal-to-hell. When a pack of nasty girls pick on Megan and her friend, the demon in the mirror uses black magic to kill them, drawing Megan under its spell. Featuring cult icons Karen Black and Yvonne De Carlo in supporting roles, Marina Sargenti's high school horror hit is a must for fans of THE CRAFT, HEATHERS and, like, duh: CARRIE.
A demonic mirror helps a goth girl take revenge on teenagers who pick on her.
Cast: Karen Black, Yvonne De Carlo, William Sanderson
Member Reviews
Entertaining movie with a great lead. Would have been 4 skulls no problem if the runtime was tightened up a little. Other than that it's your time well spent ❤️
Total fun... enjoyed the heck out of Winona Ryder lookalike Rainbow Harvest. I was sad to see she soon after ditched her movie career for other ventures. This girl could have been a horror queen. Imagine a faceoff with her and Winona! At least they could have had some fun with it on Saturday Night Live! On top of that, Karen Black as her mom and Yvonne DeCarlo as an antique dealer were both excellent! Kristin Dattilo as Megan's good friend Nikki was top notch. The story was easy to follow. You could cheer for Megan most of the way because the school "tormentors" did their jobs very well. Knowing they are fictional characters, it doesn't exactly bother you to see them meet their fates. The death scenes, meanwhile, were highly entertaining. Yeah, I really liked this movie. I highly recommend it. Four stars out of five.
Nah, I liked it. The pace is uneven but there are some really cool stylish parts, some really cood acting and some nice proper deaths. A good showcase of the kind of stuff you found browsing through the videoclub with a theme I loved: bullied has their revenge thanks to supernatural forces.