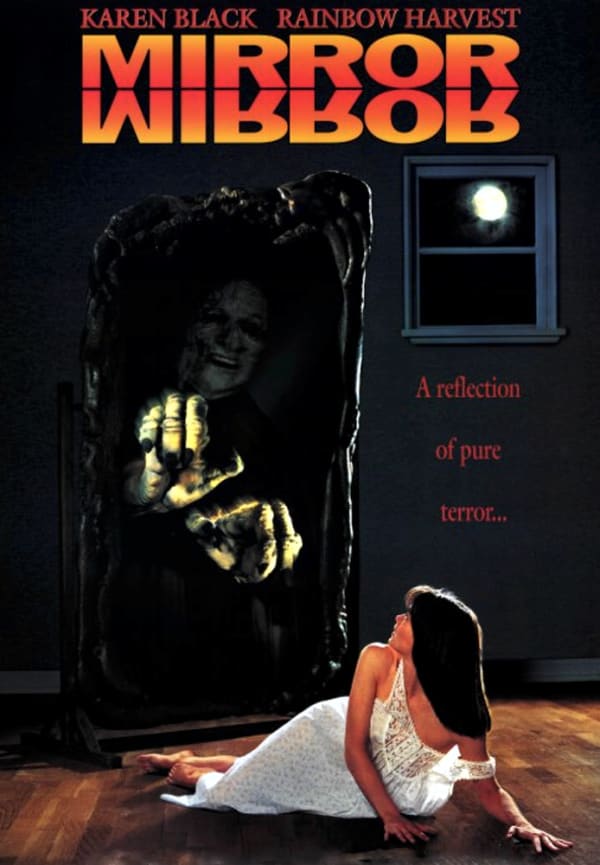 Mirror/Mirror
Directed by Marina Sargenti
A demonic mirror helps a goth girl take revenge on teenagers who pick on her in this '90s teen horror gem. Winona Ryder lookalike Megan (Rainbow Harvest) has just moved into a creepy old house which contains a mirror-slash-portal-to-hell. When a pack of nasty girls pick on Megan and her friend, the demon in the mirror uses black magic to kill them, drawing Megan under its spell. Featuring cult icons Karen Black and Yvonne De Carlo in supporting roles, Marina Sargenti's high school horror hit is a must for fans of THE CRAFT, HEATHERS and, like, duh: CARRIE.
A demonic mirror helps a goth girl take revenge on teenagers who pick on her.
Cast: Karen Black, Yvonne De Carlo, William Sanderson
Member Reviews
A fun, nostalgic movie. If you like themes of highschool bullies and misunderstood goths and dark arts justice, you'll like this.
about 20 minutes too long, not the William Sanderson vehicle I was hoping for, but a cute gimmick and some gruesome deaths and Janie from the Janie's Got a Gun video in the lead role makes it a recommend.
Hidden gem. Decent plot as these early 90s/late 80s movies go. No real "scares" but it is an enjoyable movie. If you liked Oculus and enjoy nostalgic 90s teen angst, you'll like this.
not a terrible hidden gem, would have liked to seen Rainbow Harvest continue with her career.
First things first: she is NOT a Winona Ryder look-alike! She looks vaguely like an adult version of Rider's character in Beetlejuice, but that's about it. On the face of it, this looked like an ideal one to watch with my horror-loving daughter. It was, but not for the reasons I thought: instead of being a movie to enjoy together for its merits, we instead enjoyed consistently roasting it throughout. The story was abysmal, the dialogue was laughable and the performances...well, the performances were actually alright, about on a par with most 80s movies around this budget range. It was a little fun to see Yvonne DeCarlo again, though her acting technique seems to have stultified with her most famous role as Lily Munster. And Karen Black? In spite of what horror fans may say, Karen Black was NEVER GOOD. She is ideally suited to her role here as a shell-shocked, slightly-mad bimbo mum, as that was always how she played her parts anyway. If you would like a movie to make fun of with your crew, I wholeheartedly recommend Mirror, Mirror. Otherwise...nah.