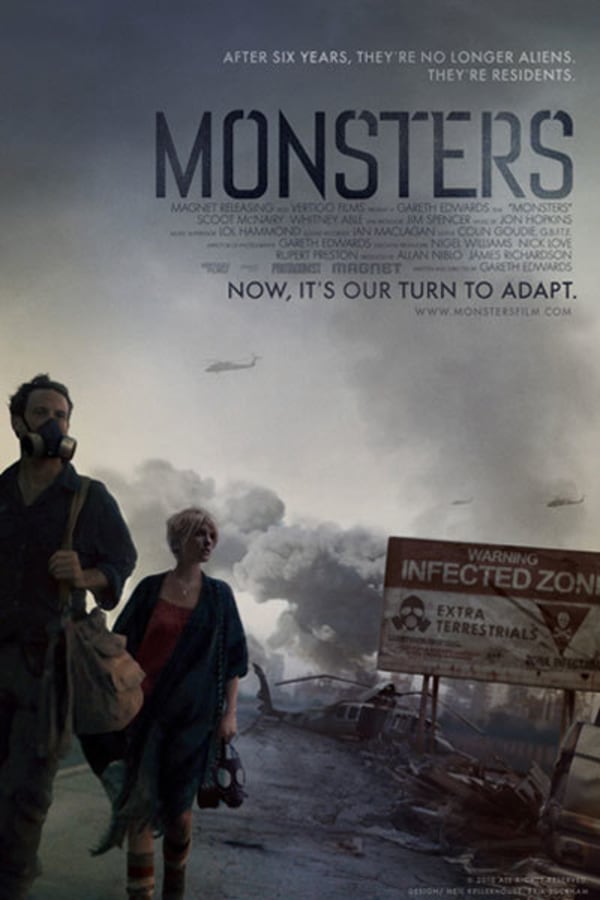 Monsters
Directed by Gareth Edwards
A man and a woman must make their way through a country overrun by alien monsters in this clever twist on monster movie conventions which put director Gareth Edwards (GODZILLA, STAR WARS ANTHOLOGY: ROGUE ONE) on the map. After a NASA probe carrying samples of alien life crashed over Central America, fantastic and scary new life forms began to appear there. As military forces try to contain the creatures, a US photojournalist and a shaken tourist make their way through Mexico, pondering the meaning of what's happened and trying their best to stay alive.
Two strangers must travel through a land overrun by alien beings.
Cast: Scoot McNairy, Whitney Able, Annalee Jefferies
Member Reviews
disappointing creature. good other stuff.
Looking at some of the ratings from previous reviewers, I can only say this- No, it's not a straight horror film. No, it doesn't have a lot of 'gory action'... And if a very well-written, well shot, well directed film with actually believable characters that doesn't have an axe murder every five minutes or bodies being sliced apart by some hockey-masked running joke of a repetitious, water-brained, boring goon is a "Waste of time" "Boring" or "Pure Dung"... Then you're an idiot, and deserve all the ridiculous 'hack n' slash' sequels your feeble brain and short attention span can stomach. This is honestly a very, very good film. A great one, even. And considering the two films Gareth Edwards made after this, it's a lesson in making a good movie that gets the attention of major studios. Five Skulls.
IMDB has 3 genre listings for each movie and are in order of importance. They got this one right with "drama, sci-fi, thriller". If there were a 4th it would be horror but irrelevant by then. However, the reviewer below me, MarsellusDurden, had a good point about "humans are the real 'monsters'". Maybe this movie doesn't belong on a horror streaming site but I'm glad it is. When I first watched this film I was expecting to get the typical story. The creatures in this movie are almost like a side story and I was pleasantly surprised by this. The sequel, though not as good, was the same way. I'm a fan of this kind of story telling. Gareth Edwards wore many hats making this movie. That's important to get the artist's vision across successfully. I believe this movie was Gareth Edwards' resume to go on and make Godzilla and Rogue One with only 4 more previous directing credits.
A lot of people on this site I think missed the point. But then again there's a lot of children on this site that get "bored" if there isn't non stop action or blood spilling. As been previously said, this is NOT a horror movie and unfortunately is promoted and spoken of misleadingly. But the film itself is shot and framed wonderfully. The world around these characters are captured amazingly and convincingly. The 2 leads aren't the most likeable people but they grew on me and at the end I did care some what if not fully. What "horror" this film lacks is instead replaced with a slow burning, atmospheric sense of dread that hangs over the entire journey. The 2 best sequences are very Spielberg in its sense of taut tension & suspense. !!SPOILER ALERT!! Honestly, what I got out of all of it and what a lot of people missed is that even in extreme circumstances like this movie shows, sometimes we as humans are the real "monsters."