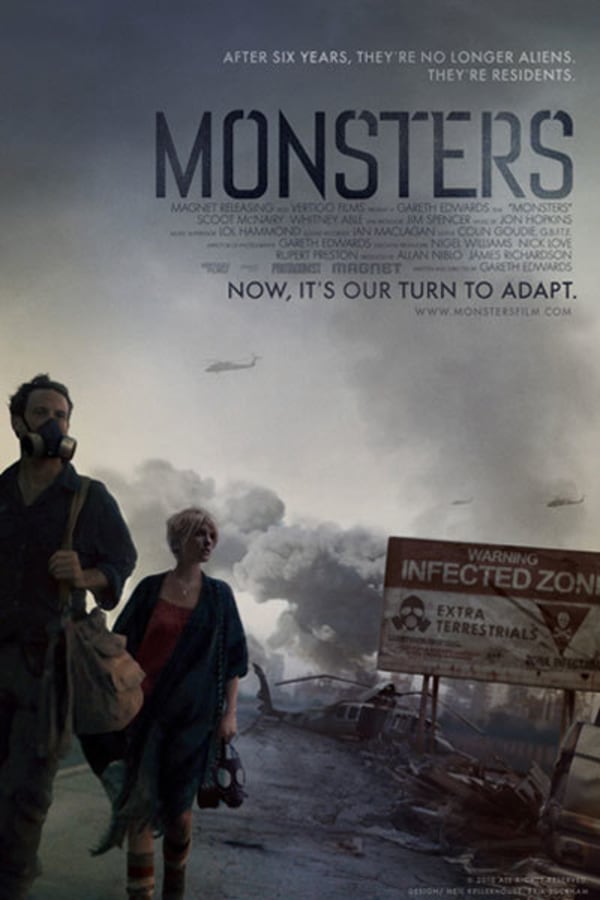 Monsters
Directed by Gareth Edwards
A man and a woman must make their way through a country overrun by alien monsters in this clever twist on monster movie conventions which put director Gareth Edwards (GODZILLA, STAR WARS ANTHOLOGY: ROGUE ONE) on the map. After a NASA probe carrying samples of alien life crashed over Central America, fantastic and scary new life forms began to appear there. As military forces try to contain the creatures, a US photojournalist and a shaken tourist make their way through Mexico, pondering the meaning of what's happened and trying their best to stay alive.
Two strangers must travel through a land overrun by alien beings.
Cast: Scoot McNairy, Whitney Able, Annalee Jefferies
Member Reviews
Sorry I can't give it less than 1️⃣ skull ☠️
Don't watch! Waste of time.
I know it may be generous, but I gotta toss up 4 Skulls for this reaching and vibey little atmosphere piece. A bit slow, a bit quiet, a bit subdued. . but that's really all part of the experience. A little more introspective than I usually venture, but valid in content and redeeming of itself. Sure, the monster visuals are on par with a 90's made for TV sci-fi CG experience, but again - thats part of the soft and wondrous charm. The film indeed could have gone much farther with some better choices, and been a much different film altogether, but this stands on it's own as a unique little film (*film, not movie).
Great film was a disappointment for what it coyld have been. Also the last twwo third was lacking in any real substance or value. The storys main characters seem to be excellent actors who have been sold short with materiual. We were first given te possibility of a great action monster movie. We then arer tossed a chance for a hot romance miced in. We get neither there are few monster scenes sure lots of roars but bothjing much. In a fim that could have had spectacular battles and hot love affaur between unlikely people a lnught and princess story even I would have enjoyed . There was noyjing but flat drawn out scenes. lazy writer a director and producer who should be ashamed of ruining what could have been a franchise. I give it 3 stars only for the heat our 2 lead actors had to put up with during what couldn't have been more than 5 days
I really wish there were more like this. FANTASTIC.