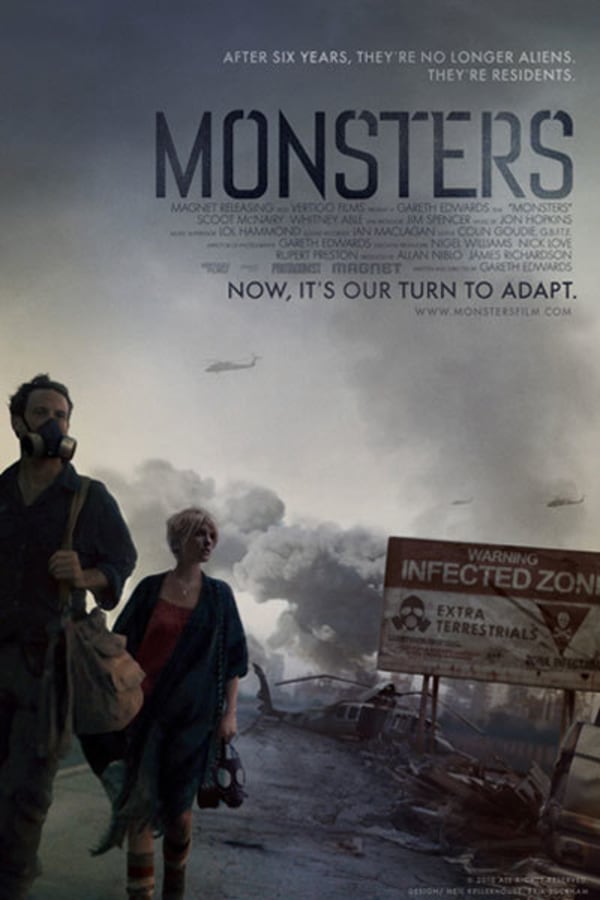 Monsters
Directed by Gareth Edwards
A man and a woman must make their way through a country overrun by alien monsters in this clever twist on monster movie conventions which put director Gareth Edwards (GODZILLA, STAR WARS ANTHOLOGY: ROGUE ONE) on the map. After a NASA probe carrying samples of alien life crashed over Central America, fantastic and scary new life forms began to appear there. As military forces try to contain the creatures, a US photojournalist and a shaken tourist make their way through Mexico, pondering the meaning of what's happened and trying their best to stay alive.
Two strangers must travel through a land overrun by alien beings.
Cast: Scoot McNairy, Whitney Able, Annalee Jefferies
Member Reviews
I liked it - very creative and great visuals
I didn't think it was to bad. Yes it could have been better but all in all not bad.
Slow, painful, and boring. The movie tries to bill itself as a megalaphobia flick with a lovecraft flair but never delivers on the fear of being insignificant. The atmosphere is nonexistant and the movie doesnt pick up until an hour in and leaves you ceeling unsatsfied. This had a lot of promise but fell flat. Avoid this one.
I read all the reviews before I watch a movie, and I saw rave reviews about this one. What a major disappointment!! This is not a horror move..it's a horrible movie!! A total waste of time.
I for one welcome our new octopus overlords.