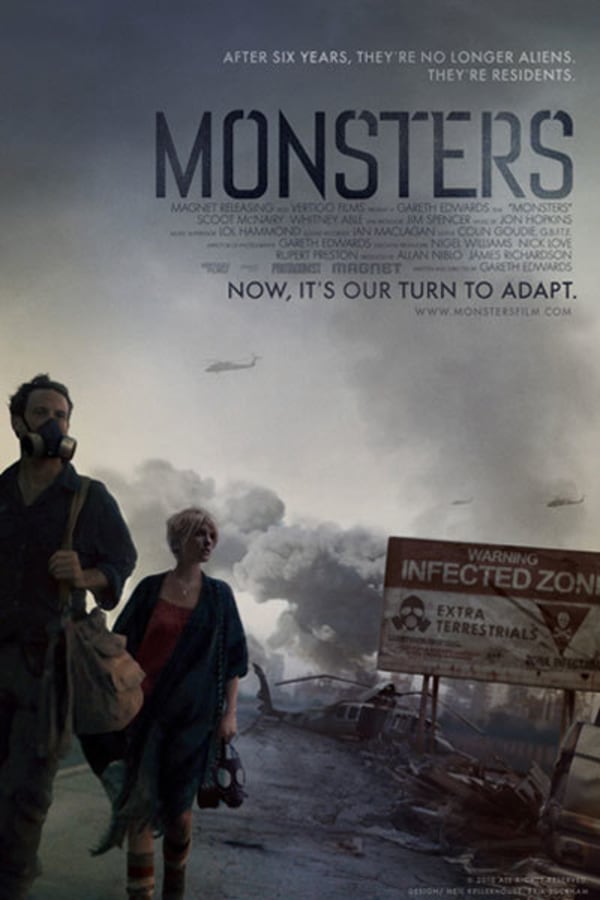 Monsters
Directed by Gareth Edwards
A man and a woman must make their way through a country overrun by alien monsters in this clever twist on monster movie conventions which put director Gareth Edwards (GODZILLA, STAR WARS ANTHOLOGY: ROGUE ONE) on the map. After a NASA probe carrying samples of alien life crashed over Central America, fantastic and scary new life forms began to appear there. As military forces try to contain the creatures, a US photojournalist and a shaken tourist make their way through Mexico, pondering the meaning of what's happened and trying their best to stay alive.
Two strangers must travel through a land overrun by alien beings.
Cast: Scoot McNairy, Whitney Able, Annalee Jefferies
Member Reviews
I loved it. More of a drama with spurts of action rather than scary or sci-fi. So yeah, if you're looking for an alien horror movie this might not be it. It's worth a watch for sure.
not really a horror flick, more of a creepy slice if life in a sci fi dystopia type movie. I love it, but the pace is not for everyone. it's a more cerebral take on Cloverfield mixed with central American road movie.
A love story during strange times.
Unfortunately this movie is lacking everything you want in a horror film. Don't know why it's on shudder. The aliens have a similar look to an octopus but also have a war of the worlds alien feel. This movie dragged on with no real exciting moments. The creepiest thing about this movie was the guy. It's more of a drama and maybe even a romance instead