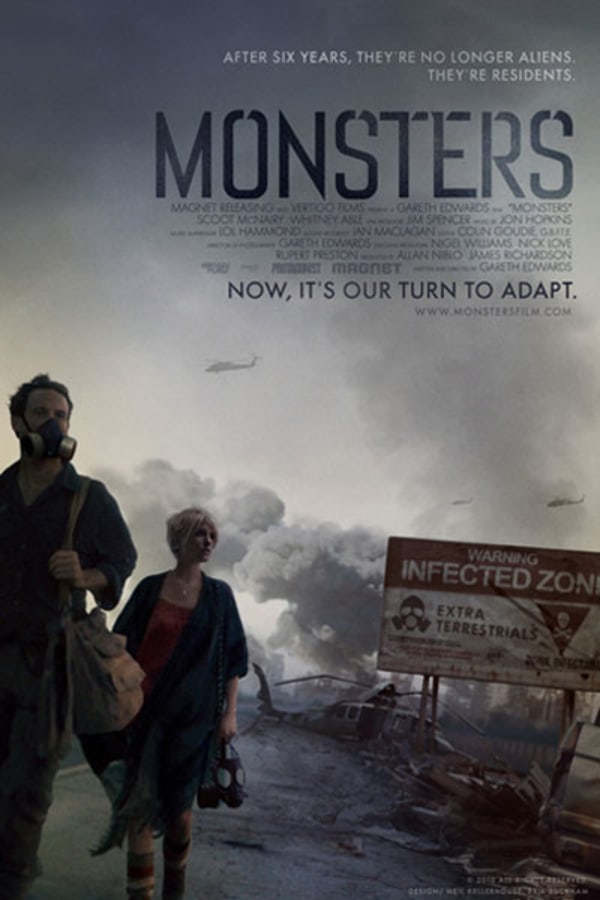 Monsters
Directed by Gareth Edwards
A man and a woman must make their way through a country overrun by alien monsters in this clever twist on monster movie conventions which put director Gareth Edwards (GODZILLA, STAR WARS ANTHOLOGY: ROGUE ONE) on the map. After a NASA probe carrying samples of alien life crashed over Central America, fantastic and scary new life forms began to appear there. As military forces try to contain the creatures, a US photojournalist and a shaken tourist make their way through Mexico, pondering the meaning of what's happened and trying their best to stay alive.
Two strangers must travel through a land overrun by alien beings.
Cast: Scoot McNairy, Whitney Able, Annalee Jefferies
Member Reviews
Very slow, which normally is not a problem for me but there weren't any great moments with tension or big scares. The actors are pretty good, there are a lot of beautiful shots, and I really liked the music, but all of it together just wasn't enough for me. It's certainly not a bad movie and could be good if you're looking for something to unwind with but horror is life. If you're really against CGI you will have a problem with this movie as every monster is done digitally.
This is one of my FAVORITE movies, but I have to say that I was surprised (but thrilled) to see this on a "horror" streaming website. Although it could be VERY loosely considered a "monster" flick, it isn't really about the Monsters that give it the namesake. It's really more of a drama with some suspense and much akin to old school sci-fi flicks did decades ago, it is a lot about what you don't see (at least till the very end) that adds to the film's suspense... Which I think has given many users on here ire, because if you're looking for an action-packed thriller, this is NOT it. Monsters 2 has much more action in it and nothing like the first film, although it isn't bad... but also it isn't even a horror film either. Monsters is about the monsters more inside a person, and self-discovery... It has a lot of metaphor and both it and the sequel call into question current political climate and events that they were made... I mean- there is a giant wall dissecting the U.S. and part of Mexico, and this was made before Trump was president. So, looking for a good movie that is something different? Maybe give this a try.
This is the story of two lesbians on a siesta in mexico running from land octopuses in a glorious life journey for the one on testosterone to get better bangs.
Great movie but it could have ended much better🤦🏽‍♀️