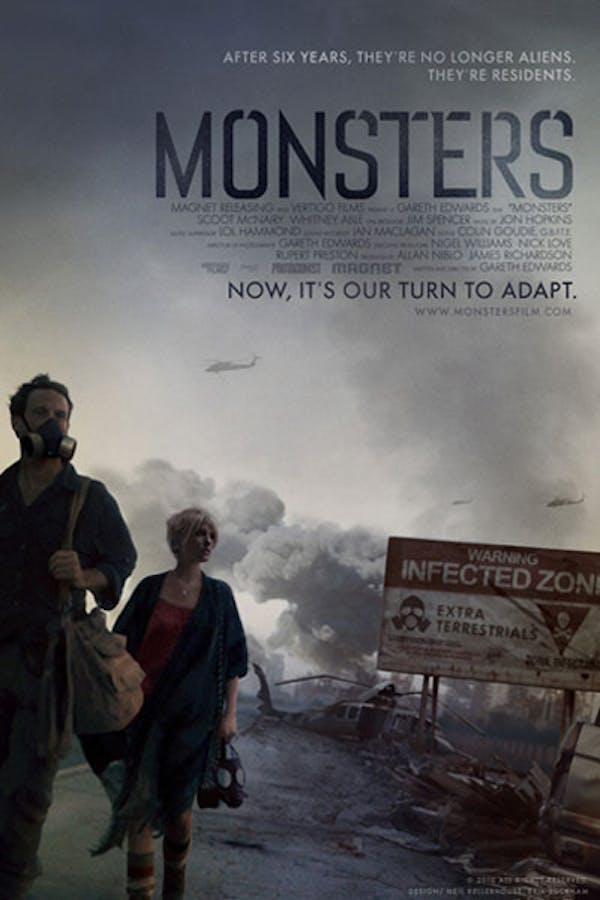 Monsters
Directed by Gareth Edwards
A man and a woman must make their way through a country overrun by alien monsters in this clever twist on monster movie conventions which put director Gareth Edwards (GODZILLA, STAR WARS ANTHOLOGY: ROGUE ONE) on the map. After a NASA probe carrying samples of alien life crashed over Central America, fantastic and scary new life forms began to appear there. As military forces try to contain the creatures, a US photojournalist and a shaken tourist make their way through Mexico, pondering the meaning of what's happened and trying their best to stay alive.
Two strangers must travel through a land overrun by alien beings.
Cast: Scoot McNairy, Whitney Able, Annalee Jefferies
Member Reviews
Awful characters worst photographer ever waste of a premise
yawn. should be called 'lack of monsters'.
monsters is a movie that has lived rent free in my heart for years. its pace is oddly calm even soothing but when the action unfolds it's only the more shocking for it. its social commentary is handled with grace; it never veers into cliché or goes out of its way to seem ''apolitical''.the monsters are treated like in most monsters movies are an evil force taking our land but instead, from the beginning you understand that this is something people are learning to live with at least on the mexican border and that acceptance of powerlesness is brought up time and time again. the characters are amazing. watching their relationship unfold with subtlety and grace, it was so impressive to watch it come to its earned climax on 90 minutes. i love this movie
Good story if you want a drama. Boring if you were looking for Monsters.... I was looking for Monsters.