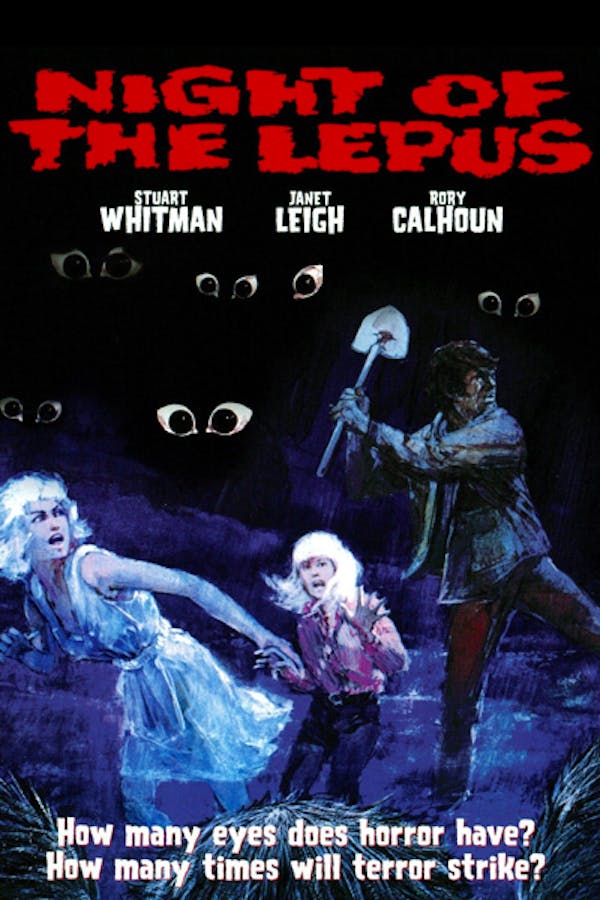 Night of the Lepus
Directed by William F. Claxton
When a research scientist and his wife inject a hormone into a rabbit in an attempt to exterminate the bunny population, the hare goes astray and breeds an army of "super rabbits" that terrorizes the community. The formerly cuddly rodents soon grow to enormous proportions and, in order to facilitate their size, develop a taste for protein--meaning big trouble for the slow-moving human population that surrounds their huge subterranean lairs.
In this 70s monster movie, mutated super rabbits terrorize the community.
Cast: Stuart Whitman, Janet Leigh, Rory Calhoun
Member Reviews
Giant killer bunnies run amok. That's all there is, and yet it works.
Attack of the killer bunnies bwahahaha. Good to watch if only to heckle.
Ok, so, let's get this out of the way: rabbits aren't scary. If you go into it with that in mind, you can appreciate how funny it is that there was an earnest attempt to make them so. This it not Zombeavers or Black Sheep; there is no intentional comedy in this. My mom, who has always loved B sci-fi, always talked about this movie with an ironic gleam in her eye. I'm glad that I finally got a chance to watch it. If you are expecting a serious and frightening creature feature, Night of the Lepus is probably not for you. On the other hand, if you enjoy movies that widely miss the mark and go spinning off into laughable absurdity, then check this one out before it is gone!
Really fun. Surprisingly convincing "Murderous Bunny Rampage" sequences.