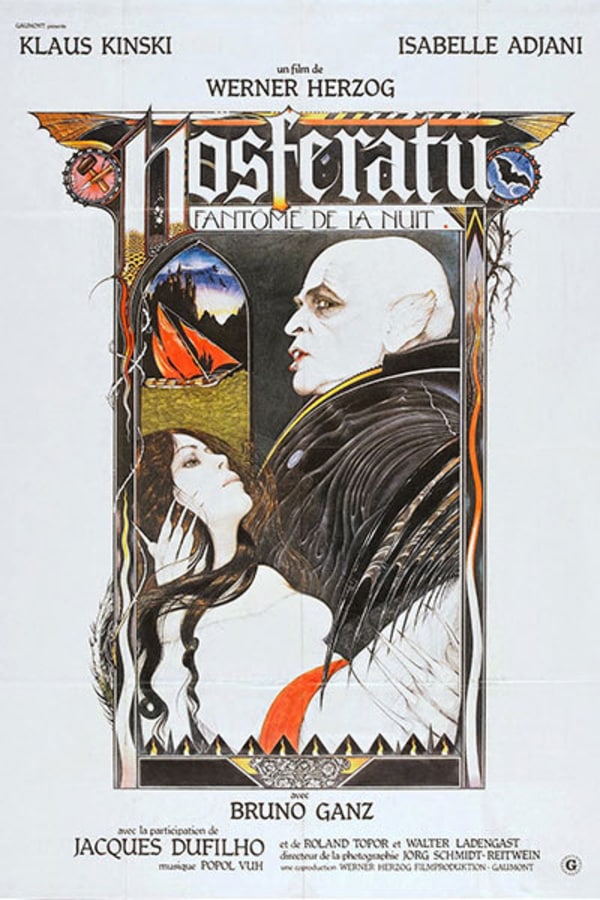 Nosferatu, The Vampyre
Directed by Werner Herzog
Werner Herzog's 1979 NOSFERATU remake stars the ghoulish German actor Klaus Kinski, French siren Isabelle Adjani (POSSESSION), and Bruno Ganz. Herzog, who was famous for creeping people out with intense documentaries and narrative films, took a surprising turn with this adaptation of both DRACULA and F.W. Murnau's original NOSFERATU, which was an illegal adaptation of the novel itself. Herzog's version is an unusually contemplative Dracula, in which the vampire bears the cross of not being able to get old and die. Watch it back to back with the original.
Werner Herzog's 1979 remake stars the ghoulish German actor Klaus Kinski.
Cast: Klaus Kinski, Isabelle Adjani, Bruno Ganz
Member Reviews
Beautifuly shot and acted, but they started filming witout a completed script and it shows. There's a lot of buildup with no real payoff.
Good buildup but no real ending, I know they started filming before the script was finished Andy it shows. Beautifully shot and we'll-acted though.
Beautiful cinematography and I enjoyed the melancholy take on Dracula here but ultimately the original silent version of Nosferatu was honestly more creepy and scary than this one. Goes to show how well Max Shreck did with just his eyes and presence alone. This film is definitely a love letter of sorts as its nearly identical in terms of shots and story structure but the suspense and terror that the original had isn't present here. Also, while Isabelle Adjani is gorgeous the over-sexulization of the climax is a little off putting and I feel like it took me away from the moment. A good watch if forgettable one.
I tried to pay homage to a classic but I couldn't finish. Ugh... too slow and boring.
one of the very best in the Vampire genre. Love this movie. So many moments that vampire fans will recognize as inspiration for some modern vamp movies :)