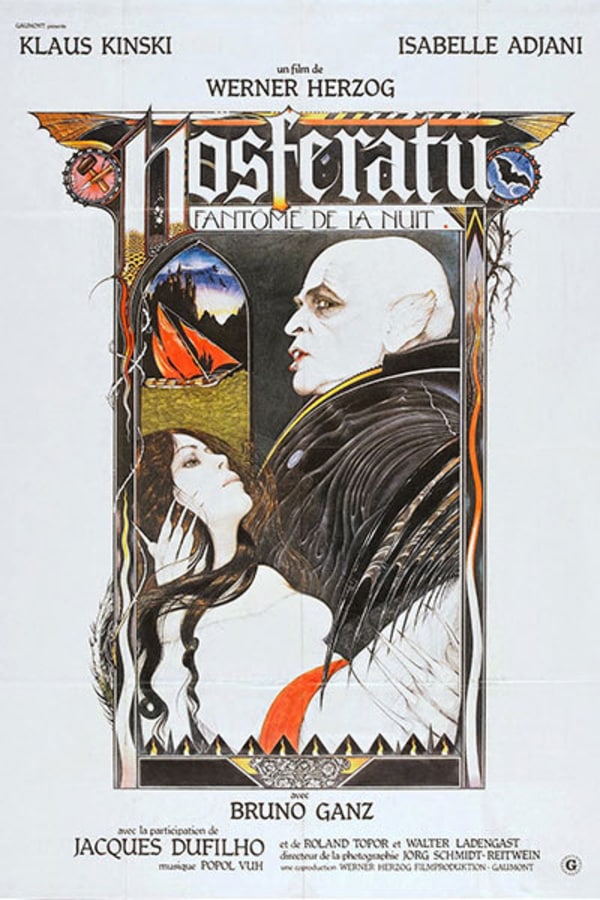 Nosferatu, The Vampyre
Directed by Werner Herzog
Werner Herzog's 1979 NOSFERATU remake stars the ghoulish German actor Klaus Kinski, French siren Isabelle Adjani (POSSESSION), and Bruno Ganz. Herzog, who was famous for creeping people out with intense documentaries and narrative films, took a surprising turn with this adaptation of both DRACULA and F.W. Murnau's original NOSFERATU, which was an illegal adaptation of the novel itself. Herzog's version is an unusually contemplative Dracula, in which the vampire bears the cross of not being able to get old and die. Watch it back to back with the original.
Werner Herzog's 1979 remake stars the ghoulish German actor Klaus Kinski.
Cast: Klaus Kinski, Isabelle Adjani, Bruno Ganz
Member Reviews
Brilliant. Just. Amazing. Not better than the original, but instead...complimentary. The two should be watched back to back, devouring you with atmosphere.
Remake was a little boring and kinda felt like they tried to impress too much. Nothing beats the OG Nosferatu, nothing. Also Renfield was annoying as fuck, I didn't imagine him to be so obnoxious with that laugh in the original film... I was originally gonna give it 2 skulls but I'll give it 3 for the soundtrack.
nice i having seen this since i was a kid
Herzog shows not all remakes are that bad