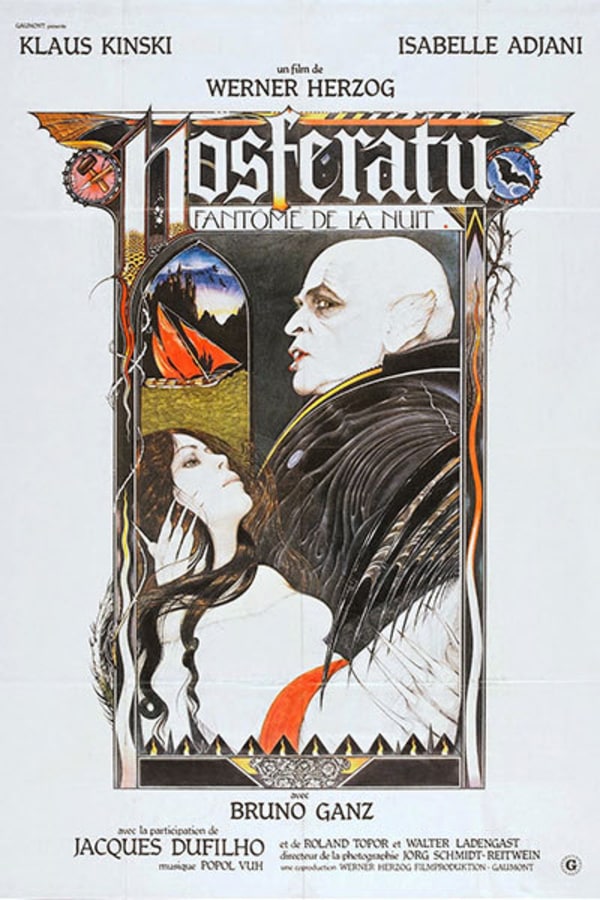 Nosferatu, The Vampyre
Directed by Werner Herzog
Werner Herzog's 1979 NOSFERATU remake stars the ghoulish German actor Klaus Kinski, French siren Isabelle Adjani (POSSESSION), and Bruno Ganz. Herzog, who was famous for creeping people out with intense documentaries and narrative films, took a surprising turn with this adaptation of both DRACULA and F.W. Murnau's original NOSFERATU, which was an illegal adaptation of the novel itself. Herzog's version is an unusually contemplative Dracula, in which the vampire bears the cross of not being able to get old and die. Watch it back to back with the original.
Werner Herzog's 1979 remake stars the ghoulish German actor Klaus Kinski.
Cast: Klaus Kinski, Isabelle Adjani, Bruno Ganz
Member Reviews
Herzog shows not all remakes are that bad
A very very good remake. Very faithful to the original, but has a few ideas of it's own to spice things up. Captures the true magic of the original: the blending of surreal expressionist imagery with the naturalistic realism. Klaus Kinski and Isabelle Adjani are fantastic. Slightly inferior to Murnau's film, but still highly recommended.
Scares the s$#@ out of me every time because Kinski is spookie as hell!
Such eerily beautiful shots, esp. the ones with the elegantly gothic Isabelle Adjani by the seaside. I admit some scenes were very dated, ie 70's. But Klaus nails it as Nosferatu. Was wondering why the choral singing sounded familiar, and realized it was also used in a Kate Bush song. I could see her loving this film.