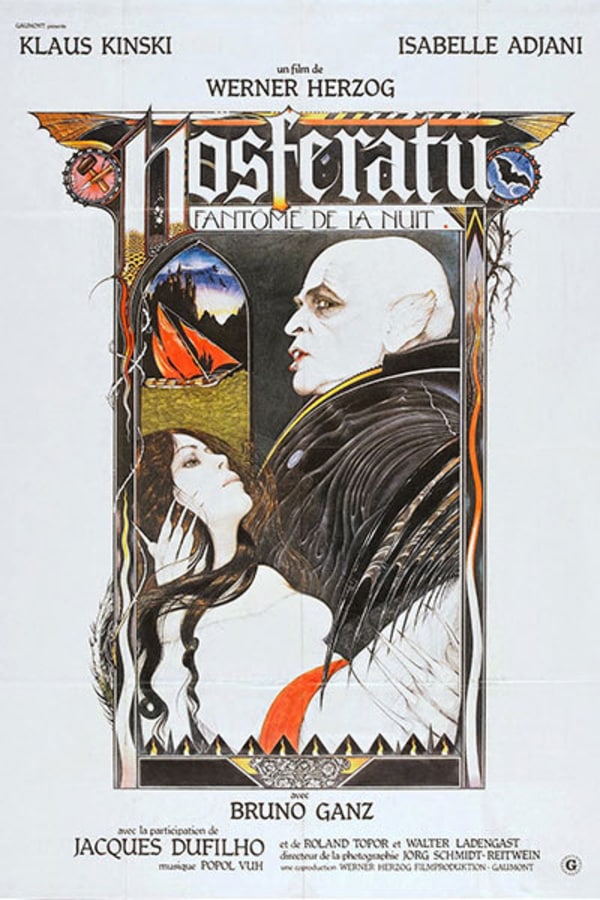 Nosferatu, The Vampyre
Directed by Werner Herzog
Werner Herzog's 1979 NOSFERATU remake stars the ghoulish German actor Klaus Kinski, French siren Isabelle Adjani (POSSESSION), and Bruno Ganz. Herzog, who was famous for creeping people out with intense documentaries and narrative films, took a surprising turn with this adaptation of both DRACULA and F.W. Murnau's original NOSFERATU, which was an illegal adaptation of the novel itself. Herzog's version is an unusually contemplative Dracula, in which the vampire bears the cross of not being able to get old and die. Watch it back to back with the original.
Werner Herzog's 1979 remake stars the ghoulish German actor Klaus Kinski.
Cast: Klaus Kinski, Isabelle Adjani, Bruno Ganz
Member Reviews
This is by far the best film adaptation of Dracula that I have ever seen. I've watched a lot of them: the good, they bad, and the ugly. Sorry for the cliche. But seriously, this is the best vampire movie I have ever seen. It's up there with "Let the Right One In" and "30 Days of Night" in my opinion. This adaptation of Dracula defies expectations, and the cinematography is spectacularly beautiful. Dracula is sad. He runs around and has an overwhelming sense of dread. Lucy is strong and saves the day. Dr. Van Helsing is pretty useless. All of the actors were wonderful. Their performances were gripping and perfectly delivered. I'm gonna keep this one in mind and recommend it for years to come. A classic that deserves love and affection. This is no campy '80s slasher. This is truly deserving of the term "Horror."
Fantastic remake. Beautiful cinematography and acting.
Great meta horror pseudo behind the scenes take on the making of an all time classic. Based on the fact that Max Shrek thought he was a real vampire.
Some beautiful scenes and great shots ruined by a cut of the film that is too baggy by a good 20 minutes. Worth a watch, but prepare yourself for establishing shots that linger way longer than you thought they were going to.