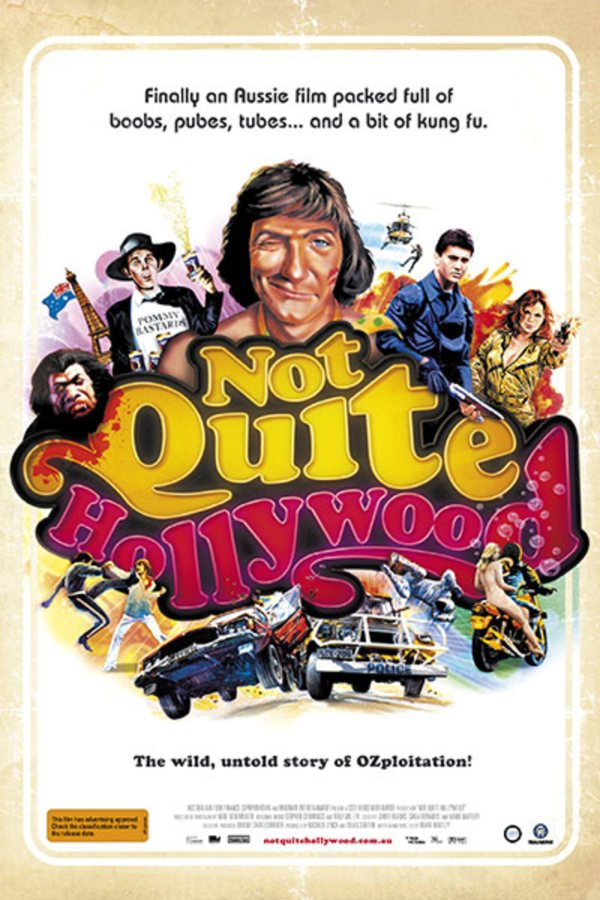 Not Quite Hollywood: The Wild, Untold Story of Ozploitation!
Directed by Mark Hartley
NOT QUITE HOLLYWOOD is the wild, wonderful, untold story of "OZPLOITATION" films. It irreverently documents an era when Australian cinema got its gear off and showed the world a full-frontal explosion of sex, violence, horror and foot-to-the-floor, full bore action! An eye-popping celebration of Australian cult films of the '70s and early '80s (including MAD MAX, BMX BANDITS and PATRICK), NOT QUITE HOLLYWOOD explodes with adrenaline-pumping clips and outrageous anecdotes from such luminaries as Quentin Tarantino, Dennis Hopper, Barry Humphries and Jamie Lee Curtis.
The story of the Australian exploitation genre cinema of 1970s and 80s.
Cast: Quentin Tarantino, Dennis Hopper, Jamie Lee Curtis
Member Reviews
Hilarious and informative documentary, chock full of interviews with true legends of Ozploitation. They pack an incredible amount of history into 1h43 — have a pen ready, you'll probably end up with a list of recommendations. (Could've done without Quentin Tarantino's mugging and gibbering, though. It felt endless.)
Brilliant documentary. Full of great information and recommendations! A must watch!
I like these documentaries they break up watching all the films and you can find out what else you want to see from them. I discovered the film Turkey Shoot from this one.
One of my favorite docs! It's be awesome of you can also get Machete Maidens Unleashed too!