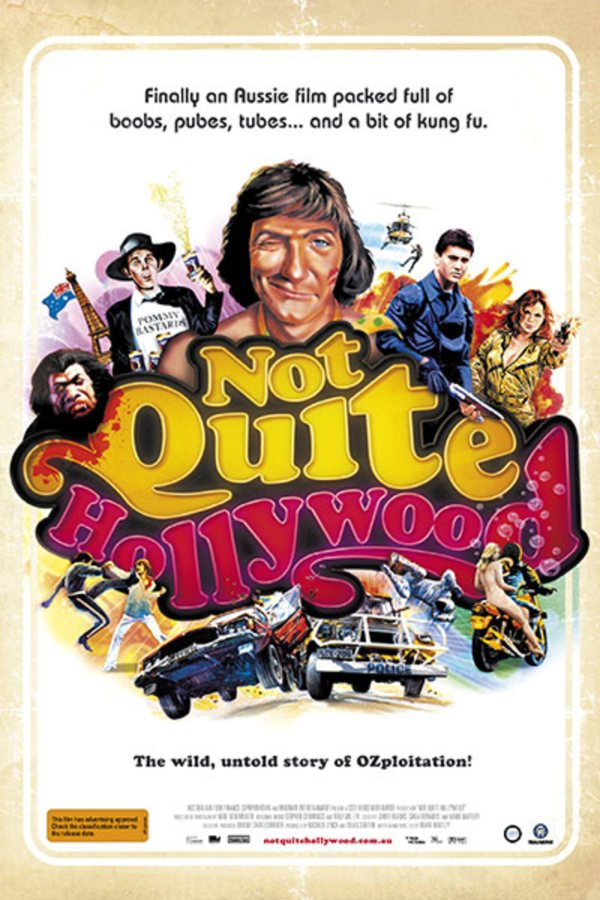 Not Quite Hollywood: The Wild, Untold Story of Ozploitation!
Directed by Mark Hartley
NOT QUITE HOLLYWOOD is the wild, wonderful, untold story of "OZPLOITATION" films. It irreverently documents an era when Australian cinema got its gear off and showed the world a full-frontal explosion of sex, violence, horror and foot-to-the-floor, full bore action! An eye-popping celebration of Australian cult films of the '70s and early '80s (including MAD MAX, BMX BANDITS and PATRICK), NOT QUITE HOLLYWOOD explodes with adrenaline-pumping clips and outrageous anecdotes from such luminaries as Quentin Tarantino, Dennis Hopper, Barry Humphries and Jamie Lee Curtis.
The story of the Australian exploitation genre cinema of 1970s and 80s.
Cast: Quentin Tarantino, Dennis Hopper, Jamie Lee Curtis
Member Reviews
Fast moving documentary about the zeitgeist of the pulpy Australian cinema of the 70s/80s and the people involved. I think there should have been more emphasis on how the mainstream and officially ozploitation films were so related and many parts are very much a fast forward making of, but still: loads of people and modern heroes talking about something they obviously enjoy.
Not bad at all. Pretty much does what it says on the tin. As a documentary, I can't find much to fault it, but obviously you need to be interested in the subject matter. I was mostly just watching for the horror stuff, but found it generally quite entertaining as a whole.
I'll finish my review without accidentally pressing the send button again lol, where was I? Oh yes, Nice to see Prisoner Cell block H cast members in this documentary. Hey, Shudder an edit button for comments would be great for idiots like myself 😄
Very much enjoyed that, not sure I'd want to see many of the films mentioned but it was certainly entertaining to hear all about them. Nice to see a few Prisoner Cel
Love the documentaries which Shudder shares, more like this!