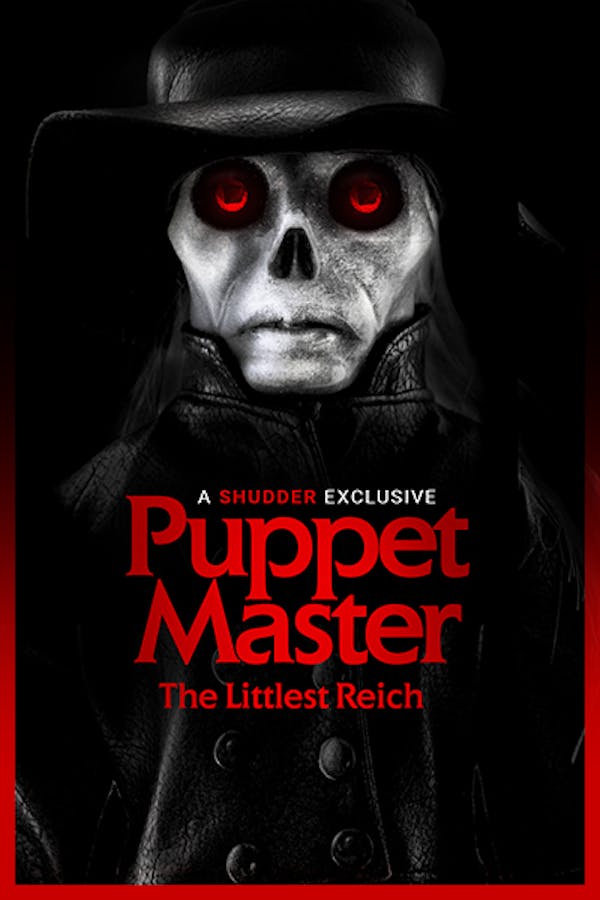 Puppet Master: The Littlest Reich
Directed by Sonny Laguna, Tommy Wiklund
When recently divorced Edgar finds a nefarious looking puppet in his deceased brother's room, he decides to sell the doll at a small-town celebration of the infamous Toulon Murders. But all hell breaks loose when a strange force animates the puppets at the convention, setting them on a bloody killing spree motivated by an evil as old as time. From FANGORIA, PUPPET MASTER: THE LITTLEST REICH is the goriest good time of the year. A SHUDDER EXCLUSIVE.
A strange force reanimates Toulon's Puppets, setting them on their bloodiest spree yet.
Cast: Thomas Lennon, Jenny Pellicer, Udo Kier, Barbara Crampton, Michael Pare
Member Reviews
Worst movie in the franchise. Mean, stupid, and unfun. I love Puppet Master. It's a dumb, cheap, fun series. It really wants to have a long-going continuity when it's too endearingly incompetent to do so. But there's two really fundamental rules to Puppet Master: a. Toulon made killer puppets. b. Toulon hates the Nazis. So this movie goes and makes Toulon a Nazi. Why? Is this the garbage reboot/"reimagining" nobody asked for? The first thing that happens in the original movie is that Toulon hides his puppets so the Nazis can't get them, then the SS spies kill him. Then we get the best one in the series, the prequel where we learn that he dared to criticize Hitler, the Nazis killed his wife and his friends, so he fought them as he tried to escape. Then there's a particularly silly one where the puppets are recovered from the hotel a year or so after Toulon's death and help save Los Angeles from bickering Axis nerds. And there's two more on the same vein that I haven't seen yet? Didn't know I fell that far behind. But nah. Here he's a Nazi agent who makes an army of killer puppets to torment the Jews/gays/everyone the Nazis dislike...roughly everyone. Glad we no longer have the wonderfully characterized core puppets because they're just mass produced killing machines in this. We get the biggest bodycount in the series because dozens of adults can't handle a bunch of toys; when generally their size works to their advantage against small groups. And for a series that has the really iconic death scene where Tunneler drills a woman in the head (mouth?), everything about this movie feels cheap, needless, and cruel. Especially since the puppets are Nazis now, most of their kills are brutal hate crimes. Which the movie makes sure to mention in case we hadn't figured it out. Is this a political movie? Was there a great Message that needed to be made about current events? Because Puppet Master, I love you for what you are, you are neither smart or good enough to be political.
The Nazi angle is so completely unnecessary and uncomfortable, I could only get half an hour in before deciding I really didn't want or need any more.
Loved this movie. I went in expecting crap (it's Nazi puppets) but was very surprised both in terms of story and acting. Thomas Lennon is great and funny as the lead and there are some cool kills. Definitely recommend!
Never seen a Puppet Master film before. Not very suspenseful, good mix of irreverent comedy and over the top gore effects. Snuggy Bear needs to make a cameo in more campy horror flicks.
Let's be honest: the Puppet Madter