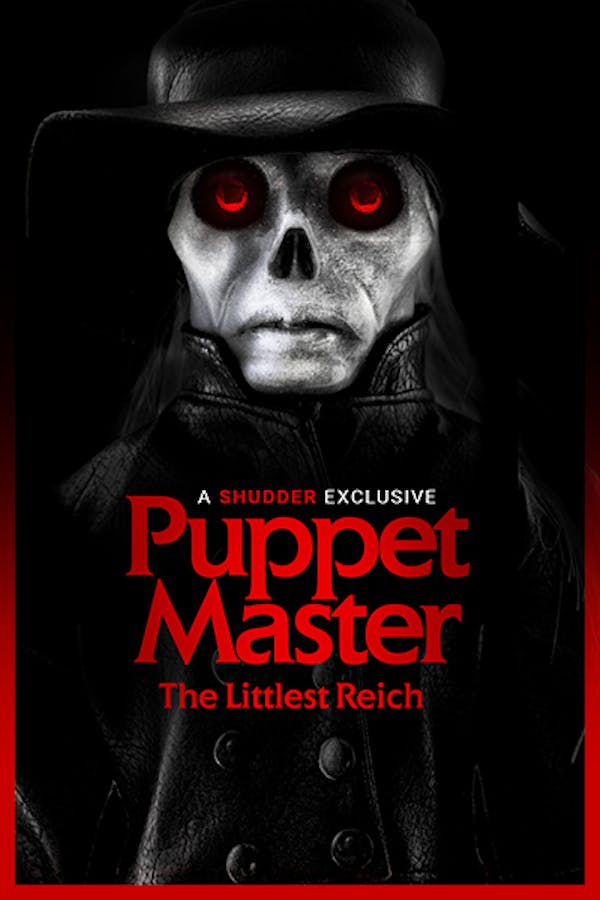 Puppet Master: The Littlest Reich
Directed by Sonny Laguna, Tommy Wiklund
When recently divorced Edgar finds a nefarious looking puppet in his deceased brother's room, he decides to sell the doll at a small-town celebration of the infamous Toulon Murders. But all hell breaks loose when a strange force animates the puppets at the convention, setting them on a bloody killing spree motivated by an evil as old as time. From FANGORIA, PUPPET MASTER: THE LITTLEST REICH is the goriest good time of the year. A SHUDDER EXCLUSIVE.
A strange force reanimates Toulon's Puppets, setting them on their bloodiest spree yet.
Cast: Thomas Lennon, Jenny Pellicer, Udo Kier, Barbara Crampton, Michael Pare
Member Reviews
I'm trying my hardest to understand this movie lol... o love the originals but this story line could have been better.... I enjoyed it for the most part
Couldn't help but to compare it to the originals. Seemed to try way too hard to be edgy and as gory as possible with no depth or substance outside of Edgar's shallow storyline. Felt like there was more story in the opening credits than the rest of the movie. Don't like the design of a lot of the new puppets and some of the effects were meh even by the originals' standards (though, in fairness, there are also some that are pretty well done). Not the worst film I've seen, but it could've been so much more with just some slight tweaking and creative changes. But it is what it is. Maybe I'm too hard on it. So I'll say at least it tried to do something different, again SOME of the makeup effects were good, and I mean...Cuddly Bear!
Not the best of the puppet master movies but its a great movie when it comes to kill and gore, its very campy so it makes for a watch with friends.
Enjoyable campy horror comedy.
Easily best of the series. Fun stuff!