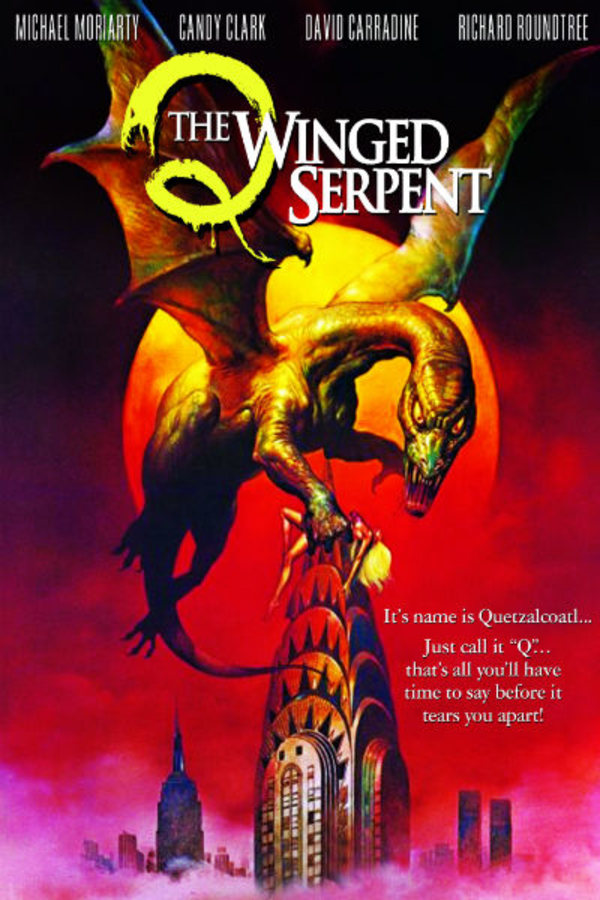 Q - The Winged Serpent
Directed by Larry Cohen
In Larry Cohen's '80s cult classic, a giant dragon comes to NYC to feast on pedestrians. His name is Quetzalcoatl and for months he's been hiding in the Chrysler Building and devouring unlucky sunbathers around the city. But when a criminal (Michael Moriarty) stumbles across Q's nest, he must decide whether to lead two cops (David Carradine and Richard Roundtree) to the hiding place. Cohen walks a tricky line, combining an homage to giant monster movies and a character study of a pathetic loser, but the result manages to be fun, scary, and, yes, moving.
In Larry Cohen's cult classic, a giant dragon comes to NYC to feast on pedestrians.
Cast: Michael Moriarty, David Carradine, Candy Clark, Richard Roundtree
Member Reviews
Great stuff. Michael Moriarty may be a nut job but man that dude can act. Woulda rather had Shaft as the lead than Carradine tho.
I enjoyed it. Cheesy?? Yes, but with pretty good acting. It almost felt like a play. There are some fun shots of New York and lots of NY characters.
This is a tough one to rate. It meanders in some weird directions, the effects are cheap, and the characters kind of unlikable. But I got a really strong sense of setting and it stuck around in my brain in a way it probably shouldn't. Worth a watch for sure.
YOU BETTER STOP MESSIN' ROUUUUUUUUUUUUUNNNNNNNNNNNNNNNNDDDDDDDDDDDDDDDDDDDDDDDDDDDDDDD
Told myself I would watch at least 30 minutes. And that's how far I made it. Not a second more. I know it's old, but it's also a waste of time.