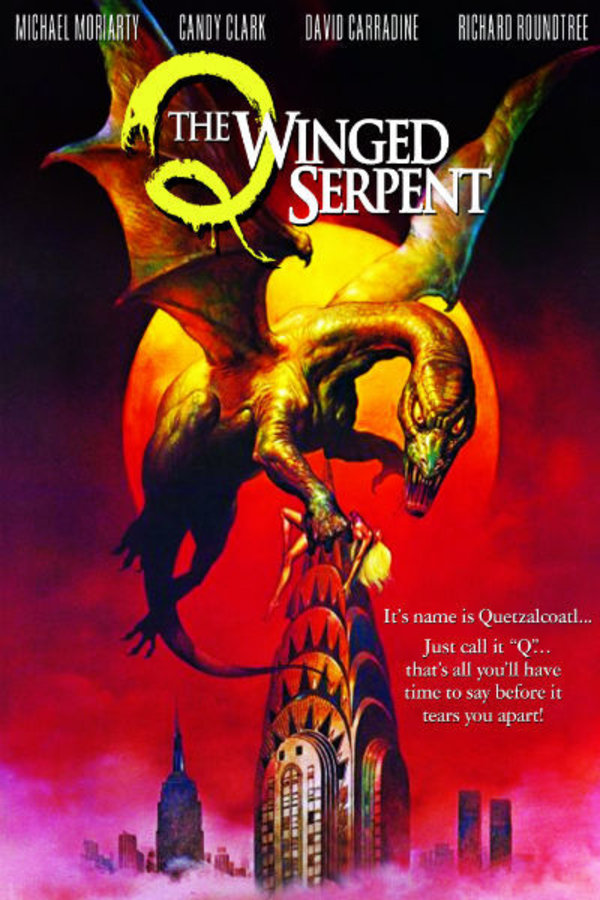 Q - The Winged Serpent
Directed by Larry Cohen
In Larry Cohen's '80s cult classic, a giant dragon comes to NYC to feast on pedestrians. His name is Quetzalcoatl and for months he's been hiding in the Chrysler Building and devouring unlucky sunbathers around the city. But when a criminal (Michael Moriarty) stumbles across Q's nest, he must decide whether to lead two cops (David Carradine and Richard Roundtree) to the hiding place. Cohen walks a tricky line, combining an homage to giant monster movies and a character study of a pathetic loser, but the result manages to be fun, scary, and, yes, moving.
In Larry Cohen's cult classic, a giant dragon comes to NYC to feast on pedestrians.
Cast: Michael Moriarty, David Carradine, Candy Clark, Richard Roundtree
Member Reviews
I used to enjoy watching this on Commander USA in the 80s, but found it annoying and boring now. Michael Moriarty just bugs me (really in every role I've seen him in), and all the "New York-ness" just doesn't resonate for me. I know Larry Cohen has a great fanbase, but I don't think I "get it".
Good and campy. Always worth a watch. Not without its faults though...The editing can be pretty bad, leading to a lot of awkward shots/moments. The stuff with Moriarty's character tends to go on a little too long in some places. Thankfully there's enough monster action to keep you interested.
Definitely a cheeseball of a movie, but with surprisingly good writing and acting, different didn't think I would like it but I did
Is it great? No.... Is it a decent way to spend an afternoon when your bored? You decide.... You really get what you'd expect from it. im just gonna list the good and bad and you decide if you feel its worth your time. The Good: Some great airal shots from the Serpents point of view. An interesting human sacrificial sub plot. The action takes off right away and has decent pacing throught. All the scenes take place in the day and are very bright, which i found interesting and works well here. The Bad: The Serpant itself looks terrible. I've never been a fan of claymation. The hero of the story is a terrible person, a drug addict/woman beater/ jewl thief who only helps for immunity and money lmao. The action while there is a decent amount is nothing really to get excited about. The serpent basically just bites there heads off... Which is impressive considering it has no teeth? 🤔😂 I wouldn't watch it again but im not sad I sit through it once.