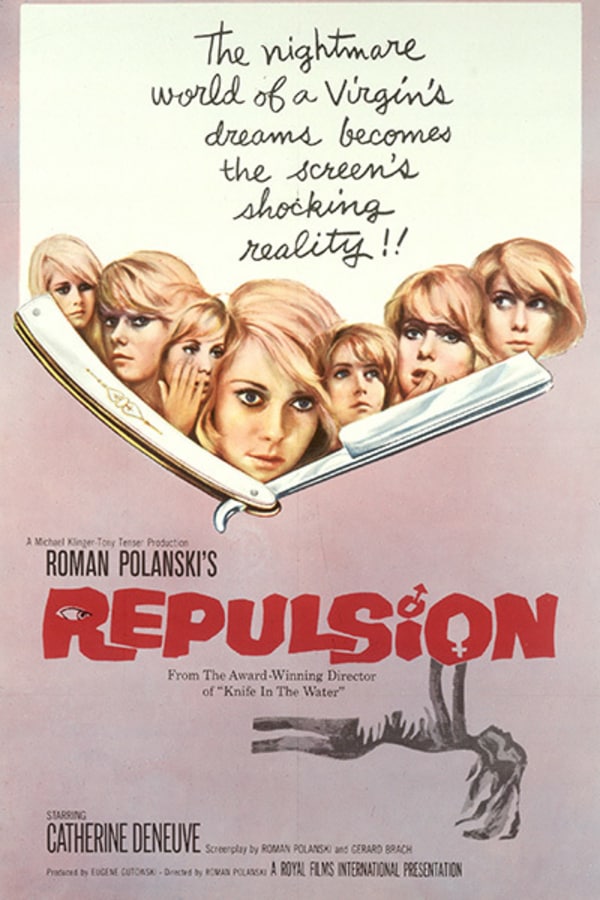 Repulsion
Directed by Roman Polanski
Roman Polanski's (Rosemary's Baby, Chinatown) brilliant tale of psychological horror stars Catherine Deneuve as a sexually repressed beautician whose spiral into madness leads to murder. Carol (Deneuve) is a beautiful, yet extremely withdrawn, young manicurist who shares a London apartment with her more worldly sister (Yvonne Furneaux, La Dolce Vita). When her sister leaves on vacation with her married lover (Ian Hendry), Carol, left alone to reflect on her own emotional and sexual frigidity, becomes progressively and dangerously dysfunctional. As the Pandora's Box that is her psyche opens up, the apartment becomes a surreal and terrifying prison of her own imagining.
Left alone when her sister goes on vacation, a sexually repressed young beauty goes insane with surreal fantasies.
Cast: Catherine Deneuve, Ian Henry, John Fraser, Yvonne Furneaux, Patrick Wymark, Renee Houston
Member Reviews
I'm not sure what I'm missing that most people are getting excited about? I found this film very tedious & in no way suspenseful. I also found most of the characters irritating. I wouldn't recommend it & wouldn't watch it again.
A remarkable film in many ways. Definitely a classic in suspense/horror film history...yet challenging to watch. More enjoyable for cinema enthusiasts than for horror movie buffs, if that makes any sense. I bought the Criterion release, but have been unable to find anyone who wants to watch it with me.
This needs better Shudder reviews.
Eh. Tried to be so arty it just feels self indulgent and super boring. Maybe when it came out it was noteworthy and new but now it just seems tiresome.