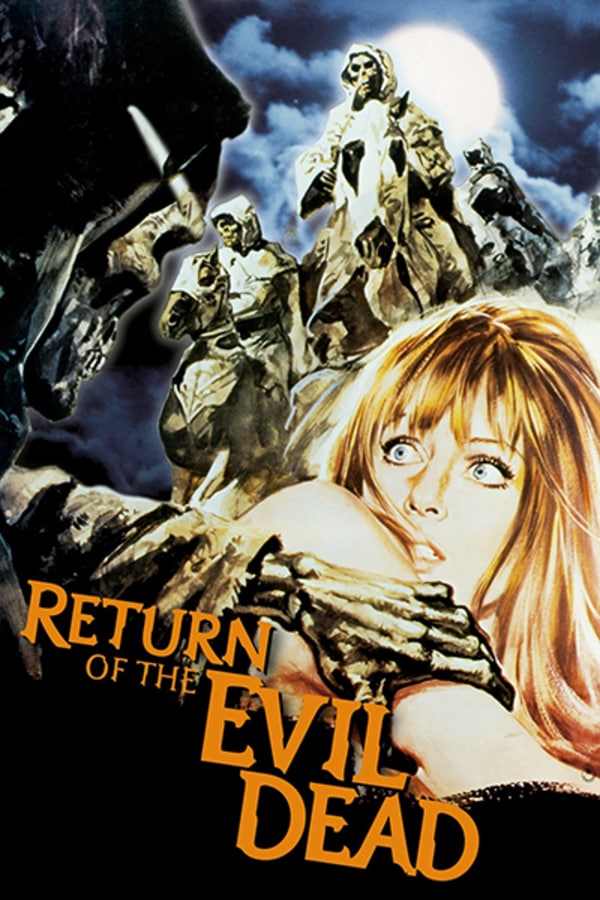 Return of the Evil Dead
Directed by Amando de Ossorio
In this second, startling film in the BLIND DEAD series, writer/director Amando de Ossorio returns to the horrific origin of the depraved Templar: heretic knights whose eyes were burned out by medieval vigilantes to prevent them from finding their way back from Hell. Now on the 500th anniversary of their execution, the blind horsemen rise from their tombs to wreak bloody revenge on the town that condemned them. Tony Kendall (WHEN THE SCREAMING STOPS), Frank Brana (PIECES) and Lone Fleming (TOMBS OF THE BLIND DEAD) star in this chilling sequel that rocked the EuroHorror genre.
In the BLIND DEAD's horrifc return, the blind horsemen wreak bloody revenge on the town that condemned them.
Cast: Tony Kendall, Fernando Sancho, Esperanza Roy, Lone Fleming
Member Reviews
Goofy, cheapie Eurohorror that is a fun watch due to the excessively slow, excessively fragile, excessively few-in-numer Zombies. Better than the first film (Tombs of the Blind Dead) which was unbearably sluggish.
Gotta love the old cheesy ones. Not perfect but still plenty of fun!
One of the greatest Eurohorror franchises ever IMO. Definitely watch the Blue Underground release that has all the gore intact . I highly recommended Ossorio's Night of the Sorcerers and Lorelei's Grasp . The double bill Blue Ray from Shout Factory is a great deal, although the out of print Deimos DVDs have much better packaging and packaging and more extras. Easily found on eBay
I liked the original Spanish version of this film the most, of the four "Blind Dead" features.From other comments, I take it that this English version is inferior (I detest all but the very best US dubs).