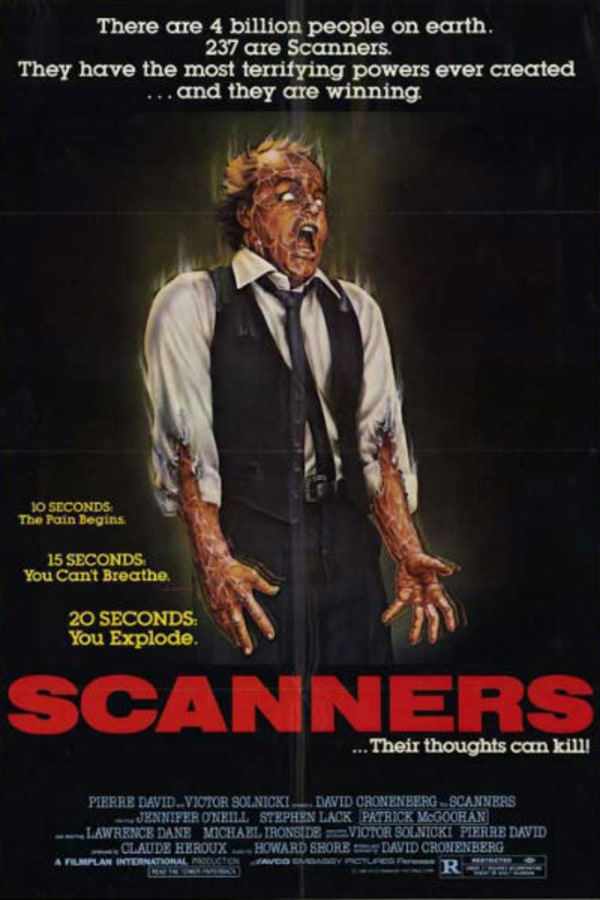 Scanners
Directed by David Cronenberg
In David Cronenberg's iconic sci-fi horror, a special group of people born with telekinetic powers – known as scanners – are sought out by weapon's company, ConSec, for their own villainous means. Darryl Revok, a renegade scanner sets out to destroy the organisation but ConSec attempt to stop him by sending one of their own after him. Famous for its special mind-blowing FX, Scanners typifies Cronenberg's early career melding body horror with sci-fi to create a unique, visceral experience that would go on to spawn two sequels. Contains violence and gore.
Davuid Cronenberg's iconic film finds telekinetic titans at odds.
Cast: Stephen Lack, Jennifer O'neill, Patrick McGoohan
Member Reviews
STRANGE, TWISTED, CLASSIC CRONENBURG. THE FILM HAS A TENSION OF DREAD FROM THE VERY START. AN UNEASY WATCH THE MUSIC AND SOUND EFFECTS ARE CRONEN GOLD. 80S SCORE AND GORE
Just fun fun fun, with that gritty tone that's more European cinema than North American. Great characters, hamming actors....awesome finale
Cronenberg has just never really grabbed me as a director. I've seen a handful of his films, and have mostly never felt the need to see any again. Scanners is a perfect example of this. When I was a little ghoul reading about horror movies, this one was all over the rags of the time. Then I saw it, and basically all I ever remembered were the same images of exploding head that I'd already seen. Fast forward 40-odd years, and I'm still a horror fiend. Scanners is the first thing I watch on Shudder, and I am immediately reminded why I never wanted to watch it in the interim. The concept of mental killers battling their mighty brains with plenty of gruesome effects must have looked good on paper, and Cronenberg does his dead best with it. But unfortunately they chose some sort of meat mannequin for their lead actor, and he spends the entire time behaving like he's had too much flu medicine. Add to that Patrick McGoohan not being able to pick an accent and Michael 'I'm just here for the money' Ironside villainously over-glowering his way around, and it all comes together like an underwater trainwreck. If you're a student of horror cinema and haven't seen this film, you probably should. However, it's not something I'd call an enjoyable experience.
watched this in a pub back in the 80's , when they seemed to have a video * nasty * on every week . This was at the dawn of the video age , and i remember how shocking the exploding head was back then . great storyline and acting , a classic .