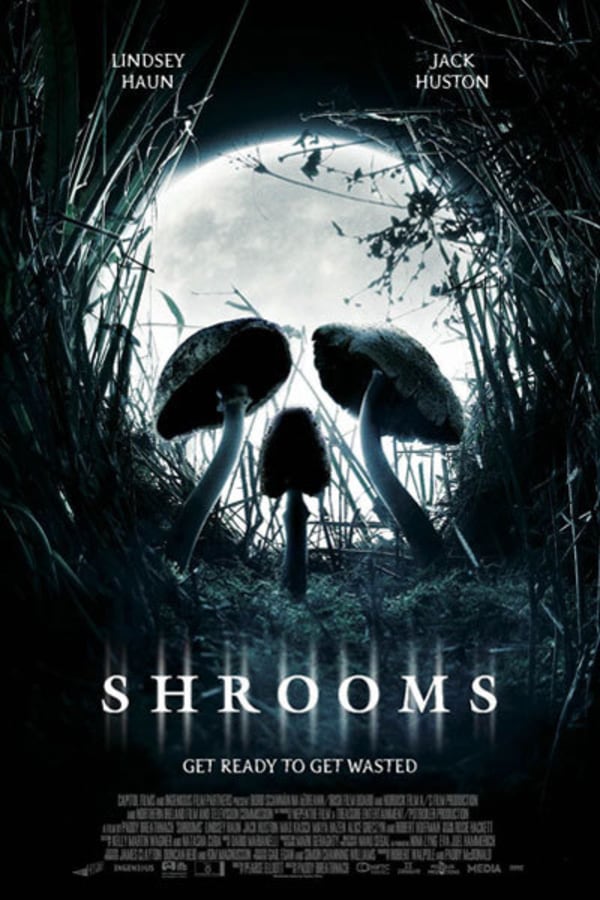 Shrooms
Directed by Paddy Breathnach
When a group of druggies take a rare magic mushroom, people start disappearing. Are they just tripping their you-know-whats off? Or is there really a hooded killer picking each of them off one by one? Whatever the answer, they soon realize the skull on the shrooms was a warning sign of a bad, bad trip, and if they don't make it out of the forest, they may not live to toke, drop, or snort again. This clever Irish slasher will have you steering clear of substances long after the credits roll.
When a group of druggies take a rare magic mushroom, people start disappearing.
Cast: Lindsey Haun, Jack Huston, Max Kasch
Member Reviews
Oh, I remember this movie so much to my regret. The trouble with this film is that... and beware of spoiler... this is another one of those trick-ending movies where the writer and director are trying to get you to look one way to such an extent that they're twisting your head just so they can go... surprise, we fooled you, it's really something else. Trouble is, all of these psycho, all in the head, imagining monster movie stuff was massively overdone by the time Shrooms came out so not only was it not original in concept but very predictable. You know the what and the why just because you've already seen a dozen or so movies in the last 2 years that did the exact same thing. So, knowing what's going on, it made the film very boring and hard to watch through. I'll give them an E for effort and 2 skulls. There really are worse films out there. This one just marks the boarder of starting to reach them.
While this movie did have some good parts, overall it felt boring. I couldn't believe that any of these people were friends, their interactions all felt forced and fake. And for a movie that revolves around hallucinogens, I was hoping for more thrilling visuals
It was okay. It became very boring to watch because of the predictability. I started watching it last week and made myself finish the last 20 minutes of it tonight. I think I might enjoy it more if I was high or drunk or with someone who enjoys horror movies cause all my friends are cowards. I will say this, I did enjoy the acting of fear from them. Not saying it was academy award winning but the acting was a lot better than other B or C rated movies I've watched. And the cast was pretty cute. Just throwing it out there lol.
I saw this movie as a kid and loved it which could be what makes me partial to it but i still love it. Its hard to write an initial review on plot since i knew what was going to happen but I liked the acting, effects, plot... and if i give any more likes ill spoil it.