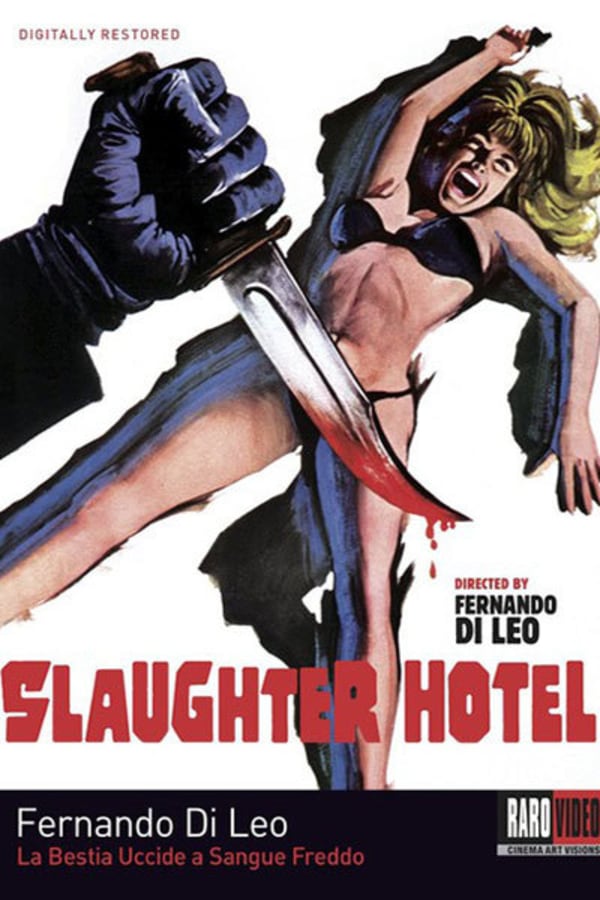 Slaughter Hotel
Directed by Fernando di Leo
A homicidal maniac brutally butchers women at a fancy mental institution run by the always creepy Klaus Kinski. Is it Kinski himself who's gone loony? Or is someone else responsible for the grisly carnage that happens every night after the sun goes down? Action director Fernando Di Leo, a favorite of Quentin Tarantino, made one of his only attempts at horror with this surprisingly gruesome (albeit absurdly raunchy) giallo. Despite the film's increasingly over-the-top erotic scenes, the shocking massacre in the final act is well worth waiting for.
A homicidal maniac brutally butchers women at a fancy mental institution.
Cast: Klaus Kinski, Margaret Lee, Rosalba Neri
Member Reviews
For a movie with a lot of explicit nude scenes it was boring, but the last 2 min. was blood bath.....so ok in my book.
The last 5 minutes are incredible, but it's a slow and downright pornographic slog to get there.
Says this is in Italian, but sounds to me like the English dub. For some reason it faied to hold my interest. Odd, what with all the nudity and stuff. Well-photographed, however.
Stylistically, it's alright. It's not the world's best giallo but it's not the world's worst. I was interested to find the identity of the black gloved killer, which is a staple in gialli. The most exciting and interesting part is the last five minutes or so. The final 2 minutes or so are really great in terms of technical aspects. It's a well shot finale. While the 70s area pubic bush did not shock me, the flashes of actual vagina and female masturbation was a bit of surprise. A better American name for this would have been "Softcore Porn and Murder."